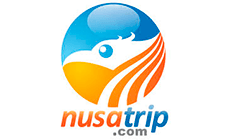 NusaTrip promo codes
Save money on flights and hotel reservations worldwide.
Cancellation, refund and change policies
Policies vary, depending on the details of your booking. Read the terms and conditions before checking out. To change or cancel a flight through NusaTrip, reach out to its customer service team at 970-295-4660 to learn about your options. Keep in mind that if changes or refunds are allowed, you'll pay any penalty fees charged by the airline directly in addition to any fees charged by NusaTrip.
What is NusaTrip?
An online travel booking website based in Indonesia. NusaTrip can help you locate and book flights and hotels around the world, with 500+ airlines and over 200,000 hotels. It's accredited with the IATA (International Air Transport Association).
Top competitor coupon codes
Frequently asked questions