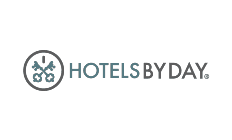 HotelsByDay promo codes
Book a private space for naps, work meetings, quiet time and more.
What is HotelsByDay?
A booking service that helps people locate and book hotel rooms for use during the day in major cities around the world. It can be a convenient way to secure a quiet, private space to work, relax or prepare for a business meeting. You can book a room for a minimum of three hours and up to 12 or more depending on availability. According to its website, day rates are discounted from night rates by up to 50% off.
Cancellation, refund and change policies
Policies vary, depending on the type of reservation you make. For nonrefundable reservations, you'll enter your credit card information at the time of booking, and no refunds or changes will be allowed. But if you choose to pay at the hotel, you can cancel or change the booking free of charge up to 24 hours before check-in.
You can cancel or change a HotelsByDay booking through your online account.
Top competitor coupon codes
Frequently asked questions