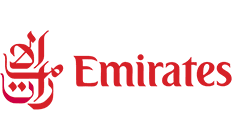 Emirates coupon codes
Save on flights to the Middle East, Africa, Asia and beyond.
Ticket cancellation, refund and change policies
You can cancel your tickets within 24 hours of booking for a full refund. Otherwise, policies vary depending on the type of ticket you booked. Refunds on economy class tickets are generally not allowed, and changes can be made for a hefty fee — around $300. While Flex Plus tickets are the most expensive upfront, they offer free changes and cancellations.
Review the information listed under
Services
when selecting your Emirates ticket to understand the terms and conditions upfront.
When's the next sale?
Emirates doesn't offer frequent sales. The best way to get a cheap flight is to use an Emirates coupon code, or to book your travel during off-peak months to avoid high prices.
Can I pay later for my Emirates flight?
Yes. Its
Hold my fare
program lets you lock in a rate and complete payment up to 72 hours later. Your spot will be saved, so you don't need to worry about the flight selling out. You'll have to pay a small reservation fee, but this will be refunded if you do end up paying for the flight. Hold my fare is only available on economy class tickets, up to 24 days before departure.
Traveling during COVID-19
The CDC continues to advise caution when traveling within or outside the US, though it
no longer requires self-quarantine or a COVID-19 test
for fully vaccinated travelers as of April 2021. It recommends that you delay travel if you are not fully vaccinated to protect yourself and your family from getting or spreading the virus.
When traveling, follow safety measures that include wearing a mask in public, social distancing and washing your hands. If you are diagnosed with, have symptoms of or are waiting for COVID-19 test results — or are otherwise at risk of illness — do not attend gatherings or travel for 14 days.
Top competitor coupon codes
Frequently asked questions