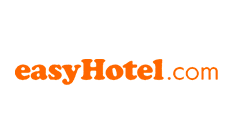 EasyHotel promo codes
Book discount rooms in key European cities.
Cancellation, refund and change policies
Policies vary depending on the type of room rate you choose. Here are your options:
Semi-flexible or flexible rates.
You can change or cancel your room up to five days in advance to receive a 70% refund — excluding booking and administrative fees. But once you've checked into your room, you won't be able to modify or cancel the reservation.
Non-flexible rates.
These rates are discounted up front, so your booking can't be canceled or changed.
Promotional rates.
These special sale rates also can't be canceled or changed.
Group bookings.
You can cancel a group booking up to 28 days before the check-in date — though your 10% deposit and any booking fees are nonrefundable.
Where does EasyHotel have hotels?
EasyHotel has hotels located in major cities within the following countries:
Belgium
Bulgaria
France
Hungary
Germany
Netherlands
Northern Ireland
Portugal
Scotland
Spain
Switzerland
United Arab Emirates
United Kingdom
Wales
Click the
Map
tab on its website to see exactly where you can stay.
Top competitor coupon codes
Frequently asked questions