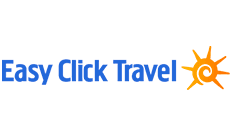 Easy Click Travel promo codes
Book discounted hotel rooms, cruises and car rentals.
Cancellation, refund and change policies
Policies vary depending on the direct provider you booked with. Read the terms and conditions in advance to understand the risk up front.
If you need to cancel or modify a booking made through Easy Click Travel, call its customer service team at
866-287-9803
. Keep in mind that Easy Click Travel may charge cancellation fees in addition to those charged by the direct provider — and all service fees are nonrefundable.
How do I use my promo code?
Easy Click Travel doesn't offer promo codes. Take advantage of its discounts and deals to save money.
Top competitor coupon codes
Frequently asked questions