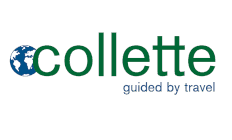 Collette coupon codes
Save money on worldwide tours with a family-owned company.
What is Collette?
A travel company that offers tours and river cruises around the world. It has several different travel styles to choose from, including:
Classic. Land tours that hit all the top sites in bucket-list destinations.
Explorations. Small group, off-the-beaten-path adventures with immersive experiences.
Spotlights. Shorter trips in big cities with just one overnight hotel stay.
River cruise. Four-star adventures along Europe's key waterways.
Founded in 1918, Collette specializes in expert tour guides and curated itineraries.
Cancellation, refund and change policies
Policies vary, depending on the details of your Collette booking. Read the terms and conditions before booking. In general, all deposits for Collette tours or cruises are nonrefundable. The remaining fare may be partially refundable depending on how close it is to the day of departure.
If you need to tweak your Collette booking, there is a $25 fee for each change you make. However, all changes made less than 11 days before departure are treated as cancellations — and charges apply.
Top competitor coupon codes
Frequently asked questions