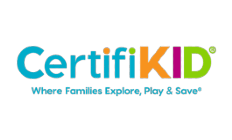 CertifiKID promo codes
Save big on family-friendly activities in your city.
Cancellation, refund and change policies
Policies vary depending on the details of your purchase. Read the
Refunds, returns and exchange policy
displayed in your cart summary before checking out.
If you make a purchase through CertifiKID directly, you might be able to get a refund within five business days of the transaction. Contact support@certifikid.com or call 301-299-0693 to request a refund.
But keep in mind that tickets purchased for a specific event and venue are usually only refundable on the day you make the purchase.
When's the next sale?
CertifiKID doesn't have seasonal sales because it aims to bring you great deals for family-friendly activities all year round. To stay in the know on sales happening in your area, sign up for its newsletter — you'll also get a free $5 voucher when you do.
Top competitor coupon codes
Frequently asked questions