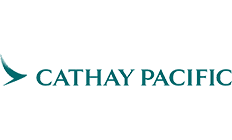 Cathay Pacific Airways promo codes
Save on flights with Hong Kong's flag carrier.
Ticket cancellation, refund and change policies
Policies vary, depending on the type of ticket you purchase. Read the terms and conditions before checking out to understand the risk in advance. When selecting your ticket, you can usually choose between
Save
,
Core
and
Flex
tickets. While
Flex
is more expensive upfront, it's usually cheaper — or free — to change your booking, though cancellation fees will still apply.
When's the next sale?
Cathay Pacific Airways doesn't often have blowout sales. If you're looking for cheap flights to Asia, you can navigate to its
Offers
page to compare the lowest prices to top cities around the continent.
Another way to save money is by opening a Cathay Pacific Airways Visa Signature card, which lets you
rack up free miles
, earn rewards and qualify for other perks when you fly with Cathay Pacific or one of its partner airlines.
Traveling during COVID-19
The CDC advises postponing travel to protect yourself and your family from getting or spreading COVID-19. If you plan to travel during the pandemic, monitor the
risk assessment levels for your destination
when planning your trip, before departure and on arrival. Follow safety measures that include wearing a mask in public, social distancing and washing your hands. If you are diagnosed with, have symptoms of or are waiting for test results for COVID-19 — or are otherwise at risk of illness — do not attend gatherings or travel for 14 days.
Top competitor coupon codes
Frequently asked questions