Finder is committed to editorial independence. While we receive compensation when you click links to partners, they do not influence our opinions or reviews. Learn how we make money.
Review: TransferMate for your international business transfer
A network of more than 200 bank accounts in 100+ countries offers low rates and fees on just about any business transfer.
Launched out of Ireland in 2010, TransferMate Global Payments puts a twist on international remittances using a borderless payment system that uses local currencies for individual transactions at any amount. This seamless system allows for real-time exchange rates with same-day cross-border transfers to select countries.
Learn more about transfer fees, rates and turnaround you can expect with this innovative business transfer specialist.
EUR 1,000
Min. Transfer Amount
No limit
Max. Transfer Amount
1 - 2 days
Transfer Speed
Details
Product Name
TransferMate Business Transfers
Min. Transfer Amount
EUR 1,000
Max. Transfer Amount
No limit
Transfer Methods
Online, Phone, Bank Account to Bank Account
Transfer Speed

Minimum transfer time

1 - 2 days
Customer Service
Phone, Chat, Email
Available Currencies
AED, AFN, ALL, AMD, ANG, AOA, ARS, AUD, AWG, AZN, BAM, BBD, BDT, BGN, BHD, BMD, BND, BOB, BRL, BSD, BWP, BYR, BZD, CAD, CDF, CHF, CLP, CNY, COP, CRC, CUP, CVE, CZK, DJF, DKK, DOP, DZD, EGP, ETB, EUR, FJD, GBP, GEL, GHS, GMD, GNF, GTQ, GYD, HKD, HNL, HRK, HTG, HUF, IDR, ILS, INR, IRR, ISK, JMD, JOD, JPY, KES, KGS, KHR, KMF, KRW, KWD, KYD, KZT, LAK, LBP, LKR, LRD, LSL, LYD, MAD, MDL, MGA, MKD, MMK, MNT, MOP, MRO, MUR, MVR, MWK, MXN, MYR, MZN, NAD, NGN, NIO, NOK, NPR, NZD, OMR, PAB, PEN, PGK, PHP, PKR, PLN, PYG, QAR, RON, RSD, RUB, RWF, SAR, SBD, SCR, SDG, SEK, SGD, SHP, SLL, SOS, SRD, STD, SVC, SZL, THB, TND, TOP, TRY, TTD, TWD, TZS, UAH, UGX, USD, UYU, UZS, VEF, VND, VUV, WST, XAF, XCD, XOF, XPF, YER, ZAR, ZMW
| | |
| --- | --- |
| Online Transfer Fee | EUR 5 |
| Exchange Rate Updates | Real time |
How much will my business pay to send money with TransferMate?
TransferMate offers businesses the flexibility of one-off or scheduled transfers at stronger exchange rates than what your bank offers. Individuals using TransferMate pay a flat fee on all transactions, while registered businesses pay nothing on high-amount transfers.
TransferMate reports its fees in euros, with business fees broken down by transfer amount:
$0 fee for transfers of €5,000 (~$6,200) or more.
"Small fee" — typically €5 ($6) — on transfers of up to €5,000.
How does TransferMate work?
TransferMate claims it can save your business up to 90% on bank wire fees. This is because it operates through a network of accounts at more than 200 banks across 145 countries. This system opens up exchange rates that are closer to what banks and other transfer services access themselves, keeping costs low for businesses that regularly process international payments.
If you own a business, you can integrate most business accounting software to send invoices, pay bills and authorize payments to up to 10,000 recipients through one system.
Benefits and drawbacks of TransferMate
Pros
Competitive rates and fees. Low rates come with low fees that TransferMate waives for high amounts.
Integrated business services. Simplify international payment and payroll at real-time exchange rates.
No transfer limits. Accepts business payments of any amount in more than 100 currencies.
Cons
No direct transfers. You must first transfer money to a TransferMate account before it's converted and moved to your recipient.
May not be fastest. Depending on your transfer, you could wait up to three days for delivery.
Does TransferMate offer business-friendly hedging options?
Yes. Aside from competitive spot contracts, Flexible Spot allows you to lock in a low exchange rate for up to 12 months. You can also sign up for notifications that alert you when the market drops to the specific rate you're interested in.
Other than hedging options, TransferMate even allows you to send multiple transfers in one payment. Called a batch payment, you send TransferMate a list of all of the payments you need to make. Then, it'll contact you and let you know how much the total will be in your local currency. You simply send TransferMate one payment, and it will take care of the multiple payments for you.
How can my business benefit from software add-ons?
For a seamless, personalized international payment solution, you can build TransferMate's cloud-based foreign currency API into your company's existing accounting software — Xero, QuickBooks, NetSuite and more. So instead of entering your invoice payments twice — once using your bank to process the payments and then again recording the payments into your accounting software — the software add-on allows you to pay hundreds of invoices instantly, saving your company time and money. TransferMate boasts more than 35,000 businesses conducting low-fee, strong-rate transactions through its system.
How do I start transferring money with TransferMate?
To start relying on TransferMate for your international business transactions, you first need to register online with your business name and address, email, country, registration number and role or title in the company.
You'll also need to establish a "master user" that you authorize to make payments on your business's behalf. Include that person's date of birth and phone number to complete your registration, using the phone number associated with registration as your PIN.
How do I transfer money with TransferMate?
1. Sign in to your TransferMate business account.
2. Enter your payees and the amount you'd like to send. For mass payments, upload one file with information for all beneficiaries.
3. Confirm the live exchange rates and fees, and book your transfer.
Your payee receives an email both after you've confirmed your payment and when the payment is complete.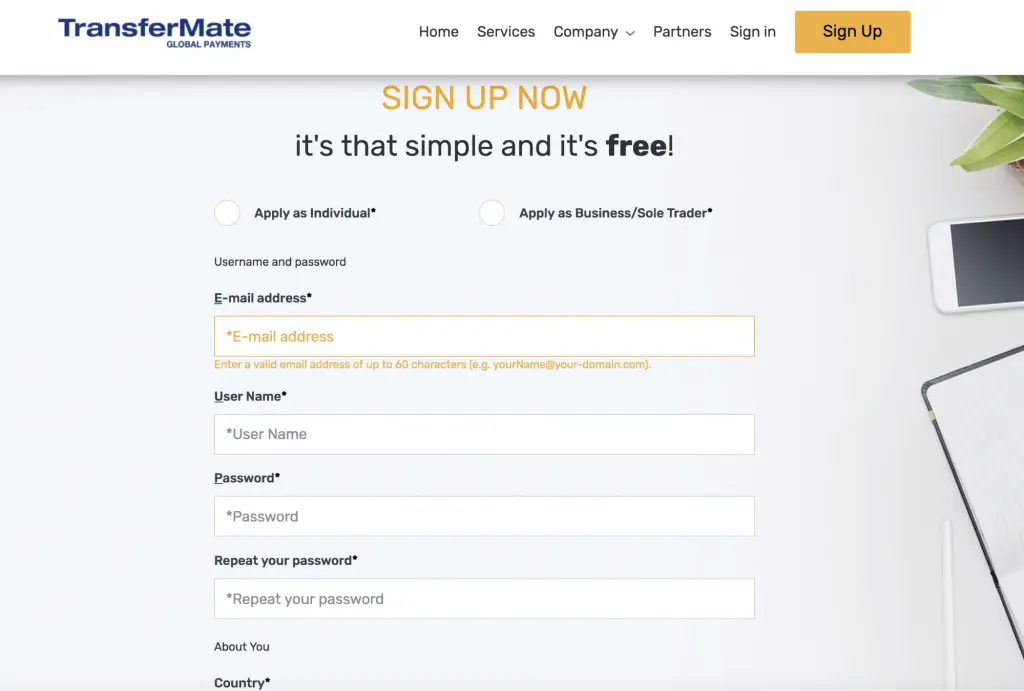 Image: TransferMate Global Payments
What happens next?
Manage your payments. Use TransferMate's online system to track the progress of your payments, review your history and manage your preferences.
Get support. Call, email or sign in to your online account to chat live with a rep.
Download an app. TransferMate's multicurrency app is available through NetSuite, QuickBooks and similar accounting software.
Bottom line
TransferMate works to lock in rates in local currencies, helping you to avoid the fees that come with cross-border payments — even when you're looking to pay multiple clients and contractors internationally.
It easily integrates into popular accounting software for full transparency and seamless tracking. And it supports most major currencies, making it a convenient and efficient international business solution.
But it's not the only money transfer specialist offering cross-border solutions for today's international businesses. Compare safe, affordable business transfers that beat your local bank with our guide to international business transfers.
See how other services compare to TransferMate Global Payments
Use our comparison calculator to assess transfer fees, exchange rates and other details for sending funds overseas with our money transfer partners.
Disclaimer: Exchange rates change often. Confirm the total cost with the provider before transferring money.
Frequently asked questions