Finder makes money from featured partners, but editorial opinions are our own.

Advertiser disclosure
Compare Toyota car loan options
How to find the auto financing you need to buy your next Toyota.
From the safe and reliable Camry to the unbreakable Corolla, Toyota has long been a go-to for car buyers. If you're thinking of buying a Toyota but you need help to pay for your new car, understand the financing options available. You could get a deal through the manufacturer — or somewhere else.
How does Toyota dealership financing work?
Like many other manufacturers, Toyota offers its own loans through its lending arm, Toyota Financial Services (TFS). It can take only a few minutes to apply for a loan or a lease through TFS on Toyota's website.
But you might want to compare the financing offers on Toyota's website and even go down to a dealership to make sure you're confident about the model you're about to finance.
How to apply with Toyota Financial
Sign up for financing through Toyota Financial both online and at the dealership.
Follow these steps to get started online:
Visit Toyota Financial Service's website and choose Apply for credit.
Enter your ZIP code and hit Go.
Select the car you'd like to finance.
Select whether you plan to buy or lease the car.
Enter your contact information, Social Security number and details about your education, employment and income.
If you're applying with a cosigner, check the coapplicant box.
Enter information about the dealership where you'd like to buy the car. You're not tied to this dealership if you decide to choose a different one later.
Sign the acknowledgment agreement.
If you prefer to apply in person, print out the application form on Toyota Financial's website, fill it out and bring it to your local dealer.
Toyota Financial pros and cons
Pros:
Wide selection of discounts
Financing option for limited credit
Fully online application process
Cons:
No refinancing option
No option for private party sales
No option for used cars that aren't certified preowned
How else can I pay for a new Toyota?
Several finance options are available to help put you in the driver's seat of a Toyota.
Secured car loan. This requires your purchased car to be attached to the loan as collateral. Rates can be lower with your car used as collateral. But that means if you default, the lender can repossess the vehicle.
Unsecured loan. An unsecured car loan doesn't require a vehicle to be used as security for the loan. As a result, you can expect higher interest rates since the lender faces increased lending risk.
Car lease. Instead of owning this car, you're essentially borrowing it by making monthly payments. At the end of your lease you may have the option of buying the car or trading it in for a new lease.
Dealer finance. You might also get Toyota financing from another car dealership different from Toyota. This is a convenient option because you can sort everything out — from insurance coverage and registration, to license plates — when you buy the car. Loan terms are generally three to seven years and require a large down payment.
Compare car loans to buy a Toyota
Use our comparison table for a side-by-side view of the lenders available to help you get behind the wheel of a new Toyota. Select up to four loan providers at once.
Why should I finance through Toyota?
You might want to finance your car through Toyota for the following reasons:
Keep everything in one place. The main advantage of financing through the company is that you won't have to do the legwork involved in paying for a car from an outside lender.
Rewards for repeat customers. If you've already borrowed or leased from Toyota, you might be able to get a discount from your dealership.
Rebates and discounts. Toyota has several financing programs that offer rebates and other discounts to particular borrowers.
Toyota financing programs
Toyota has several special financing programs that might offer you a better deal than what you'd get at a private lender. These include:
College grad program. Toyota offers up to $500 in rebates to qualified borrowers who've graduated in the past two years or are set to graduate in the next six months. And you don't need to be working yet to qualify as long as you have an offer.
Military rebates. Military personnel and their families can qualify for up to a $500 rebate. Veterans and retirees are also eligible within two years of being discharged.
Limited credit financing. Borrowers with a 610 credit score or higher can still qualify for a loan through this program with a cosigner and a minimum 10% down payment.
Business financing. Toyota offers loans with terms up to 48 months as well as multiple lease plans for businesses looking to buy a car.
Preferred Option (balloon) finance plan. This low monthly cost program is available to Arkansas and Illinois residents. Balloon payments work differently from other payment plans — make sure you understand the risks before signing up.
When to consider other lenders
You have time to shop around. Even if you ultimately go with Toyota financing, comparing other lenders allows you to make sure you're getting the best deal available to you.
You have bad credit. Even Toyota's limited credit financing program requires a 610 credit score or higher and a cosigner.
You aren't set on a Toyota. If you're torn between two cars, considering third-party financing might make the decision easier by offering you a better deal on another type of car.
How to apply for a loan through Toyota
Follow these steps to apply for a car loan through Toyota from your computer or phone.
Go to the TSF website and select Apply for Credit.
Enter your ZIP code and hit Go.
Select the type of vehicle you'd like and the model.
Fill out the required fields with your contact information and information about your education, employment and debts. Select whether you're applying with a coappliant and hit Next.
Select a dealer near you, select the loan term you'd like and the down payment. Choose Next.
Review the terms and conditions before you hit Next.
Got any questions? Contact customer service at 800-874-8822.
What do I need to apply for Toyota financing?
Once you've settled on the right financing option, it's time to get going with your application. Before you apply, it's important to check that you meet loan eligibility requirements.
Satisfy minimum income requirements
Have a good credit history
Be at least 18 years old
Live in the US
You'll also need to provide supporting documents, including:
Proof of ID. A current driver's license or passport will do the trick.
Financial information. Provide proof of income (such as paychecks and bank statements) and details of your credit history, including any outstanding debts or liabilities.
Vehicle information. Details about the car you plan on buying, including its make, model and purchase price.
Tips to help you get the best financing
Before choosing a loan for your Toyota, make sure know how to find the best loan for you. Some key points to keep in mind are:
Check payment flexibility. Some finance options either won't allow extra payments or charge a fee any time an additional payment is made. This can bump up the total cost of your loan, so remember to check the loan terms and conditions before you apply.
Shop around. Interest rates and loan terms vary depending on the location of the dealership and the inventory on the lot. Your best bet is to browse the internet for dealers specializing in Toyota and reach out or visit to see what they can offer.
Prepare for negotiation. Do some market research to get an idea of the price range of the car you want. And shop around for a few different car loans to see who offers you the best rates and terms when it comes to financing.
Try getting preapproved. If you go car shopping with a preapproved loan, you'll already know exactly what's in your budget. This will save you time and give you negotiating power because the dealer will likely try to compete with your current offer.
Pay close attention to special offers. Just because 0% APR is plastered on the window of a dealership doesn't necessarily mean you'll qualify. However, if you do, read the terms and conditions and see how long the 0% offer lasts and what the interest rate reverts to after that time period ends.
What to watch out for
Deals that seem too good to be true. When you come across a 0% financing offer, make sure to read the fine print. Often, these loans only have a 0% APR for a limited amount of time and are only available to people with excellent credit.
Long terms. Getting a loan with a term longer than 72 months can seriously increase the cost of your loan. Instead, use our monthly payment calculator to find the shortest term you can afford.
No down payment. The lower your down payment, the higher risk there is of your loan being higher more than what your car is worth.
How much do popular Toyota models cost?
Once you've settled on Toyota, you still have to pick the model that suits your tastes, needs and price range — with basic trims ranging from $15,600 to $85,165. Below are the more popular models people choose from. We've gone with the new car prices to keep things simple, but remember: You'll always be able to negotiate at the dealership, and it's usually cheaper to go used than new.
Cars
Yaris
Starting MSRP: $

15,600

Build: Sedan
City/highway MPG: 32/40
Corolla
Starting MSRP: $

19,500

Build: Sedan
City/highway MPG: 31/38
Camry
Starting MSRP: $24

,095

Build: Sedan
City/highway MPG: 29/41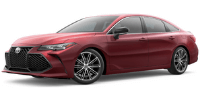 Avalon
Starting MSRP: $

35,650

Build: Sedan
City/highway MPG: 22/32
SUVs and Truck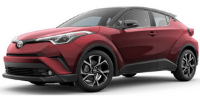 C-HR
Starting MSRP: $

21,145

Build: SUV
City/highway MPG:

27/31
RAV4
Starting MSRP: $

25,650

Build: S

UV

City/highway MPG: 26/35
Tacoma
Starting MSRP: $

25,850

Build: Truck
City/highway MPG: 18/22
Sienna
Starting MSRP: $

31,415

Build: Minivan
City/highway MPG:

19/27
Tundra
Starting MSRP: $

31,670

Build: Truck
City/highway MPG:

15/19
Highlander
Starting MSRP: $

31,680

Build: SUV
City/highway MPG: 21/27
4runner
Starting MSRP: $

35,310

Build: SUV
City/highway MPG: 17/21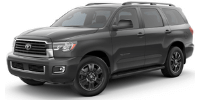 Sequoia
Starting MSRP: $

49,050

Build: SUV
City/highway MPG: 13/17
Land Crusier
Starting MSRP: $

85,165

Build: SUV
City/highway MPG: 13/18
Sport
86
Starting MSRP: $

26,655

Build: Sport coupe
City/highway MPG:

21/28
SUPRA
Starting MSRP: $

49,990

Build: Sport coupe
City/highway MPG: 24/31
Electric
PRIUS
Starting MSRP: $

23,770

Build: Electric Sedan
City/highway MPG:

54/50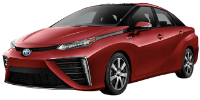 MIRAI
Starting MSRP: $

58,500

Build: Electric Sedan
City/highway MPG: 67/67
Keep in mind that the Prius isn't your only option for hybrids. If you're willing to spend more to go green, then you'll be happy to know that Toyota offers some of its most popular models as hybrids, including the Camry, RAV4 and Highlander.
Bottom line
If you're planning to purchase a new Toyota, there are plenty of loan options available to help get you in the driver's seat. But make sure to compare your options and research any terms and conditions attached so you end up with the loan that works best for you.
Frequently asked questions
How long do I have to wait before I refinance my car loan?
It depends on the lender, but usually, if you make payments on time and consistently, a lender will consider refinancing the loan to a better rate.
What should I do if I can't afford to make a payment for one month?
If you've been in good standing with the lender, the first thing you should do is reach out and see if you can work out a more realistic payment plan. It may even allow you to make a late payment without being penalized if you explain your situation.
How can I make my monthly payment on a credit card?
It depends on the lender — some may allow it, while others may require the monthly payment to be debited from a checking account. Check with the lender to see what payment options are available.
What's the best financing for a Toyota RAV4?
The right financing for you will depend on a number of factors, including whether you're buying new, your monthly budget and more. Read our guide to Toyota RAV4 financing to narrow down your options.
Image source: Shutterstock and Toyota's official page