Too Faced's new "Life's a Festival" collection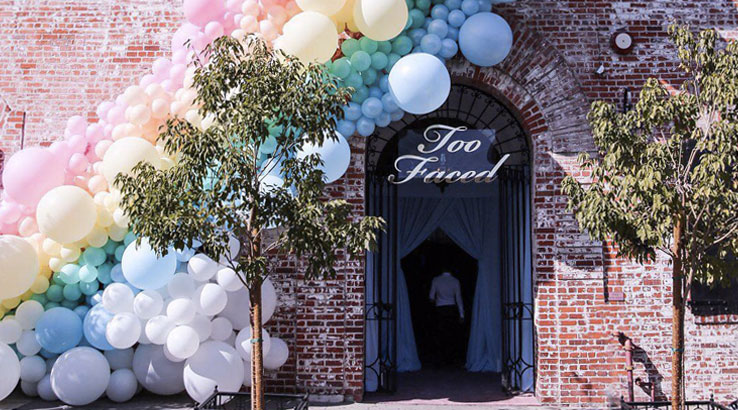 Popular beauty brand Too Faced is launching a new whimsical collection Thursday, February 15.
It's inspired by fashion at music festivals like Coachella and Sasquatch. Filled with vibrant colors and fantastical shimmer, Life's a Festival is a fun and playful collection that will delight your inner child.
Some Ulta Platinum rewards members already got to play with the new collection as a perk. Lucky ducks. But don't worry, the wait is finally over.
There are eight items in the Life's a Festival collection, including an eyeshadow palette, a refresh spray, a bronzer, two highlighters, a strobing brush and two lipsticks. Prices start at $19.00 and go up to $42.00. You'll be able to purchase the collection from Sephora, Ulta or directly from Too Faced. Let's jump in and look at everything this collection has to offer.
Life's a Festival Eyeshadow Palette
This amazing palette shines like a star in this collection. Each of its twelve shadows is infused with rose quartz for optimal shimmer and shine.
All of the shadow colors look amazing, but I'm especially excited about Mystic Rain, an iridescent, super glittery light pink that looks like it was made to party. Bonus: The palette also includes a highlighter called Unicorn Tears which is infused with a dreamy citrus scent.
Festival Refresh Spray
Long, hot summer days spent in a field enjoying music can be exhausting. Refresh your face or make sure your look stays in place all day long with this dual purpose setting/refreshing spray. Infused with opalescent pearls and rose quartz powder for extra shimmer, you'll love its cooling formula on those scorching hot days.
Unicorn Tears Bronzer
Create your ideal festival glow with this gluten and paraben-free formula that combines the warmth of daylight with the cool shimmer of moonlight for an ideal festival glow. It's easy to wear, blendable and infused with Too Faced's signature festival citrus scent.
Rainbow Strobe Highlighter
You'll shine beneath the strobe lights with this amazing holographic highlighter. The little rainbow is so beautiful in its small container you won't even want to dip your brush in it, but you'll be glad you did once you have a flawless highlight.
Remember to pair it with the Magic Rainbow Strobing Brush for best results. Don't worry, it's 100% vegan and cruelty-free.
Magic Crystal Lip Topper
You'll love this holographic lip gloss that changes color, depending on the light. You can wear it alone for a prismatic effect or use it as a finish for your favorite lipstick color.
It's a non-stick formula, because who wants to deal with their hair getting stuck to their lip gloss? No thanks.
Four shades are available: Unicorn Tears, Mermaid Tears, Angel Tears and Fairy Tears, and they all look mythically amazing.
La Crème Mystical Lipstick
This lipstick is the perfect pair for the Magic Crystal Lip Topper and comes in the same four shades. The creamy colors change with your unique body chemistry and they're infused with white lotus extract to keep your lips soft and smooth. Blow the night a magical kiss with this mystical and magical lipstick.
Unicorn Horn Highlighting Stick
Last but not least, the highlighting stick. We love the adorable unicorn theme throughout this collection, and this is the cherry on top.
Available in a blue-ish shade or a pinky shade — Unicorn Tears or Unicorn Dreams — this highlighter is fun, fabulous and ready for spring. It's also blendable to make it easy to wear and apply.
We're so excited to check out this collection and enjoy festival season 2018. It's going to be a magical one, folks.
Main image source: Instagram