Finder is committed to editorial independence. While we receive compensation when you click links to partners, they do not influence our content.
Things to do in India
Revel at ornate medieval temples and glittering ancient tombs.
Though a third of the size of the US, India is a vast nation offering spellbinding sights. Relax on the beaches of Goa, blend into the bustle of Mumbai or soak in the serenity of the Ganges River.
To see it all, make a list of your top spots and then fill in the blanks with transportation across the southeast Asian nation to complete your itinerary.
Top 13 things to do in India
Marvel at the Taj Mahal
The Taj Mahal is India's most iconic landmark and a testament of undying love.
The mausoleum was built in 1632 by emperor Shah Jahan as a magnificent tomb for his wife, Mumtaz Mahal. It's constructed of white marble that's said to change colors constantly, depending on the light of the moon or sun.
Foreign travelers pay 1,100 rupees — about $16 — for entry. The Taj Mahal is open 6 a.m. to 6:30 p.m. every day but Friday, and except in the afternoon, when it's open for Muslim prayer.
---
Take part in a festival
Hinduism and Islam are the two most practiced religions in India, and many of its world-famous festivals are connected to sacred practices. If you can make it to one of these festivals, you'll get authentic insight into the vibrancy of Indian culture:
Holi — mid-March. Also called the Festival of Colors, Holi marks the beginning of springtime and celebrates the victory of light over dark.
Krishna Janmashtami — late August. At this birthday celebration for Krishna, you'll want to hang around for Dahi Handi, an event where young people compete to reach pots filled with butter and curd that are strung in the air. Mumbai is ideal for Krishna Janmashtami festivities.
Ganesh Festival — early September. Honoring the birth of Ganesha, a god with an elephant's head, this one-day festival is best experienced in Mumbai.
Navaratri, Durga Puja and Dussehra — late September and early October. Nine consecutive nights are dedicated to honoring the Mother Goddess through dance, theater and worship.
Diwali — late October. A Hindi festival of lights associated with Lakshmi, the goddess of prosperity.
Kerala, a state on India's southwestern coast, is known for its temple festivals that span from February to May. Depending on the deity celebrated, you'll likely see ornamented elephants and colorful floats parading through the streets near major temples.
---
Browse a colorful bazaar
India's bazaars showcase the country's diversity, from fresh fruit to Bollywood-themed pajamas and sparkling bling.
Some of the best in the country include Johari Bazaar in Jaipur, which specializes in Rajasthani jewelry, and Dilli Haat in New Delhi, which stocks handicrafts from all over India.
Whichever Indian city you find yourself in, a local bazaar won't be far away. Join a walking tour of a bazaar for a more personal look.
---
Catch a cricket game
Cricket arrived in India in the early 1700s with British colonizers. Today, it's among the most popular sports in the nation.
The national team has won many championships, and it's easy to find locals playing the game.
If you're hoping to see pros play, catch a match at:
Eden Gardens in West Bengal
Raipur International Cricket Stadium in Chhattisgarh
Rajiv Gandhi International Cricket Stadium in Telangana
Jawaharlal Nehru Stadium in Kerala
DY Patil Stadium in Maharashtra
---
Traverse by train
Taking the train is a wonderful way to see smaller, off-the-beaten-track spots.
Famous train rides include:
Goa Express. Connects Goa to New Delhi. First-class fare for a sleeper cabin costs about ₹5,195 (about $76) for the 35-hour trip.
Dibrugarh Rajdhani Express. Connects New Delhi and Dibrugarh Town in a nearly 39-hour trip. Expect to pay about ₹5,782 ($84) for a first-class ticket in a sleeper cabin.
Nizamuddin Duronto Express. Connects Secunderabad to New Delhi in about 22 hours. You'll pay about ₹4,617 ($67) for a first-class, air-conditioned cabin.
---
Pay your respects at the Khajuraho temples
The beautiful Khajuraho temples are included on the list of UNESCO World Heritage Sites.
Visit medieval Hindu and Jain temples in Madhya Pradesh that showcase stunning architecture and religious art.
---
Take in the gilded Harmandir Sahib
Harmandir Sahib is better known to westerners by its informal name, the Golden Temple.
The temple is a holy place, founded in 1577 as a pilgrimage destination for Sikhs.
---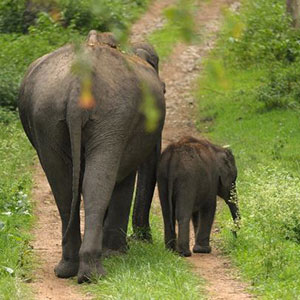 Encounter an elephant
Elefantastic is an elephant sanctuary in Jaipur that provides an income for families on welfare and a safe home for elephants. By visiting, you support the elephants and families.
At the sanctuary, you'll get the chance to interact with the elephants by walking, feeding and washing them.
---
Wander through the arresting Amber Fort
Amber Fort is a stunning palace complex made of red sandstone and white marble. It was built in 1592 as the private residence of Raja Man Singh, and today is one of Jaipur's top attractions. Explore the sprawling courtyards, gardens, halls and palaces where the general and his soldiers lived and worshipped.
---
Pangong Tso
Pangong Tso is a lake in the Himalayas that stretches from India to China. The name Pangong Tso means "high grassland lake" in Tibetan.
It's an enchanting site renowned for its changing colors, so it comes as no surprise the beautiful and serene spot is one of the nation's most popular tourist attractions.
---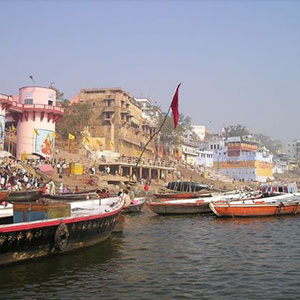 Sail down the Ganges River
India's second-largest river is considered holy in Hindu culture. It originates in the western Himalayas and flows southeast through Uttarakhand to the Bay of Bengal.
A sunrise boat tour is a beautiful way to discover the Ganges. Alternatively, you can explore the river and surrounding area by day.
---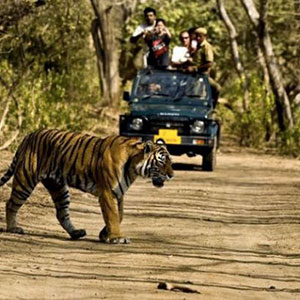 Safari through the jungle
India offers lush jungles with incredible landscapes and diverse wildlife.
Get adventurous and explore the jungles in India to see waterfalls, wildlife or book a zip line adventure for a view from the treetops.
---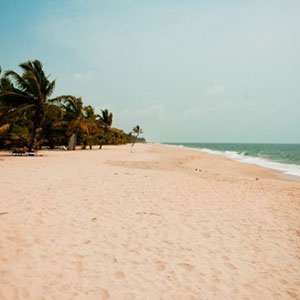 Comb pristine beaches
India is home to more than 4,660 miles of coastline with hundreds of stunning beaches.
Relax between temple visits and tiger sightings with an excursion to one of India's lovely stretches throughout the state of Goa along the Arabian Sea, but also near:
Gokarna, Karnataka.
Tarkarli, Maharashtra.
Kaup, Karnataka.
Tharangambadi, Tamil Nadu.
Bekal, Kerala.
Puri, Odisha.
---
Deals on attractions and experiences
Top Indian cities to visit
Goa. Located in southwest India, Goa has a laidback vibe. It's the smallest state in the country, but the richest. It also has beautiful 17th-century architecture, influenced by the Portuguese who colonized the area.
Mumbai. Mumbai is India's largest city. Formerly known as Bombay, it's located on the west coast and the hub of Bollywood. But Mumbai is also India's financial center, with colonial-era architecture, temples and even a tropical rainforest in the city center. But prepare yourself for heavy crowds and thick traffic.
Delhi. Delhi is India's capital that offers a pleasing blend of past and present. In Old Delhi, you'll find gorgeous architecture and streets filled with markets — and in New Delhi, malls and skyscrapers.
Bangalore. Also called Bangaluru, India's most developed and progressive city is known for its parks, nightlife and high-tech industry. Here, you'll find Victorian-era architecture.
Agra. Agra draws in visitors because of India's most famous attraction: the Taj Mahal. Though it's worth the hype, Agra is also filled with interesting markets, mausoleums and tombs.
Traveling during COVID-19
The CDC continues to advise caution when traveling within or outside the US, However, it
no longer requires self-quarantine or a COVID-19 test
for fully vaccinated domestic travelers as of April 2021. International travelers need to get tested three days prior to flying out of the US and within three days after returning, even if you are fully vaccinated. It recommends that you delay travel if you're not fully vaccinated to protect yourself and your family from getting or spreading the virus.
If you're planning a trip outside the US, bear in mind that many countries have placed restrictions on US tourists. Check the US embassy website for updates
before booking international travel
.
Bottom line
From ancient mausoleums to medieval palaces, the best way to understand authentic India is to dig deep into its cultural and religious past. But to see it all, take advantage of trains, planes and rickshaws throughout India.
Frequently asked questions