The SBA released the PPP forgiveness application — here's what you need to know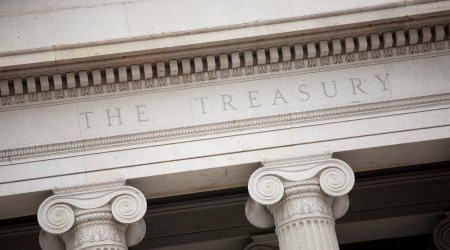 Now PPP borrowers can calculate how much their business will get back from this government-backed program.
The US Small Business Administration (SBA) and Treasury Department Friday released the forgiveness application for the Paycheck Protection Program (PPP). The application cleared up some confusion over who qualifies for forgiveness and how lenders will calculate it.
The PPP is an emergency business loan program to cover payroll costs during the COVID-19 outbreak. It offers funding up to $10 million with the potential for up to 100% forgiveness based on eight weeks of payroll costs.
Many businesses applied with hopes for forgiveness, though requirements for forgiveness were vague at best. And some borrowers chose not to apply at all for that very reason.
Some 32% of business owners who didn't apply for the PPP avoided it because they don't trust the government or their lender to forgive the loan, a Harvard Business Review study found. Having concrete guidelines might be reassuring to some business owners who weren't quick to trust the program.
How PPP forgiveness works
Business owners will still have to apply for forgiveness through their lender, but might not fill out the application the SBA issued. However, all lenders will ask for the same information and documents.
The SBA's application still might be worth a look. It comes with detailed instructions and definitions that could clear up questions. After submitting the application to your lender along with all required documents, it has up to 60 days to give you a response.
Inside the application
The PPP forgiveness application is divided into four parts: The PPP Loan Forgiveness Calculation Form, the PPP Schedule A, a worksheet for PPP Schedule A and certifications.
Business owners might want to start backwards, with the PPP Schedule A worksheet. This is where you calculate how much you spent on payroll per employee. It also helps you figure out if the number of staff or pay has dipped enough to make you ineligible for full forgiveness.
After completing the worksheet, you can move on to PPP Schedule A. This requires you to list all eligible payroll costs like contributions to employee retirement plans. This is also where you calculate how much to deduct from your forgiveness amount based on any reductions in staff or pay.
You're required to submit this with your application — and you'll need the numbers from this schedule to calculate your forgiveness amount.
Once you've completed the worksheet, you can move on to the PPP Loan Forgiveness Calculation form. This is where you calculate your forgiveness amount based on Schedule A and other eligible expenses, like rent, mortgage interest payments and utilities.
After that's completed, an authorized representative of the business must sign the certifications stating that the information you've submitted is true. Knowingly making an inaccurate statement on the forgiveness application can land you in jail for as long as 30 years with fines up to $1 million.
The whole process can take a few hours — or much longer, depending on how many employees your business has and the information you need on hand.
Increased flexibility makes more businesses eligible for full forgiveness
The new application comes with a few clarifications that make it easier for more businesses to qualify for full PPP forgiveness.
It offers an alternative covered period. This allows small business owners that pay employees more than once a month to start the forgiveness period with the first day of the pay period after they apply. Otherwise the forgiveness period begins as soon as the borrower receives the loan — which could spell an accounting nightmare for businesses that received the funds in the middle of a pay period.
The forgiveness application also outlines two situations where businesses can qualify for full forgiveness if they lost staff:
Business owners have written proof of good-faith efforts to rehire laid off staff, even if employees reject the offer.
Employees who left the company because they quit or were fired for reasons unrelated to COVID-19.
Other clarifications include what counts as an eligible utility cost. And it allows you to count charges that your business will be billed for after the forgiveness period. That is, as long as the cost incurred within the eight-week window.
Is the PPP worth it?
The new application can help business owners decide if the PPP is worth it based on their spending in the past three months. While you won't be able to get an exact forgiveness number until eight weeks after you get your loan, it can help you understand if your business might qualify for full forgiveness.
But even if it doesn't, the 1% interest rate and six-month deferment period still might make it a better option for a struggling small business than other options on the market.
If not, businesses can still consider local loans and grants, which often come with a similarly low cost and deferment options.
Photo credit: Getty Images