New booking club offers hotel discounts and member perks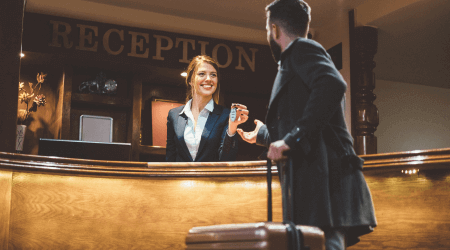 The hotel reservation service from Dollar Flight Club offers member-only deals and freebies.
The Dollar Flight Club, a budget travel website, is getting into the hotel business. On Saturday, the company launched The Hotel Project, a new booking service that offers up to $200 in lodging discounts and free perks for members.
How does The Hotel Project work?
Websites like Expedia or Booking.com typically help users find the best available deal on a hotel, but they charge the hotel a commission on each reservation placed through their site. With this new platform, hotels get to keep 100% of their profits. The catch? Each has to offer special deals to their customers in the form of slashed prices and additional bonus features to enhance the stay.
Big plus: Not only are you getting the incentives instead of the travel search engine, but you're also booking directly with the hotels – as opposed to going through a third-party service – so it's easier to communicate with staff.
So far, participants include Omni Hotels & Resorts, IHG, Selina and Provenance. You can recommend a hotel you'd like to see join the membership service by submitting a form, and The Hotel Project will connect with their management team.
How do I become a member?
Head to The Hotel Project website to sign up for a free account. From there, you can select between two membership types: free and premium ($20 per year). If you choose not to pay for the platform, you'll only be able to view the hotel listings, while the paid membership gives you access to all the discounts and freebies.
What perks and deals can I expect?
You can get room discounts of up to 30% off, along with potential free room upgrades and free premium Wi-Fi options. Other perks can include complimentary drinks at the bar, free late checkouts and restaurant discounts.
You might also be eligible for up to 50% off a visit to the spa and free airport shuttle services. Guests who book through The Hotel Project are guaranteed a minimum perk value of $45.
Photo: Getty Images