Finder is committed to editorial independence. While we receive compensation when you click links to partners, they do not influence our content.
Homer Simpson's do's and d'ohs of home renovation
What can The Simpsons tell us about renovations around the house?
As head of the family, Homer Simpson is the provider for a family of five. He's doing his best to maintain a large family estate on a middle-of-the-road income from the nuclear power plant.
Unfortunately for Homer, he's horribly unqualified and daft as a dandelion. Yet somehow, the four walls of the family home remain upright and The Simpsons rest easy under a solid roof. Here are some of the top tips we've learned about renovating and maintaining a busy home from watching The Simpsons.
1. A pan will not fix a flooded basement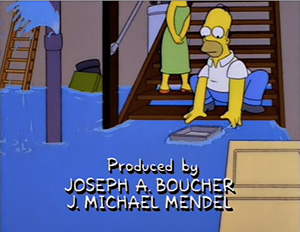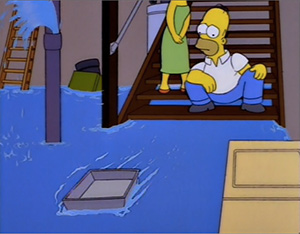 2. There's no such thing as a "failed" barbecue pit. "Le Grille!? What the hell is that?"
3. Dog houses do indeed require a door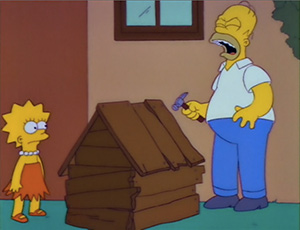 4. In the case of an asteroid apocalypse, you can just use your next door neighbor's fallout shelter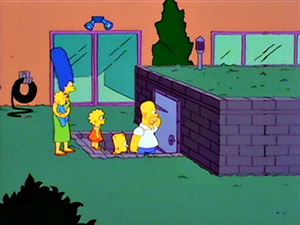 5. There's such a thing as a load bearing poster
6. Painting the dirt is a great way to work around a lack of carpet
7. When in doubt, watch "The Half-Assed Approach to Foundation Repair," hosted by Troy McClure, who you might remember from such instructional videos as "Mothballing Your Battleship" and "Dig Your Own Grave, And Save!"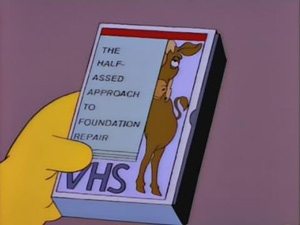 8. The word 'Unblowupable' gets thrown around a lot these days…
9. A shower curtain can double as an oxygen tank to give you sexual powers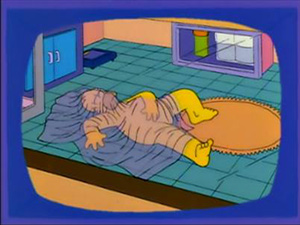 10. You can always build an electric hammer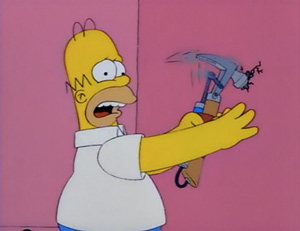 11. Save on home-made utensils by carving your own spoons (out of a bigger spoon)
12. Spaces between walls and floors are great storage spots for asbestos, toxic waste, hidden treasure, recording devices, baby dinosaurs, dancing mice and Snowball II
13. You can always dig up, stupid.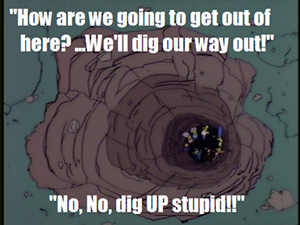 14. You can't weld with such a small flame
15. Building a barn is a lot easier than a pool, English.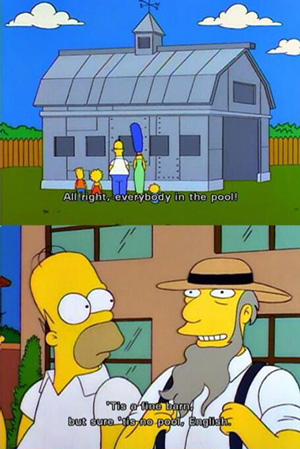 16. Don't allow the Amish to do your electrical work and never rely on those shifty Mennonites
17. It pays to be a stonecutter, just follow the yellow drip road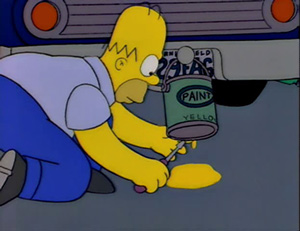 18. Your chimney can be used as a spit roast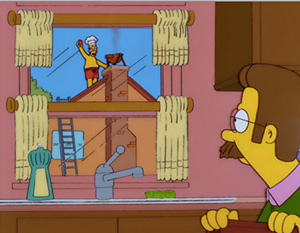 19. A room can have too much electricity

The do's and d'ohs of home renovation
Do's:
Assess your home renovation space
Before starting your renovation, make sure you've carefully evaluated your property or renovation area. Organize a home inspection to identify any structural or other problems that could delay your project, such as termites or mold.
Despite Marge's clean freak nature, the Simpson family were forced to vacate 742 Evergreen Terrace due to a termite infestation.
Moral of the story: A proper home assessment can help prevent or identify any potential hazards before they become serious issues down the track.
Get township approval
Make sure you check with your township or town council to confirm that your renovation falls within their guidelines. If you live in a unit or apartment, you may need to speak with your landlord or homeowner's situation to see whether your plans will be approved.
If you lived in Springfield, your 'go-to' would be Mayor Quimby, who's renowned for turning a blind eye to regulations.
Budget carefully and hire professionals
Make sure you get quotes from a number of different professionals to get an idea of how much material and installation will cost for your project — check references and licenses before hiring anyone.
It's important to distinguish between DIY projects and those that require a professional. After all, you don't want to electrocute yourself like Homer did that time he tried to fix a power line, "Let's try the red one!"
Compare features and loans for your renovation
It's important that you consider the right features and products to help finance your home renovation. Consider the following options:
Home equity loan. This is a way to borrow against the equity of your home. The loan acts as an open line of credit, depending on the amount you're approved for by your lender, and interest rates are typically highly competitive.
Home construction loan. For these type of home loans, your lender will divide the loan amount into different components and your contractor will provide an invoice to the lender, which is paid, as each stage of construction is finished. When the renovation is complete, the builder invoices for a final time and the bank pays it using the remaining funds in the construction loan.
D'ohs:
Failing to do your homework
We're all familiar with Bart Simpson's claim that the dog ate his homework, but when it comes to renovations, research is key.
Make sure you research the property area and take into consideration property prices, property growth ratios, economic factors and anything else that could impact your property purchase before settling down and investing in a neighborhood.
Underestimating costs
Many renovators underestimate the actual cost of a renovation. While getting quotes on the cost of building materials is a start, you need to also consider expenses such as an architectural fees, township fees, labor and installation costs, inspections and taxes, just to name a few.
Not sticking to a budget
If you go beyond the limits of your budget, you could end up extending how long it'll take to complete the project, or worst case situation, you may not be able to finish the renovation at all.
Despite the contractor claiming that the renovation would only take three weeks, it ends up taking Homer and Marge two years to complete their home renovation, which involved a kitchen remodel valued at $10,000 — you could use a personal loan for a renovation that size.
Underestimating the disruption factor
If you're living in house through a renovation, don't underestimate the extent to which your life will be disrupted. For example, if you're having a kitchen renovation, you'll need to think about a different area for you and your family to eat in and cook.
A large scale home renovation can be noisy, messy and very disruptive, so you'll need to prepare yourself and make alternative arrangements if need be.
More guides on Finder