Finder is committed to editorial independence. While we receive compensation when you click links to partners, they do not influence our content.
The 10 best Netflix original comedy series to help you survive this week
Great Netflix comedy series tend to fly under the radar, but we're here to remedy that.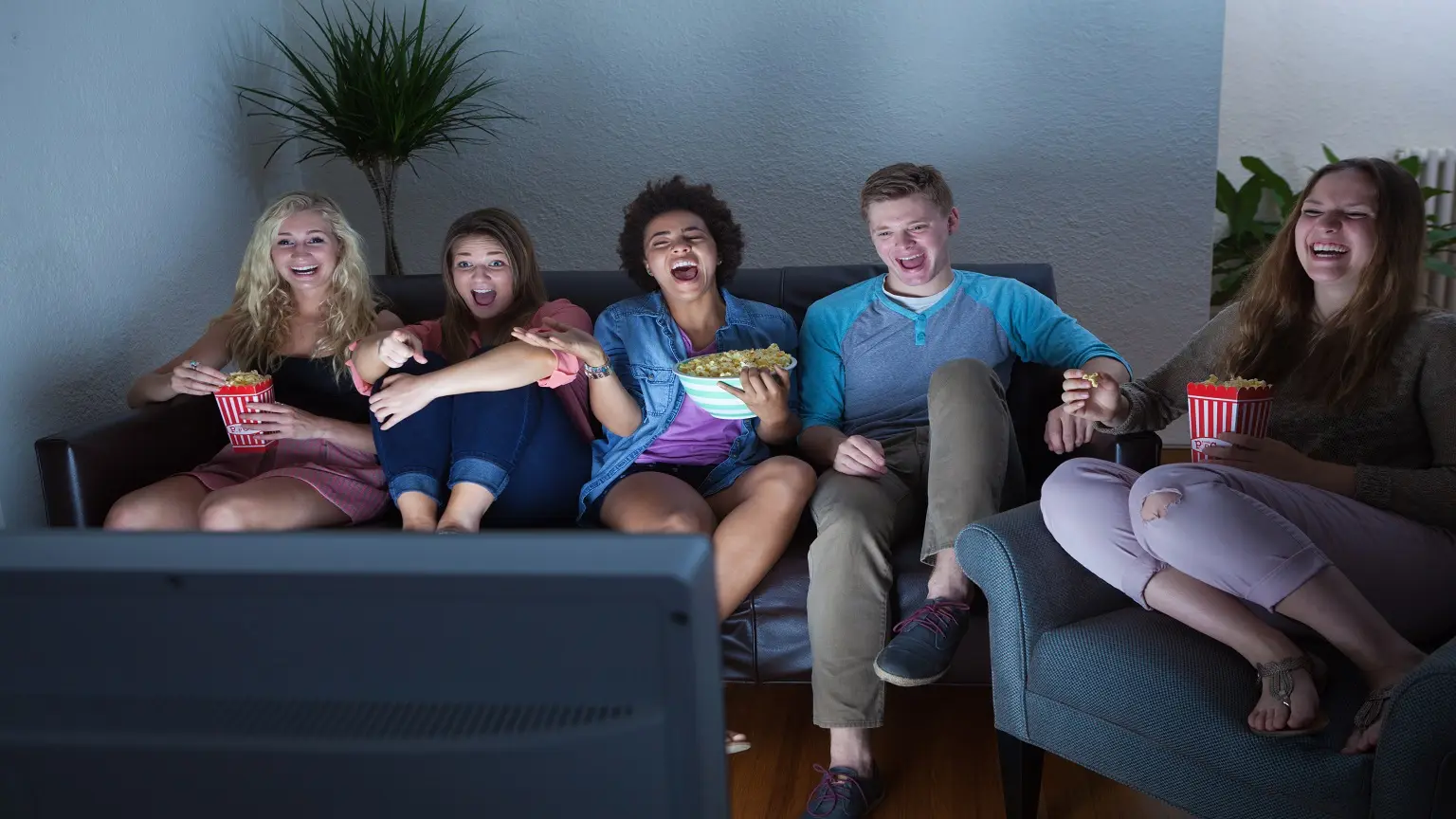 Netflix original comedy shows are a mixed bag. But for every flop, there are three other charming series that will more than make up for it. And regardless of what type of humor you fancy, it's impossible not to find at least one title that will appeal to you. To help you make sense of the madness, we've picked the best of the best.
Need more TV?

1. BoJack Horseman
---
BoJack Horseman, although critically acclaimed, might be Netflix's most underrated comedy series. It's an animated show that centers on a has-been actor who just happens to be a horse, and it takes place in an alternate world where humans and anthropomorphic animals live side by side. In Season 1, BoJack, the protagonist, is struggling to relaunch his career by writing a memoir with the help of a ghostwriter.
Despite a rocky start, the show grows on you, mainly thanks to the clever dialogue and skilled voice work. And after you've watched the first few episodes, the series starts to throw all sorts of emotional punches your way. Despite its satirical tone and countless visual gags, BoJack Horseman is one of the most realistic depictions of depression ever portrayed on television. It also deals with trauma and self-destructive behavior, and it's as thought-provoking as it is hilarious.

2. Master of None
This acclaimed series won three Emmys and a Golden Globe, among other numerous accolades. Master of None follows Dev, a millennial who navigates life in New York while trying to jump-start his career as an actor and elevate his dating life. The series has charm, heart and humor, which makes it stand out from the crowd in spite of the familiar premise.
Master of None tackles subjects from immigration to religion to sexism in an extremely compelling way. And besides sharp observations about life, romance and culture, the show also offers an amazing soundtrack and great performances by the entire cast. Master of None might not change your life, but it's likely it will help you become a better person. Worst case scenario, it will simply remind you to treasure all the small joys that come your way.

3. One Day at a Time
---
A remake of the 70s sitcom with the same name, One Day at a Time revolves around a Cuban-American family. The show focuses on a single mom dealing with PTSD, her kids and her Cuban mother, all living under the same roof. And despite being a comedy, it tackles important issues such as immigration, sexism, mental illness and racism.
One Day at a Time is compulsively watchable due to its cleverness and touching nature. The series takes the formula of the classic family sitcom and elevates it to fit modern times. It's familiar, yet incredibly refreshing.

4. Unbreakable Kimmy Schmidt
---
One of Netflix's biggest comedy hits, Unbreakable Kimmy Schmidt is quirky in all the right ways. When a woman is rescued from a doomsday cult and lands in New York, she must navigate a world she didn't think even existed anymore. Determined to be seen as anything besides a victim, Kimmy puts on a happy face and quickly restarts her life. It's a charming and endearing show that might not have worked without a brilliant performance from Ellie Kemper.
While the show's originality will make you tune in, its heart will make you stick around. Despite its dark premise, Unbreakable Kimmy Schmidt is a hilarious, feel-good series. It's a story about losing yourself in the big city and finding your way in the process with a little help from your uniquely bizarre new friends.

5. Grace and Frankie
---
How often do we get to watch a show about elderly women living their best lives? And when those women are portrayed by Jane Fonda and Lily Tomlin, you know you're in for a treat. Grace and Frankie follows two unlikely friends after their husbands announce that they are in love and plan to get married. The women are forced to live together and help each other cope with the surprising news.
The stellar cast definitely adds to the show's appeal. Besides Fonda and Tomlin, we have Sam Waterston and Martin Sheen in supporting roles. The cast has great chemistry and it's obvious from the very first episode that everyone's having a lot of fun portraying these wacky characters. The series isn't without flaws, but it's highly entertaining and emotionally complex. And when it focuses on character-driven storytelling, it's almost perfect.

6. Dear White People
---
Based on the movie with the same name, Dear White People follows a group of black students who face social injustice at a predominantly white school. The central character changes from one episode to the next as you meet students on campus. It's a rich, witty comedy that will give you lots of things to ponder upon besides making you giggle. The series explores life on campus through the eyes of mostly black students, who are rarely at the center of the narrative.
Despite its satirical nature, the show makes storytelling its main focus, so viewers get a chance to connect with the characters and understand what they're going through. All in all, Dear White People is relevant and necessary.

7. Lady Dynamite
---
Lady Dynamite won't be everybody's cup of tea. It's goofy, it's weird and it deals with some heavy subject material. The show follows stand-up comedian Maria Bamford as she's trying to rebuild her life after spending six months away in recovery for bipolar disorder. Viewers also get flashbacks that provide insight into Bamford's backstory.
The show mainly focuses on Bamford's real-life experiences. It gives us a unique perspective from someone navigating personal and professional relationships while dealing with mental illness. More importantly, the show manages to keep things funny, which is a true feat.

8. Orange Is the New Black
---
Although it leans more towards the dramatic, this Netflix hit is still perceived as a comedy-drama. It's also one of the most watched original shows the streaming service has ever made, even surpassing House of Cards. That's probably thanks to the talented ensemble cast and wonderful writing.
Orange is the New Black revolves around Piper, a woman in her 30s who is sentenced to 15 months in Litchfield Penitentiary, a minimum-security women's federal prison. However, especially from Season 2 onwards, the series shifts focus from Piper and gives Litchfield's other, more interesting inmates their time in the spotlight. Overall, the show is a balanced mix of dark humor and grit, giving viewers an unfiltered look at life in prison.

9. Love
---
This unconventional rom-com is a down-to-earth look at dating, exploring male and female perspectives on romantic relationships through the damaged main characters, Gus and Mickey. It's a sweet comedy, but nothing close to sappy. In fact, it's cynical enough to appeal even to the grumpiest of viewers.
Depending on the episode, you'll find yourself rooting either for or against Gus and Mickey's relationship. The two are an unlikely pair, and both of them are reluctant when it comes to intimacy, love and everything else that comes with a serious relationship.

10. GLOW
---
Set in Los Angeles in the 80s, GLOW revolves around a fictionalization of the characters and gimmicks of the 1980s syndicated women's professional wrestling circuit, the Gorgeous Ladies of Wrestling. At first sight, the series is mainly about a group of scrappy women learning how to wrestle. But GLOW is so much more than that. It's a story about women in all their messed-up glory, and it takes the time to give everyone in the diverse cast a chance to shine.
GLOW is less about wrestling than it is about sisterhood and unlikely friendships between women. And not to be overlooked, Alison Brie gives the perfect performance as main character Ruth.
Bottom line
If you're looking for a show that'll make you laugh, Netflix has everything from dark humor to characters with unending optimism. And if you're looking for even more comedy content, compare streaming services to find your newest set of shows to binge.
More guides on Finder