Finder is committed to editorial independence. While we receive compensation when you click links to partners, they do not influence our content.
Low interest rate credit cards
Reduce your interest repayments and save with a low interest rate credit card.
A low rate credit card can help you cut down on costs and pay off your balance faster by charging a lower rate of interest than other credit cards. While low rate credit cards typically offer a competitive, ongoing interest rate for purchases, some also offer an introductory 0% interest rate for purchases or balance transfers that can also help you save on charges during the promotional period.
Use this guide to compare low rate credit cards, including those that offer 0% p.a. interest for an introductory period. You can also find out how much you could save by switching to a lower interest rate credit card and learn about the different features to compare, so that you can choose a credit card that works for you.
Who are low interest rate credit cards best suited to?
These cards are designed to help you save on interest costs. If you often struggle to pay your balance in full by the due date on your statement, you could benefit from one of these cards. You could also benefit from a low rate card if you're a student or new to paying on plastic and want a cheaper credit card option.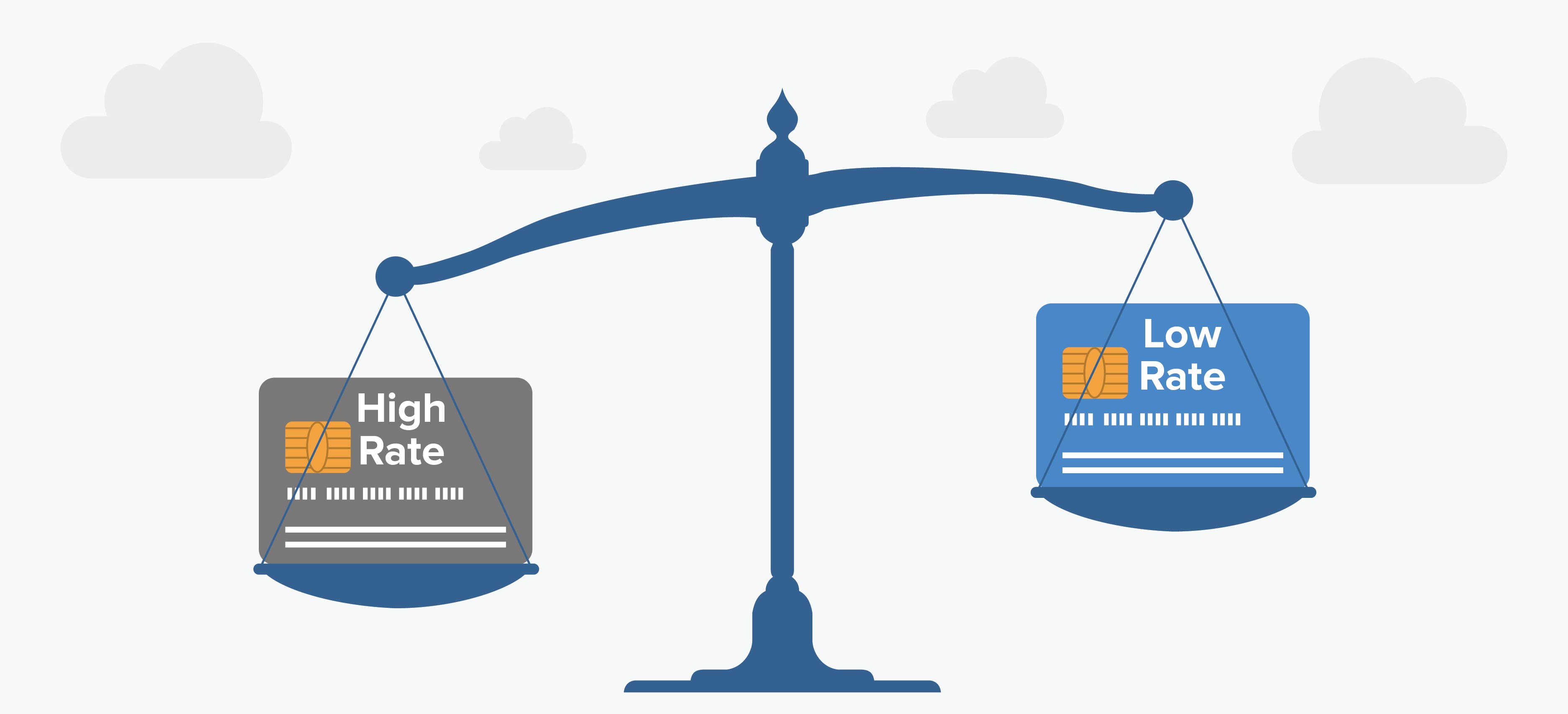 How are credit card interest rates calculated?
Credit card interest rates are usually advertised based on the annual rate that applies to the account, shown as "per annum" or p.a. However, interest on your account balance is typically calculated daily and then charged monthly on the statement due date. This means that for every day that you don't make a payment, the interest charges will build up (or compound).
How to compare low interest rate credit cards
With so many competitive low interest rate credit cards on the market, here are some of the features that can help you narrow down your options:
Interest rates
From low ongoing interest rates to promotional 0% deals to interest-free days, these are the key factors to look at when comparing interest rates:
Promotional interest rates. Some Thai credit cards offer 0% interest rates on purchases for a promotional period. The length of the interest-free offer usually varies between 6 and 15 months depending on the card. These offers can give you breathing room to repay your purchases and save without any additional interest costs. At the end of the promotional period, any remaining debt will collect the standard interest rate. So it's wise to know when this rate applies and aim to clear your debt beforehand.
Standard interest rate. On a low rate card, the purchase interest rates typically start at 8.99% p.a and go up to around 18% p.a. If you want a long-term option, a card with an ongoing low interest rate could potentially be a better fit than a card with 0% for a promotional period.
Balance transfer rates. Some low interest credit cards also come with 0% promotional balance transfer offers which can last for up to 26 months. If you're paying off an existing debt, you can use a balance transfer to save interest and repay your debt faster. If you're struggling with credit card debt, it's wise to concentrate on paying it off instead of using a card to make additional purchases. You can compare 0% balance transfer credit cards on finder.
Cash advance rates. The interest rate for cash advances is usually higher than the rate applied to purchases. This rate is charged for transactions such as ATM cash withdrawals, foreign currency purchases and gambling. Cash advances also aren't eligible for interest-free days.
Interest-free days. Most credit cards also come with interest-free days when cardholders pay their balance in full in the previous statement period. The number of interest-free days will vary between products, but usually range between up to 44 or 55 days. Learn more about how this works in our guide to interest-free days.
Fees and charges
Annual fee. Some low rate cards come with THB0 annual fee for the first year or for life, while others charge annual fees that can be as high as THB5,000 or more for prestige cards. Before you apply, you should weigh up the savings you'll get from the interest rate against the annual fee to determine which card is right for you.
International transaction fees. If you use your card to make a purchase overseas or online with an international merchant, you may be charged a foreign transaction fee (such as 3% of the transaction).
Minimum repayments. Each statement period, you're required to make a minimum repayment. This is usually 10% of your total balance, or a minimum amount of around THB500 to THB1,000 depending on the card type. If you don't pay this, you'll usually be charged a late payment fee. However, if you want to minimise your interest payments and avoid falling into debt, it's wise to pay as much you can before the statement due date.
Additional features
Credit cards with low interest rates generally come with fewer frills than costly cards, but here are some of the extra features you might want to consider:
Rewards programs. Competitive frequent flyer or rewards credit cards usually come with higher interest rates and fees, but you can earn points on some low rate cards in the market. These cards usually come with less competitive earn rates, but can still be rewarding without the high price tag.
Cashback. Some low rate cards also come with cashback offers, although you'll usually need to meet a certain spend requirement to get the money back. As long as the spend requirements align with your budget and you can afford to pay it off, this can be another way to get extra value from your card.
Complimentary insurance. Some low rate cards offer cardholders complimentary travel insurance and purchase cover. These features can help you reduce other necessary costs, but make sure you check out the eligibility requirements, inclusions and exclusions of the cover before you apply.
---
Pros and cons of low interest rate credit cards
Pros
Savings. These cards can be a cheaper option as you pay less interest on purchases, which will help you save money and avoid falling into unmanageable debt.
Low fees. Many low interest rate credit cards are paired with low fees, which can also help you save.
Promotional offers. Low interest rate credit cards sometimes come with 0% promotions on purchases and balance transfers, allowing you to avoid interest altogether for an introductory period.
Cons
Less competitive rewards. Some low rate credit cards come with rewards programs, but they usually have lower earn rates and bonus points offers than more expensive cards.
Fewer extra features. Low rates generally come with fewer extra features, unlike platinum cards which often come with concierge services and airport lounge passes.
Revert rates. If your card charges 0% on purchases for a promotional period, it will revert to a higher purchase rate after that.
How can I get a low rate credit card?
You can apply for a low rate credit card online in around 10–20 minutes. Get started by comparing cards in the comparison table (or on individual review pages). When you find a card you like, click the "Go to site" button and you will be taken to the bank's secure application page.
From there, you'll need to provide details about yourself, your employment situation and your financial situation. In order to prove your identity, you will usually need your ID card or passport and work permit for a foreigner. Most online credit card applications give you a response within 60 seconds of submitting the completed form.
---
If you often carry a balance, a low interest credit card could be right for you. However, as there is no one best low interest card on the market, it's wise to compare a few options before you apply. Just remember to compare interest rates and consider the other features, such as introductory offers, annual fees and complimentary extras, to help you find a card that best suits your needs.
FAQs about low interest rate credit cards
If you want to learn more about low rate cards, check out these answers to common questions. If you have a question of your own, you can also get in touch with us using the comment box below.
Pictures: Shutterstock