Finder is committed to editorial independence. While we receive compensation when you click links to partners, they do not influence our content.
Tello promo codes
Best deal: Unlimited everything for $39/mo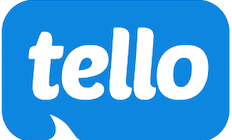 Tello operates on Sprint's network, and it's all about transparency. You won't have to worry about hidden fees or being stuck in a contract with this no-strings-attached carrier.
What can I buy at Tello?
Phones.

Choose from a variety of mobile phones, ranging from the latest iPhones and Galaxy models to simpler flip phones.

SIM cards.

If you already have a phone you'd like to use, simply you can purchase a SIM card to activate it with Tello.
Customized phone plans.

Unlike most other mobile service options out there, Tello lets users build their own phone plan, so you can choose exactly how much data and how many minutes and texts you want to pay for.
Brands you can purchase from Tello
Tello offers some of the biggest names in mobile phones, including:
Apple
HTC
LG
Motorola
Samsung
ZTE
How to use your promo code
1. Select one of the promo codes or deals above to reveal your code and be securely redirected to the Tello website.
2. Browse through the table settings and other items that apply to your promo code. When you find something you like, select I Want This Deal.
3. Sign in to an existing account or create a Tello account using your email and password of your choosing. Alternatively, use existing social media accounts Facebook or Google+ to create your account.
4. On the checkout screen, you'll see a box to enter your promo code to the right of your shipping information. Select Apply to apply your savings.
Why is my code not working?
If you're having trouble with your promo code, it could be expired, case-sensitive or not available in your home country. Contact Tello directly if you have questions about your discounts.
Shipping, delivery and payments
Can I get free delivery?
Yes! All phones and SIM cards purchased through Tello will be shipped via USPS for free.
How can I track my order?
You can track your order at any time by logging into your Tello account and finding the order in your account dashboard. If you have questions about the status of your order or think that your order should have arrived already but hasn't, contact Tello customer service.
Payment options
Tello accepts all major credit/debit cards and PayPal. Note that in order to start and pay for a phone plan, you will need to open a free account first.
If you've selected a "pay as you go" plan, you will be charged directly from the payment method you selected at checkout, for the amount you selected. If you haven't shut off the "auto recharge" feature for your pay as you go plan, you will be charged from your credit/debit card or PayPal account once your balanced drops below $2.
If you subscribed to a monthly plan, your payment method will be automatically charged every 30 days, unless you cancel the subscription before the auto payment is taken out.
What Is Tello's return policy?
Tello offers a 100% money back guarantee, but this policy only applies to claims filed within 30 days after the purchase date and does not apply to plans. Here are the company's return conditions:
By default, all sales are final and account balances and plans are non-refundable, non-transferable and non-exchangeable.
Phones must be in perfect condition when returned. Customers will receive their refund after the phone is returned to Tello.
If you deactivate your service, Tello will not refund any remaining "pay as you go" credit or plan balances.
Tello reserves the right to discontinue or change special offers without prior notice. Refunds for the difference in price resulting from such a change will not be issued.
Can I exchange my phone for a different color or model?
Tello may accept phone exchanges if the request is made within 30 days of the purchase date and the phone you have is in perfect condition. Contact Tello customer support if you'd like more information about exchanging a phone.
Are Tello returns free?
Yes, as long as the return is made within 30 days.
How do I return an item to Tello?
To initiate a return, contact Tello customer support by phone at 866-377-0294, via online chat or fill out its online contact form to send an email. A customer service team member will walk you through the steps to return your phone to Tello, free of charge.
When's the next sale?
Check Tello's Promo tab on its website to find the latest deals and offers. You could snag a deal as hot as 50% off the first few months of your plan when you sign up. But these offers typically only last for a few weeks, so check the brand's website for the latest deal.
You can also sign up for finder's deals newsletter to stay on top of the best savings around!
What sets this brand apart?
Although Tello has been offering prepaid phone plans in the UK since 2014, the brand is a newcomer to the US market — Tello celebrated its two-year anniversary in the US in 2018. As one of the newest prepaid cell phone options out there, Tello does offer some pretty competitive pricing and promotions. Plus, its build-your-own-plan feature can help you save even more, especially if you don't tend to use much data or make very many calls.
What do people really say about this brand?
As a fairly new US brand, Tello doesn't have nearly as many reviews as most other wireless services. That said, the people who have tried this service so far are more than pleased with its affordable plans and helpful customer service.
What is Tello's history?
Tello is a wireless service provider that launched in the US in 2016, although it's been operating in the UK since 2014. Global telecommunications company KeepCalling is the mother company of both Tello.com and Tello.co.uk, and has been around since 2002. Tello focuses on providing no-contract, customizable phone plans without any hidden fees .
How can I contact customer support
You can contact Tello customer support a few different ways:
Call 866-377-0294 or 678-306-1436.
Fill out its online contact form to send an email.
Chat online.
Dial 611 from any Tello phone.
What about social media?
Connect with Tello on Facebook, Twitter and Google+. You'll find the same types of posts across the board, and they're mostly updates on the latest deals and promotions. If you take a look at some of the comments on Tello's Facebook posts, you'll see that so far, the brand has lots of happy U.S. customers!
Why should I shop at Tello?
Pros
No contract.

If you're looking for true pay as you go, Tello can help.
Build your own plan. With Tello, you don't have to choose a cookie-cutter plan. Create your own customized phone plan to save even more.
Great reviews.

Tello is has only been in the U.S. for two years, but so far, its customers are happy with its services and pricing.
Cons
Confusing return policy.

Tello does offer 30-day returns on phones, but its 100% money back guarantee doesn't seem to apply to anything else.
Bottom line
If you're on the hunt for a pay-as-you-go or customized phone plan, Tello could be your knight in shining armor. With rave reviews, low pricing and no hidden fees, this newcomer to the wireless service world is bound to be a major competitor.
Frequently asked questions
Can I buy a phone from somewhere else and use a Tello plan?
Yes. You will just need to make sure that the phone has CDMA capabilities and is compatible with Sprint network.
Are there any phone brands that cannot be enrolled in Tello?
Yes, just a few. These include Palm, RIM (Blackberry), Ready Link/PTT, Q-Chat, 13K Vocoder and Power Source.
How do I cancel Tello services?
If you have an active plan or auto recharge features turned on, cancel at any time by logging into your account or using the My Tello app. If you have pay as you go credit, this will automatically expire in three months if you stop using the service.
More guides on Finder