COVID has elevated the daily skincare routine – here are your go-to options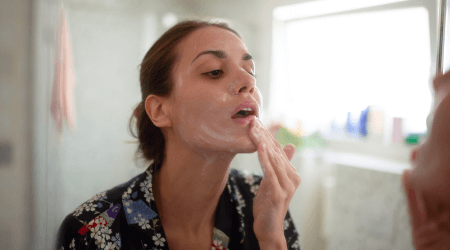 Get skin evaluations and prescriptions from the comfort of your home.
It's not just hand-washing that's gotten a boost from the coronavirus pandemic. With people everywhere more conscious of the germs around them, they're washing their faces more too — nearly 40% of facial skincare users are heading back to the sink more often, according to an NPD Group report.
But if you're hesitant about visiting your dermatologist during COVID to update your skincare routine, there are a few telehealth alternatives that you might consider instead. From Curology to Hers, we broke down some options for a straightforward virtual doctor experience.
Skincare brands that offer telehealth
Curology: You'll start off by answering a questionnaire about your skin and then will be matched with a healthcare provider. From there, customized products will arrive at your doorstep, from acne body wash to spot patches.
Hers: Create a profile detailing your skincare concerns and upload some selfies. Then, attend a virtual visit with a medical professional where you'll discuss treatment options. Products will be shipped to your home.
HelloAva: Enjoy on-demand consultations via video or text with licensed aestheticians and dermatologists after completing a skincare quiz. You'll then receive products customized to your skin concerns.
Apostrophe: Send selfies and your medical history to a board-certified doctor, who will diagnose your skin issues and prescribe RX treatments.
Hims: Designed specifically for men, this wellness brand offers a consultation and products delivered to your local pharmacy. You'll get prescriptions for problematic skin issues, along with hair loss treatments and protein powders.
How they compare
| Service | Cost | Delivery |
| --- | --- | --- |
| Curology | Starts at $19.95/month | $4.95 |
| Hers | $39 for online visit, cost for products vary | Free |
| HelloAva | $10 skin consultation, cost for products vary, 10% off refills | Varies |
| Apostrophe | $20 for online visit, acne treatment products range from $20-$90 | Free |
| Hims | $39 for online visit, cost for products vary | Free |
Will my insurance be accepted?
Typically, no. Curology doesn't accept insurance for consultations but some of the prescriptions, like oral medication, may be covered. Hims and Hers doesn't accept insurance either but do tout that the products sell for 50-80% off retail cost. Apostrophe doesn't accept insurance at all.
Photo: Getty Images