Finder is committed to editorial independence. While we receive compensation when you click links to partners, they do not influence our opinions or reviews. Learn how we make money.
Does Teach for America offer loan forgiveness?
Shave $12K off your student loan debt through its partnership with AmeriCorps.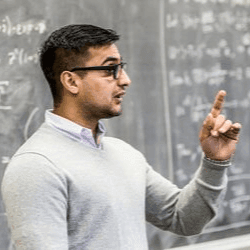 With rising student debt and a lack of qualified teachers, Teach for America is open to anyone with a bachelor's degree interested in giving back to underserved communities. While there isn't a forgiveness program attached, there are several benefits to dedicating two years of service to this nonprofit.
Does Teach for America offer student loan forgiveness?
While Teach for America doesn't directly offer student loan forgiveness, its partner AmeriCorps does. Through the AmeriCorps Award, you could receive up to $6,195 per year — or the equivalent to the maximum value of the Federal Pell Grant — to put toward your student loan repayments. You can only receive the award twice, and the amount changes each year depending on the Pell Grant.
What is AmeriCorps?
AmeriCorps is a network of community service programs with a mission to improve lives and promote civic engagement in neighborhoods across the country. AmeriCorps partners focus on everything from fighting homelessness to mentoring students to preparing for natural disasters.
Does Teach for America offer any other financial assistance?
As an AmeriCorps partner, Teach for America members get access to AmeriCorps's student loan forbearance program, on top of its own transitional funding packages.
AmeriCorps forbearance. Depending on the type of loans you have, you could pause repayments while completing your service at Teach for America. On top of this, AmeriCorps pays up to 100% of the interest accrued on your student loans during your service after it's been successfully completed.
Transitional funding. Depending on your financial need, Teach for America may provide no-interest loans and grants to help cover the cost of moving to and living in your assigned region. These are designed to cover travel, moving, testing and certification fees so you can join Teach for America.
You could qualify for grants and scholarships designed to help fund classroom materials and other expenses. Teach for America provides a list of scholarships and grants to help you get started as a teacher.
Do I qualify for Teach for America?
Teach for America accepts individuals with a variety of backgrounds — you don't necessarily need to be a teacher to qualify. However, you need to meet these three basic requirements:
Bachelor's degree from an accredited university
GPA of 2.5 or higher
US citizen, legal resident or DACA recipient
How to apply for a position with Teach for America
Applying for a position with Teach for America is relatively straightforward — follow these steps to get started:
Submit an online application. Teach for America's online application requires you to upload your resume, submit college transcript details, discuss your leadership skills and explain why you're interested in joining Teach for America.
Commit to an interview. When you submit your application, you'll select an interview location. The interview itself involves sample classroom lessons, a group activity with other applicants and personal one-on-one interviews.
Choose your location and subject. Research and select your top 10 choices for regional placement. This won't affect your chance of acceptance.
The turnaround to hear back is relatively quick. You'll know if you've been accepted for an interview within one week of submitting your application, and you'll know if you've been admitted within three weeks after your interview.
4 other loan forgiveness programs for teachers
Working with Teach for America can help you qualify for other federal and state forgiveness programs, including:
Teacher Loan Forgiveness Program. To qualify for the Teacher Loan Forgiveness Program, you must teach at a qualified school or educational service for at least five consecutive years. How much you can have forgiven is capped at $17,500, and the service you do with Teach for America may count toward the five-year goal.
Public Service Loan Forgiveness (PSLF) Program. The PSLF Program is open to teachers employed at any school, not just in low-income areas. However, less than 1% of individuals who applied for PSLF actually got approved. Make sure you meet all requirements before beginning the application.
State-run teacher loan forgiveness programs. Many states offer repayment assistance to teachers. To qualify, you'll likely need to work in an underserved area for at least two years, but it varies by state. Check with your state legislature to find out what's available where you live.
Perkins Loan cancellation. If you have Perkins Loans, you could have 100% of your debt canceled. To qualify, you must teach full time at a public or nonprofit school for five consecutive years and either teach in an underserved area, work in special education or teach a subject that has a shortage of educators.
Bottom line
If you're interested in teaching children in underserved communities, Teach for America might be for you. While it doesn't offer student loan forgiveness itself, it can help you qualify for other forgiveness programs.
Didn't get all of your debt forgiven? Consider refinancing your student loans to see if you can qualify for a lower rate.
Frequently asked questions