Finder is committed to editorial independence. While we receive compensation when you click links to partners, they do not influence our content.
TaskRabbit promo codes
Best deal: Get $10 off your first purchase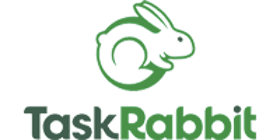 TaskRabbit is a safe marketplace of people looking for help with everyday duties. It's a win-win: Your task gets done faster, and you help out a neighbor looking to make extra cash.
What services are available through TaskRabbit?
TaskRabbit provides an easy, efficient way to complete projects around your home. Its site includes more than 60,000 vetted taskers that have gone through extensive background and identity checks before waiting to help accomplish your goals.
TaskRabbit team can help you assemble furniture or finish that half-done project you just can't look at anymore. Pick a tasker based on the prior projects they've completed and their reviews.
It's impossible to list everything you might need a tasker to help with — think of it, and you'll likely find help for it. But common handyman projects include:
Hauling trash or furniture
Moving help
Personal assistant services
Minor home repairs
Painting
Yard cleanup and removal
Delivery services
Laundry
Assembling IKEA furniture
TV mounting
Hanging pictures
Installing lights
Organizing your closets
Moving and disassembling furniture
TaskRabbit is growing quickly, but it's not available in every area just yet. So far, it's established in metropolitan areas that include:
Ann Arbor, MI
Atlanta, GA
Austin, TX
Baltimore, MD
Boston, MA
Charlotte, NC
Chicago, IL
Cincinnati, OH
Cleveland, OH
Columbus, OH
Dallas, TX
Denver, CO
Detroit, MI
Durham, NC
Houston, TX
Indianapolis, IN
Kansas City, MO
Las Vegas, NV
Los Angeles, CA
Louisville, KY
Memphis, TN
Miami, FL
Milwaukee, WI
Minneapolis, MN
Nashville, TN
New Haven, CT
New York City, NY
Oklahoma City, OK
Orange County, CA
Orlando, FL
Philadelphia, PA
Phoenix, AZ
Pittsburgh, PA
Portland, OR
Raleigh, NC
Sacramento, CA
Salt Lake City, UT
San Antonio, TX
San Diego, CA
Seattle, WA
San Francisco Bay Area, CA
St. Louis, MO
St. Paul, MN
St. Petersburg, FL
Tampa, FL
Washington, DC
How do I use my coupon code?
1. Visit the TaskRabbit website and choose the type of project you need help with.
2. Add information about your project that can help TaskRabbit connect you to a tasker.
3. TaskRabbit shows you a list of taskers who are ready to help. Don't forget to select the date you want your task tackled to be sure your tasker's available. When you find a tasker you like, choose Select and Continue.
4. Pick the specific date and time that works for you.
5. Create an account or log in through Facebook or Gmail.
6. On the payment portal page, choose Have a Promo Code?
To expand the promo code box and enter your code.
7. Make sure your total reflects your expected discount before you complete your purchase.
Why is my code not working?
If the site doesn't accept your discount, your promo code could be expired, not available in your country or case-sensitive.
Contact TaskRabbit directly for questions about your code.
Payment options
You can pay for your TaskRabbit services using any major credit card. You aren't billed until your task is complete.
TaskRabbit secures your payment and personal information through industry-standard SSL technology, so you can rest assured that your details safe.
What sets this brand apart?
TaskRabbit is a unique way to help you get stuff done around your house. It takes the stress out of household projects, and it connects you to people in your neighborhood that you might not have met otherwise.
TaskRabbit's interface is intuitive, and reasonable rates make it a top choice for booking labor services online. We love that you can read reviews of each tasker before selecting the one you'd like to work with.
What do people really say about this brand?
Unhappy online reviewers say their tasker canceled the project they'd scheduled. It's a result of the way TaskRabbit is set up: Taskers are independent contractors, not employees, with the ability to back out of a project.
Most online complaints are about individual taskers, not TaskRabbit itself. Positive reviewers praise TaskRabbit's easy-to-use site and affordable rates.
What is TaskRabbit's history?
TaskRabbit was acquired by the IKEA Group in 2017. It's now led by CEO Stacy Brown-Philpot, whose job involves thinking about how to make everyday life easier. Now in more than 40 urban areas, TaskRabbit says its taskers have spent more than 350,000 hours running around town so that you don't have to.
How can I contact customer support?
If you need help, contact a TaskRabbit customer service agent:
By phone. Call 844-340-8275 weekdays from 7 a.m. to 5 p.m. PT and weekends from 9 a.m. to 3 p.m. PT. For emergencies with your tasker, call 844-330-8275.
By email. Choose Contact Support at the top of the TaskRabbit website to complete a secure online form.
By live chat. If you're using TaskRabbit from your iPhone, select live chat within the app.
What about social media?
TaskRabbit is active on Facebook, Twitter and Instagram, making it easy to connect through your favorite social media platform. It announces important updates about the company and any new cities it's expanding to. And it posts inspiring photos to get you thinking about home improvement projects to consider.
Why should I choose TaskRabbit?
Consider these highlights and drawbacks before deciding if TaskRabbit can help you out.
Pros
Keeps it local. Work with folks from your own neighborhood — and maybe get to know somebody
new.
Reasonable rates. Save money with rates that are often lower than a professional.
Online reviews. Know what you're getting into before someone shows up.
Happiness pledge. TaskRabbit puts all taskers through extensive background and identity check and insures every task for up $1 million in property damage.
Cons
Potentially unreliable labor. You'll find customers online who complain their tasker never showed.
Quality varies. Other online reviews talk about tasks only half-completed.
Limited availability. TaskRabbit isn't yet open for business in all cities.
Bottom line
If you're looking for help with projects around the house, TaskRabbit might be the place to get it done. That you can see customer reviews by tasker before hiring them makes it a safer site than, say, Craigslist. We also like that you don't pay for your task until it's complete.
Frequently asked questions
Are gift cards available?
Yes. Go to TaskRabbit's site to purchase gift cards in a variety of denominations.
Is there a mobile app for TaskRabbit?
Yes. Android and iOS apps are available to boost your productivity on the go.
Should I tip my tasker?
It's up to you. You can tip with cash or through your account by credit card up to 24 hours after your task is complete. Either way, your tasker receives the full amount you agreed to.
More guides on Finder