What this brand is really like
Of course, everything always looks just peachy on the website, so I headed out into the wild to see just how good this new brand really is. I knew my local Target already got its Universal Thread collection in because I'd purchased a denim jacket from the line the week before. After braving the Pacific Northwest rain, I entered my local Target to find much of the Universal Thread section completely gone.
Although there were a lot of options left for standard sizes, the plus-size section didn't have many choices. I could only find two pairs of jeans near my size, plus the denim jacket I'd already purchased. I didn't let that deter me as I gathered everything that appealed to me and dragged it to the dressing room.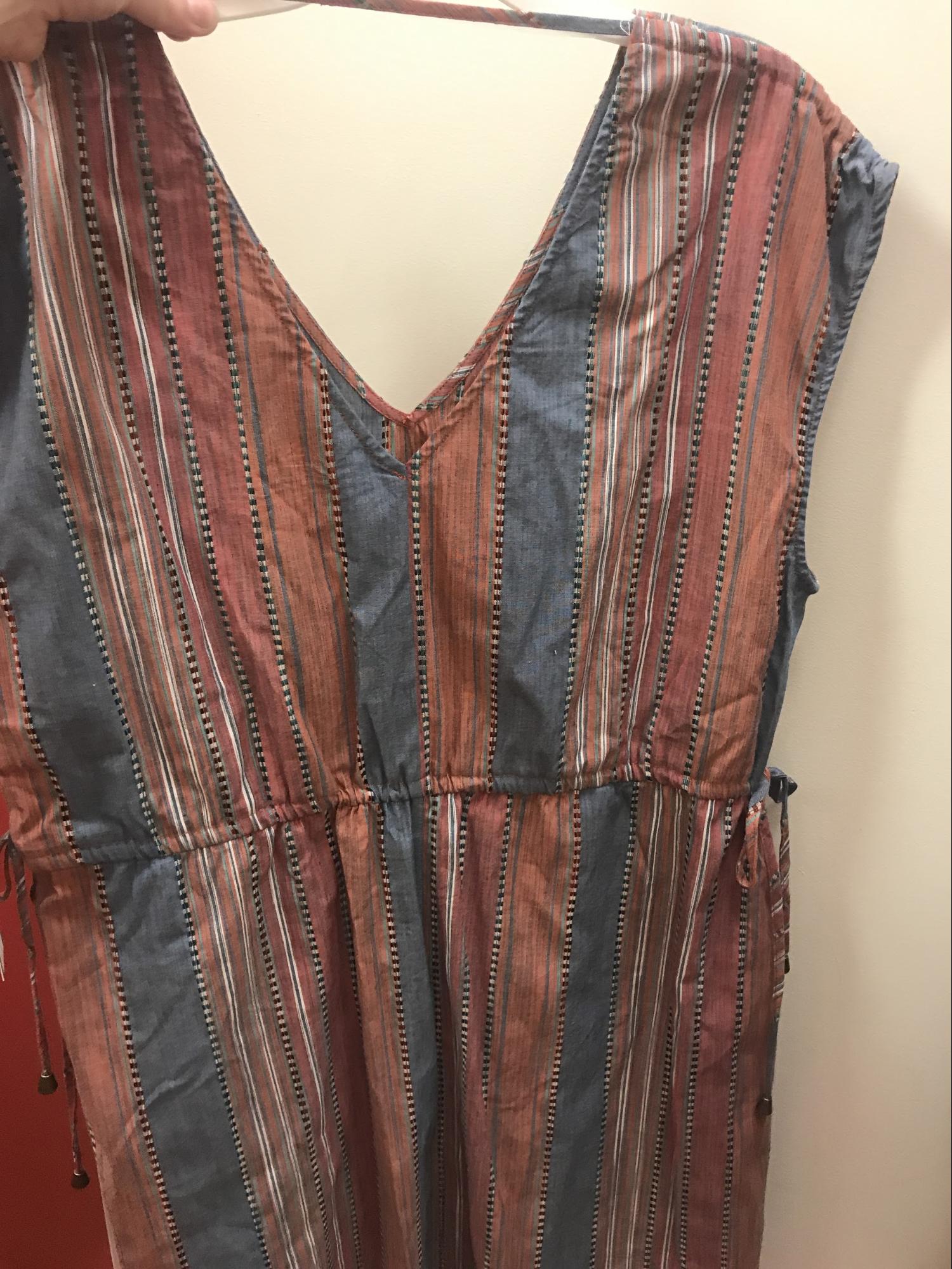 I'm in a unique position to review Universal Thread because I'm part of the group of women who fall between sizes. I can usually wear the largest standard size or the smallest plus size, which means almost all of Universal Thread's collection was at my disposal. I tried on a standard sized shirt and dress in an XXL and two pairs of plus-sized jeans in a 16 and an 18. I didn't expect the shirt and dress to fit me because when I'd purchased my denim jacket, I had to size up to a 3X. For reference, usually I can wear a Target XXL, which is a full three sizes smaller in their sizing chart, so it's safe to assume this brand runs fairly small.The pink denim shirt I tried on was high quality, but tight in the shoulders and wouldn't button over my chest. I'm sure it would be adorable on someone with a frame slighter than mine. Next, I went for the dress. I love the pattern, but I'm 80% sure it's actually intended to be a long, smock style top. It fit pretty nicely and had drawstring ties on each side to adjust the fit. It was far too short to wear as a dress on its own on my body. The material felt high quality and unlikely to tear.
Finally, the bread and butter of this new brand…the jeans. I didn't get to try on every style because they were sold out, but I tried on a pair of dark wash skinnies in a size 16 and a pair of light wash, distressed straight legs in a size 18.I get the impression this brand's sizing is irregular: My shirt size in Universal Thread clothes so far ranges three sizes depending on the style. Although the size 16 jeans fit me, I had to squeeze into the size 18s. Besides the sizing, I really like the clothing from this brand. The jeans are simple enough to look stylish and not gaudy, and the denim feels high quality. You might have to order multiple sizes to get the fit just right, but don't let that deter you. Target has an easy return policy.