Finder is committed to editorial independence. While we receive compensation when you click links to partners, they do not influence our content.
Everything we know about Target's Universal Thread collection
This new denim line features shirts, jeans, jackets and more for women sizes XS to 4X.
Get the inside scoop on Universal Thread, the new Target original brand, and find out what it has to offer and how it stacks up to other brands. Although Target has some existing plus-size lines like Ava + Viv, A New Day and Who What Wear, Universal Thread is a welcome denim-focused addition to the Target curvy brand family. It's available in regular and plus sizes, just like fledgling Target brand A New Day, which is refreshing — though not all styles are available in plus sizes. Jeans for girls with generous curves are already hard to find, so women who wear plus sizes are especially excited for this new line.
What can you buy from this line?
Target.com offers more than 180 plus-size options available from the Universal Thread line and more than 290 options for standard sizes. You can shop jeans in every size, style, color, wash and cut; denim jackets; denim shirts and more. There are even some adorable and hip accessories available that are sure to please even the pickiest trendsetter.
Although it might seem like there are a lot more options for standard sizes, many other popular denim brands like Levi's only have three or four plus-sized options in their entire collection. In terms of what plus-size gals have come to expect, this is definitely an improvement. High-quality denim for women of all sizes at great prices? Great work, Target.
What this brand is really like
Of course, everything always looks just peachy on the website, so I headed out into the wild to see just how good this new brand really is. I knew my local Target already got its Universal Thread collection in because I'd purchased a denim jacket from the line the week before. After braving the Pacific Northwest rain, I entered my local Target to find much of the Universal Thread section completely gone.
Although there were a lot of options left for standard sizes, the plus-size section didn't have many choices. I could only find two pairs of jeans near my size, plus the denim jacket I'd already purchased. I didn't let that deter me as I gathered everything that appealed to me and dragged it to the dressing room.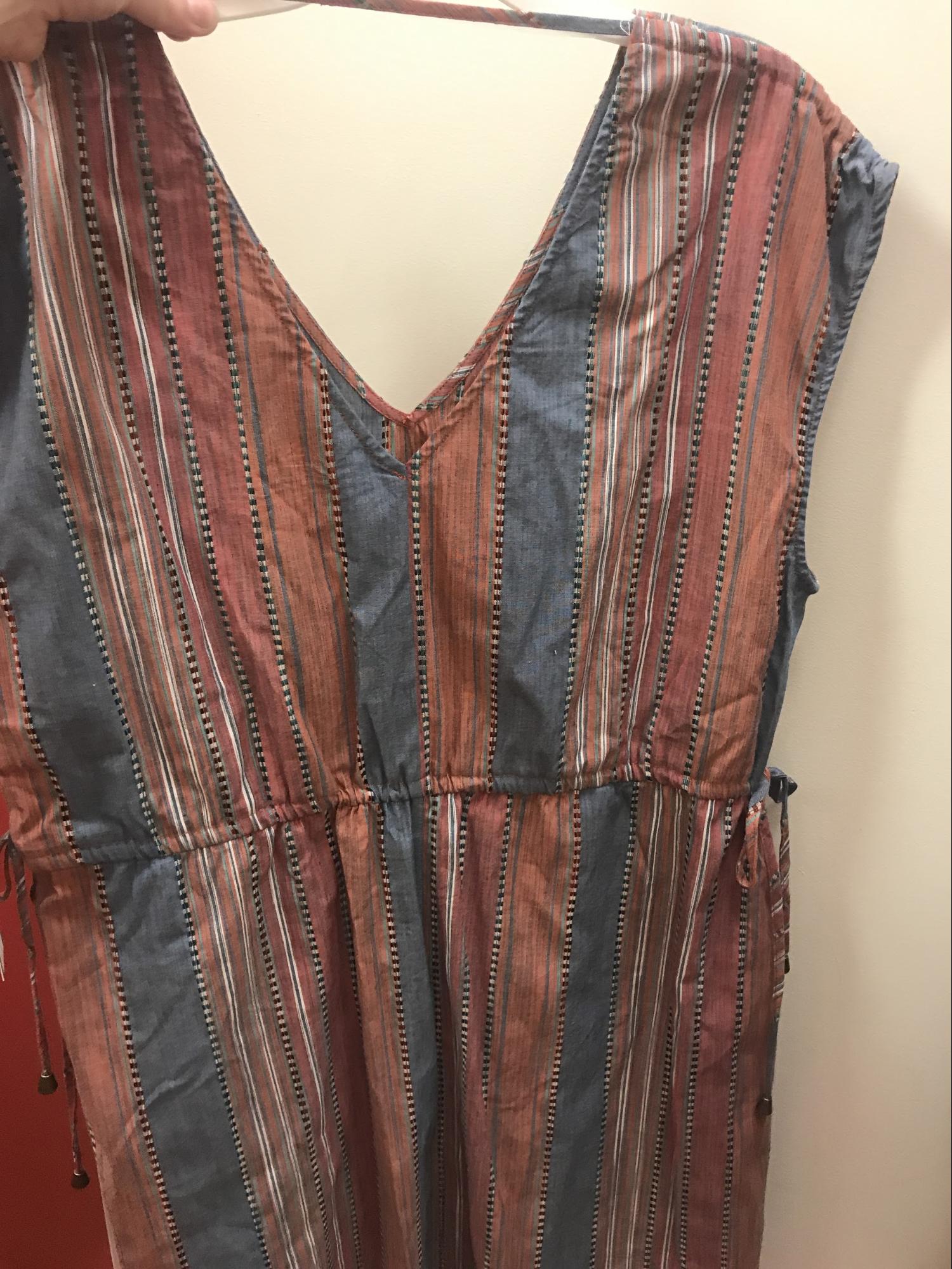 I'm in a unique position to review Universal Thread because I'm part of the group of women who fall between sizes. I can usually wear the largest standard size or the smallest plus size, which means almost all of Universal Thread's collection was at my disposal. I tried on a standard sized shirt and dress in an XXL and two pairs of plus-sized jeans in a 16 and an 18. I didn't expect the shirt and dress to fit me because when I'd purchased my denim jacket, I had to size up to a 3X. For reference, usually I can wear a Target XXL, which is a full three sizes smaller in their sizing chart, so it's safe to assume this brand runs fairly small.The pink denim shirt I tried on was high quality, but tight in the shoulders and wouldn't button over my chest. I'm sure it would be adorable on someone with a frame slighter than mine. Next, I went for the dress. I love the pattern, but I'm 80% sure it's actually intended to be a long, smock style top. It fit pretty nicely and had drawstring ties on each side to adjust the fit. It was far too short to wear as a dress on its own on my body. The material felt high quality and unlikely to tear.
Finally, the bread and butter of this new brand…the jeans. I didn't get to try on every style because they were sold out, but I tried on a pair of dark wash skinnies in a size 16 and a pair of light wash, distressed straight legs in a size 18.I get the impression this brand's sizing is irregular: My shirt size in Universal Thread clothes so far ranges three sizes depending on the style. Although the size 16 jeans fit me, I had to squeeze into the size 18s. Besides the sizing, I really like the clothing from this brand. The jeans are simple enough to look stylish and not gaudy, and the denim feels high quality. You might have to order multiple sizes to get the fit just right, but don't let that deter you. Target has an easy return policy.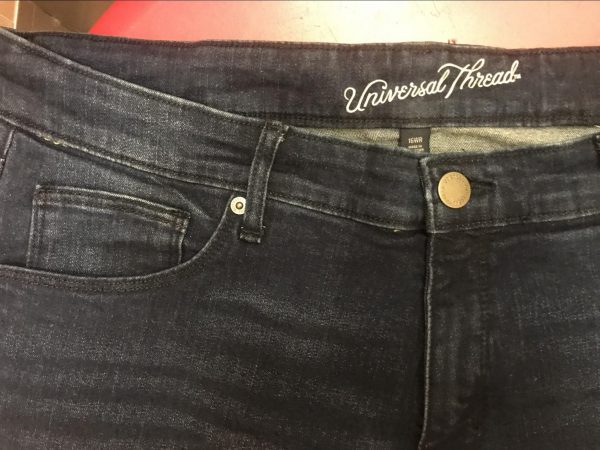 Sizing chart
Though my experience with sizes varied based on the style of jeans and tops I tried on, here is the official sizing chart Universal Thread offers its customers.
| Size | Numeric size | Bust | Waist | Hip |
| --- | --- | --- | --- | --- |
| XXS | 00 | 31.5 | 25.25 | 34 |
| XS | 0-2 | 32.5-33.5 | 26-26.75 | 35-36 |
| S | 4-6 | 34.5-35.5 | 27.75-28.75 | 37-38 |
| M | 8-10 | 36.5-37.5 | 29.5-30.5 | 39-40 |
| L | 12-14 | 39-40.5 | 32-33.75 | 41.5-43 |
| XL | 16 | 42.5 | 36 | 44.75 |
| XXL | 18 | 44.5 | 38.5 | 46.5 |
| X | 14W-16W | 41-43 | 36-38 | 43-45 |
| 1X | 18W-20W | 45-47 | 40-42.25 | 47-49 |
| 2X | 22W-24W | 49-51 | 44.5-46.75 | 51-53 |
| 3X | 26W-28W | 53-55 | 49-51.25 | 55-57 |
| 4X | 30 | 57 | 53.5 | 59 |
Pros and cons
Pros
Plus and standard sizes housed within the same brand. Target's always stepping toward equality.
Amazing value. You can buy a high-quality pair of jeans or a denim jacket for less than $40. Score.
Cons
Not all styles available in plus. Some sizes are exclusively available in standard sizing.
Inconsistent sizing. The sizing is not consistent and varies by individual item.
Top five picks from the new Universal Thread collection
High-rise raw hem midi jean-shorts in pink
Although they didn't have these adorable shorts in my size when I visited my local Target, I saw these millennial pink statement-makers in person and they are so cute. This style is unfortunately only available in standard sizes 0 to 18.
Mid-rise skinny jeans in dark wash
These are similar to the jeans I tried on, and I already regret not buying them. With an aesthetic that recalls Sevens or Hudsons, a $24.99 price tag is seriously shocking.
Long-sleeve off-the-shoulder denim blouse
This high-quality denim shirt has a fun and relaxed peasant vibe while still being dressy enough to pass as office-casual. We're relieved to see a plus-size offering that won't swallow us up.
Freeborn denim jacket in medium wash
I'm obsessed with this jacket. I've worn it almost every day since I purchased it. It's available in every size from a XS to 4X, fits well, looks great and is a surefire way to have to field compliments all day long.
Long-sleeve striped button-down shirt
Another one that's available in a range of sizes from XS to 4X, this vintage-inspired button-down is great for a casual look, a decade-themed party or adding edge to a business-casual get-up.
Shop the full Universal Thread collection
Bottom line
If you loved shopping at Target before, you're sure to enjoy shopping Universal Thread's collection of new denim. Especially for plus-size girls who have a difficult time finding fashionable jeans, this line is truly a godsend. The plus-size fashion world is growing every day, and Universal Thread is a welcome addition.
Shop the Universal Thread collection online at Target.com for the best selection of styles and sizes — plus, save money using our coupon codes. With so many great options under $50, we're sure your cart will fill up quickly.
More fashion highlights: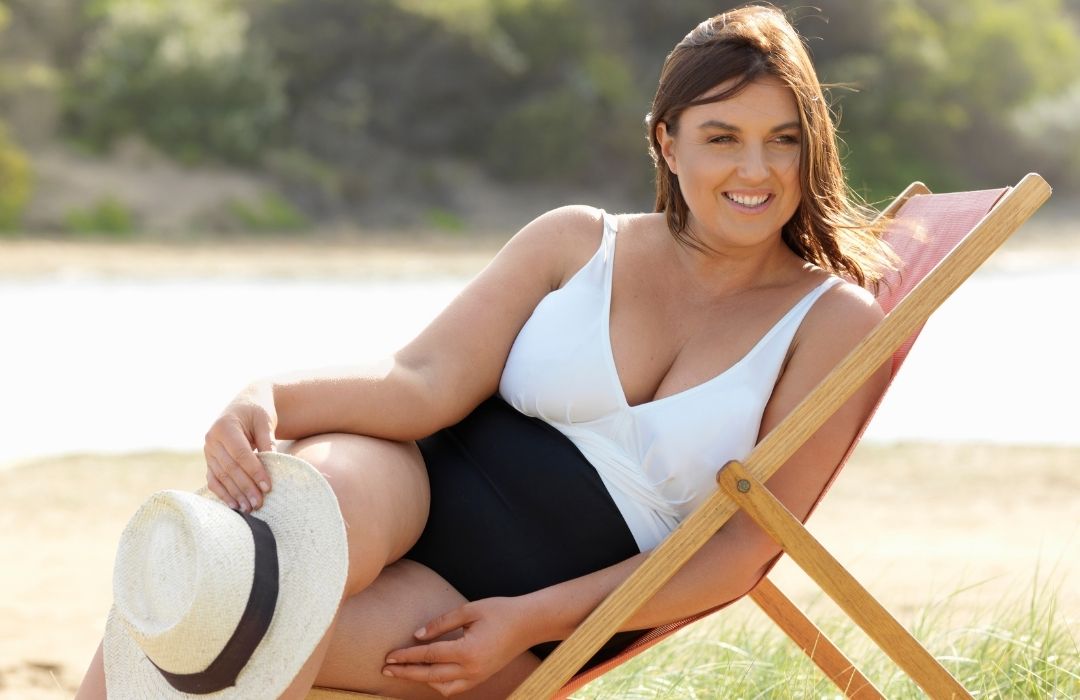 See our favorite places to shop for plus-size swimwear, including bikinis, tankinis, swim dresses, swim skirts and more.
Read more…
Find the perfect slip dress for your style and budget, whether you're looking for something casual or a formal look to dress up.
Read more…
Shop some of the best nursing shoes to help you stay on your feet in comfort and style. We share our picks and tips and advice from nurses.
Read more…
More guides on Finder