People are still dying after more than 6 years of Takata recalls – are you at risk?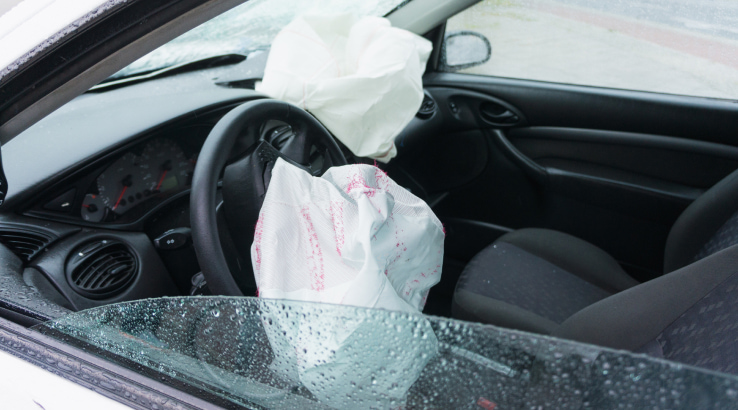 Know your rights and your car's risk for these serious air bag defects.
On Saturday, Honda Motor Company confirmed the 17th known death in the US related to a Takata air bag.
The driver is the latest victim of serious injury and death amid Takata's air bag recall flurry. Takata saw the first nationwide recall in the US in 2014.
Another Takata recall was announced in late 2019, and it involves different air bag inflators than in the larger ongoing recall. The new recall affects over 2.5 million vehicles from five manufacturers, including Honda and Toyota.
Speaking on the recalls and recent related death, an NHTSA spokesperson told Finder, "Our deepest sympathies go to the family for their loss. This incident underscores the importance of ensuring every recalled Takata air bag inflator is replaced. We urge vehicle owners to act immediately when notified of a safety defect and contact the local dealer of their vehicle brand to schedule a free repair. Drivers can check their vehicle for recalls by visiting https://NHTSA.gov/Recalls or by downloading NHTSA's SaferCar app."
How to find active recalls on your car
Takata's defective air bags have been installed in millions of cars worldwide. The recall's large scope may have led to some drivers not knowing that their vehicle needs servicing.
To stay informed and safe, NHTSA urges consumers to take the following five actions:
Visit NHTSA.gov to find out if your vehicle is under recall. Search using your Vehicle Identification Number (VIN). Vehicles scheduled for future recalls will not show up in this search, so it is important that people check regularly, at least twice per year.
Download the NHTSA SaferCar app and put your vehicle in the virtual garage so that the app can check automatically for recalls.
If your vehicle is subject to recall, schedule a free repair as soon as possible. The replacement air bag parts for Takata recalls are available for all vehicles.
Sign up at https://NHTSA.gov/Alerts to be notified by email if your vehicle is affected by a future recall.
Get answers to frequently asked questions at https://NHTSA.gov/recall-spotlight/takata-air-bags.
Help spread the word: share NHTSA's Consumer Fact Sheet and Video with friends and family.
Getting your car repaired for a recall is free — as long as you go to your car maker's local dealership.
These cars are on the NHTSA's Do Not Drive list
The NHTSA has included several makes and models on a Do Not Drive list, warning people to take these cars to the brand dealership immediately.
This is not an exhaustive list of the at-risk cars, so check specifically for recalls on your make and model.
Acura: certain 2001–2003 models
BMW: certain 1999 323is and 328is
Ford: 2006 Ford Ranger
Honda: certain 2001–2003 models
Mazda: 2006 B-Series
Your rights if you drive a car with a Takata air bag
You have legal rights if you get injured in a car with a manufacturer defect like Takata's air bags. But any restitution depends on what the company has done to correct your car's problem.
While you're waiting for a possible settlement, you could file a claim on your car insurance if you have personal injury protection or medical expense coverage. If someone else caused your car accident, that person's liability car insurance coverage should pay your expenses.
"Typically, the rights that a consumer has depends on whether or not there is an active recall, if the company has issued a recall and complied with the notice requirements," Jeffrey Johnson, a lawyer who writes and researches for CheapCarInsuranceQuotes.com, told Finder. "Basically, if you were injured by a defective air bag (or anything else) before a recall is issued, you will be able to seek compensation for any harm caused by the defect. This includes repairs, injuries, and pain and suffering."
However, your rights also depend on whether you knew about any recalls and chose not to get repairs done.
"If there is an active recall and you are unaware of it because you have not received notice, you should be in the same boat. For example, a driver with a 2019 or 2020 Toyota RAV4 may not yet be aware of the recall involving the front suspension arm. If this defect caused an accident before the driver knew about the recall (which was only issued in May), they would have a right to recover as if no recall was issued," Johnson said.
"If, however, there is a recall and you knew but chose to not have the repairs made within a reasonable time, you may be barred from recovery or limited in what you can recover. Proving what you knew and when would become a question of fact, but for example, if the recall was a major news story for months in 2018 and you were in a wreck caused by the defect now, you might be stuck recovering for only the cost of repair and/or medical expenses. You might be barred from recovery at all."
Your rights if you're sold a car with a Takata recall
Also, selling a car with an active recall may be illegal. But again, it depends on where you're buying the car and whether it's new or used.
"If the car is used, there is no problem with a car being sold that has an active recall, at least in a private sale. Because active recalls include repairs at no cost, it isn't unethical or illegal for a used car to be sold under these circumstances. The buyer of a used car may be well-advised to check for active recalls upon purchase, however," Johnson noted.
"If the car is new, however, it is illegal for the car to be sold if there is an active recall. It may also be illegal for dealers who sell used cars to sell a vehicle with an active recall, depending on the state."
The bottom line: It's important to check for recalls on your car regularly. That way you can take care of repairs and stay safe on the roads.
Photo: Getty Images