T-Mobile Launches 5G Network Early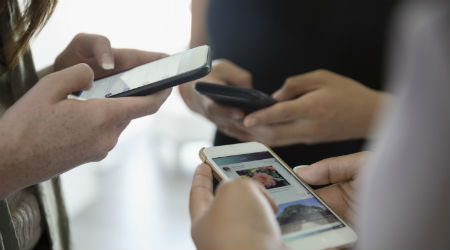 The "Un-Carrier" has launched its nationwide 5G network 4 days earlier than previously announced, despite not completing its merger with Sprint.
Over the last few months, T-Mobile has dominated mobile news. With coverage on its pending merger with Sprint, news that its longterm CEO John Legere will be stepping down, and its Un-Carrier 1.0 promotion, the news cycle has been abuzz with T-Mobile press.
Yesterday, T-Mobile continued this trend by announcing that it will be launching its nationwide 5G network earlier than expected. "It's on! T-Mobile today lit up the country's first nationwide 5G network, covering more than 200 million people and more than 5,000 cities and towns all across the country," the company announced in a press release Monday. "Today's launch immediately catapults T-Mobile into the leadership position as the country's biggest 5G network, covering more than 1 million square miles, much of that in rural America."
The company announced last month that the network would go live in 5,000 towns and cities on December 6th. The promise was conditioned on the closing of the merger, which is currently being blocked by several antitrust lawsuits from a number of state attorney generals.
T-Mobile will be using a slower form of 5G — 5G low-band — which delivers capacities akin to advanced 4G networks. At 600 Mhz, the network could have transmission speeds as low as 25 Mbit. However, individual cell towers can transmit signals further using lower frequency signals. While Verizon's planned 5G millimeter wave "ultraband" network will be able to deliver download capacities in excess of broadband, the network will require more towers and nodes. Additionally, Verizon's "ultraband" may not be able to penetrate walls and windows, limiting indoor coverage.
The company's capacity to offer broadband access to rural customers is essential for its merger plans. A consideration taken by the FCC and the courts in approving the merger is the merged company's ability to deliver on providing at least 25 Mbits of broadband capacity to non-urban customers. T-Mobile intends to do this by using the 600 MHz wavelength system, which would limit the need to build new cell towers in remote areas.
T-Mobile has started deploying 5G millimeter wave in a small number of cities, although it is not clear if the company will extend access. Sprint utilizes a 2.5 GHz mid-band 5G spectrum that, should the merger close, T-Mobile will integrate into its 5G network.
On Friday, T-Mobile will begin selling the OnePlus 7T Pro 5G McLaren Edition and the Galaxy Note 10 Plus 5G, which can both connect to the 600 MHz networks. Neither phone, however, has millimeter-wave support.
"The carriers have been over-hyping 5G for years now, setting expectations beyond what they can deliver. When Verizon says #5GBuiltRight, they must mean sparse, expensive and limited to outdoors only," Neville Ray, T-Mobile President of Technology, said per the press release..
"Meanwhile at T-Mobile, we built 5G that works for more people in more places, and this is just the start. With the New T-Mobile, we'll see 5G speeds follow the same path as LTE, increasing exponentially over time. Plus, real broad and deep 5G will unleash whole new categories of innovation that will touch almost every area of the economy. The 5G future is bright, and it starts today."