Finder makes money from featured partners, but editorial opinions are our own.

Advertiser disclosure
How to finance a Subaru
Plus, explore the brand's special car-buyer programs to help you save.
According to USA Today, Subaru ranks number three in customer satisfaction among car manufacturers. If you're interested in buying one of these midrange cars, you have a few financing options to consider. Though Subaru is pricier than some of the competition, its vehicles come with a solid warranty and you could even score a special rate discount.
How can I finance a Subaru?
You can finance your Subaru a few ways: through a car loan, manufacturer financing or by taking out a personal loan. A car loan is generally the least expensive option: You'll be taking out a secured loan, which typically has lower rates than a personal loan without collateral, and you'll also cut out the intermediary. This means no tacked-on interest to cover the dealership's costs.
However, it may not be your quickest option. To find the best deal, you'll have to compare rates from different online lenders, banks and credit unions. If you're pressed for time, a loan directly through Subaru Motors Finance (SMF) may be ideal.
SMF is done through Chase Bank, which means your vehicle will be financed through Chase if you go directly through an authorized Subaru dealer. You can apply when you pick out your car and drive off the lot the same day — no waiting period required.
Financing through SMF. Though rates vary based on where you live and promotions your local dealer is offering, past deals include 0% APR financing on the 2018 Forester, Outback and Impreza.*
Leasing through SMF. Leasing is a good choice if you want to switch up your car every few years. You use the car for a set number of years and miles, and then return it at the end of your lease period. It keeps your monthly payments low as well, though you still need to provide a down payment. Past deals include leasing the 2019 Subaru Outback for $285 a month for three years and $1,999 due at signing.*
Your local Subaru dealer may offer its own special promotions, like cashback bonuses or low down-payment options. The rates and terms you qualify for will depend on your credit score and personal financial situation.
*Rates as of November 27, 2018.
How to apply with Subaru Motors Finance
Applying online for a new Subaru with SMF should only take a few minutes. Follow these steps to get started:
Visit the Subaru Motors Finance website and choose Financing/Leasing under Shopping Tools.
Read over Chase's disclosure, then hit Apply for Financing Today.
Select the model and trim you want to purchase or lease, then select an authorized Subaru dealership near you.
Enter your desired finance amount, your down payment and your trade-in value, if applicable. Then select your desired loan term.
If you're applying jointly, choose the Joint option at the top of the page. Enter your full name, email address and phone number.
Enter your address, monthly housing payment, date of birth and Social Security number.
Enter information about your employment status and your annual income.
Review your loan information and read the terms and conditions.
SMF will review your application. Write down your reference code, and Subaru will contact you with your next steps once your information has been confirmed.
Subaru Motors Finance pros and cons
Pros:
Financing backed by Chase
Lease Loyalty Program pays your disposition fee and first monthly repayment
Rates start at 1.99% APR for certified preowned vehicles
Cons:
No discounts for first responders
No information on how to make repayments
Poor BBB rating
Compare car loans for financing a Subaru
Use our comparison table for a side-by-side view of the lenders available to help you get behind the wheel of a new Subaru. Select up to four loan providers at once.
Does Subaru offer special discounts or programs?
Subaru offers a few car-buyer programs for servicemembers, college grads and more.
Military Discount Program. Active-duty servicemembers, reservists and recent retirees of the US military are eligible for a $500 discount off the price of your new Subaru.
College Graduate Program. Recent and soon-to-be college graduates may qualify for special financing or leasing promotions if they finance directly through SMF.
Lease Loyalty Program. If you're trading in your current lease for a new Subaru, you may be eligible to have your first monthly payment — no greater than $500 — paid for you on your new lease. Subaru may even pay your disposition fee owed on your current lease.
Mobility Assist Program. Subaru may reimburse qualified drivers up to $1,000 if their new car needs modifications for a medically recognized physical disability.
Certified Preowned (CPO) Program. Subaru has special financing rates for all CPO models from 2013 to 2018, and there's no down payment required. However, you'll still have to meet Subaru's eligibility criteria to qualify.
Guaranteed Trade-In Program (GTP). If you're looking to upgrade your current Subaru for a newer model, the GTP offers the highest possible trade-in value you can get. You must have owned your current Subaru for at least a year to be eligible, and you need to trade it in within eight years of the vehicle's original warranty start date.
What will a new Subaru cost me?
The actual cost of your new Subaru will depend on your negotiating skills, where you live and any special promotions you qualify for. However, you can expect a basic trim to run you anywhere from $18,595 to $65,700.
Choose a type
Cars
Impresa
Starting MSRP: $

18,595

Build: Sedan
City/highway MPG: 28/38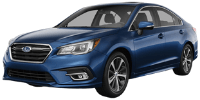 Legacy
Starting MSRP: $

22,545

Build:

Sedan

City/highway MPG: 25/34
BRZ
Starting MSRP: $

25,795

Build: C

oupe

City/highway MPG:

22/30
WRX
Starting MSRP: $

27,195

Build:

Sedan

City/highway MPG:

21/27
SUVs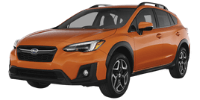 Crossteck
Starting MSRP: $

21,895

Build: SUV
City/highway MPG: 27/33
Forester
Starting MSRP: $

24,295

Build: SUV
City/highway MPG: 26/33
Ascent
Starting MSRP: $

31,995

Build: SUV
City/highway MPG: 21/27
Outback
Starting MSRP: $

65,700

Build: SUV
City/highway MPG: 25/32
Compare car insurance costs for every Subaru model
Does a new Subaru come with a warranty?
For 2018 and 2019 models, Subaru offers a new vehicle limited warranty that covers your car for three years or 36,000 miles — whichever comes first. There's also a standard five-year, 60,000-mile powertrain limited warranty. It covers your engine and related parts as well as warranties that cover your seat belts, brake pads, wiper blades and clutch linings.
In addition to these, Subaru has a standard five-year limited warranty for rust perforation that covers your vehicle in case of corrosion and other rust-related damage.
In order to avoid charges for these repairs, you need to bring your car to an authorized Subaru retailer in the US. And unlike many other manufacturers that only cover the first owner of the vehicle, Subaru extends its warranties to every owner during the warranty period.
Bottom line
Although Subarus can be a bit pricier than the competition, you may qualify for one of the brand's special buyer programs to help bring down the cost. And if you're buying a certified preowned car directly through Subaru, you may be able to find a car that's still under warranty. Financing directly through Subaru Motors Finance may be your fastest option, but you could likely find a more competitive rate by comparing car loans from banks and online lenders first.
Learn more about how they work and compare your options with our guide to car loans.
Frequently asked questions
Should I buy or lease a Subaru?
Buying and leasing offer their own benefits and drawbacks. Since Subarus are known for their reliability, you may be able to buy your car and drive it for a long time — cutting down on the need to trade in your car every few years with a lease.
And while a lease saves money month to month, it will cost more over the long term — and you won't end up owning your car in the end. But if you're interested in all the bells and whistles that come along with new cars, a lease may be a better choice.
What kind of down payment will I need?
It depends on your lender and personal financial situation. Most lenders ask you to put down between 10% and 20% of the car's value to really cut down on the costs of borrowing a loan. In general, the more money you can put down — the better.
What accolades has Subaru earned for reliability?
Subaru was named the most trusted car brand by Kelley Blue Book for four years running. Forbes magazine also named Subaru as one of America's most reputable companies in 2018. And 97% of Subarus sold in the last 10 years are still on the road today.
Image source: shutterstock and Subaru's official page