Finder is committed to editorial independence. While we receive compensation when you click links to partners, they do not influence our content.
How streaming can keep life normal in quarantine
The coronavirus doesn't have to keep you from your daily routine when there's a host of ways to adjust — online.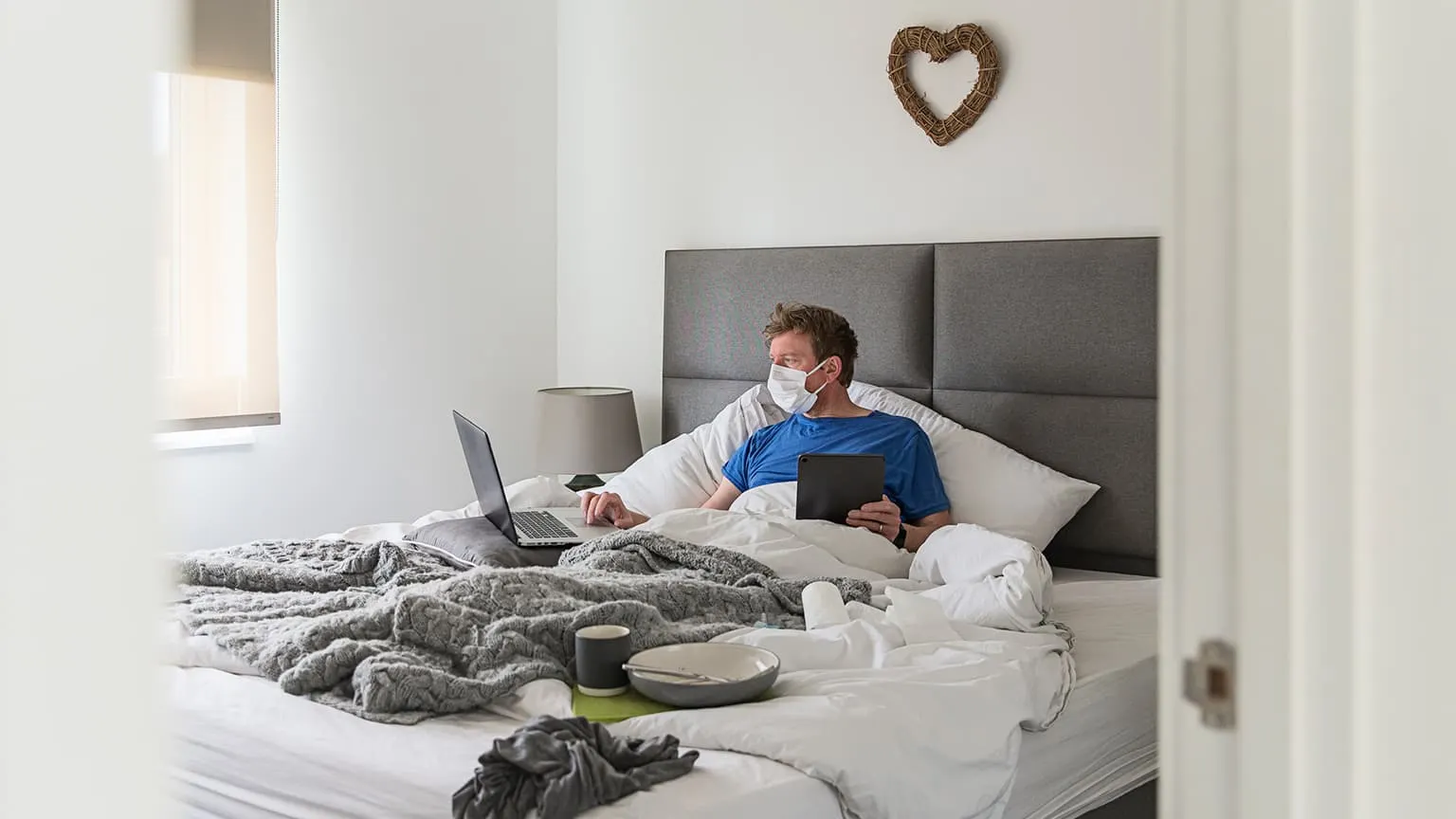 With the chaos of COVID-19 making a lot of decisions for us lately, our lives feel out of our control. To try to get a bit of that control back, check out the dozens of streaming services that can offer a silver lining to quarantine.
For exercise and fitness
Daily Burn
Cost: $19.95 monthly
A Daily Burn subscription offers more than 1,000 classes, generally 30 minutes long. After completing its assessment, it provides a weekly selection of live workouts to join in real time.
There's a strong focus on live workouts to connect with other people — which can be a great source of community right now. If you don't feel like watching a workout on a screen, it offers audio workouts too.
Its app is compatible with Apple TV, Roku, Chromecast as well as iOS and Android mobile devices. There's a 30-day free trial to get you through the quarantine without committing to a $19.95 subscription.
Gaia
Cost: $11.99 monthly
With well over 8,000 hours of ad-free classes, documentaries and original series, Gaia is a way to practice yoga in your home for $11.99 a month. Its streaming library is filled with mindful practices and healing techniques that can help during this chaotic time.
It offers a seven-day free trial to get your feet wet before deciding anything. Though the specifics of compatible devices isn't mentioned on its website, it does say it connects to phones, tablets, TVs and laptops.
Try Gaia
Obé
Cost: $27 monthly
If you're looking for workouts to keep you on your toes during isolation, a standard subscription for $27 a month gives you access to an intense selection of 100 live classes weekly and 4,000 on-demand classes to choose from. While it advertises 28-minute workouts, we found 10-minute express classes and 45-minute dance choreos. Workouts include anything from cardio and HIIT to meditation and pilates.
It's particularly compatible with desktop and iOS devices, but is available to cast onto a larger screen like your TV. A free seven-day trial is available for anyone looking to add a little neon to their workout.
For religious services
Can't make it to your place of worship? Follow the steps below for a possibility to watch some form of religious service that aligns with your beliefs during quarantine. It might be different from your particular place of worship, but it is a sound streaming alternative that's generally free to the public.
Step-by-step method to watch online
Google it. The best way to find a way to stream your service online is to search for your faith "watch and online".
Choose. Many results will pop up, but choose one that best fits your needs. It usually has the words "live streaming" or "online" in the title.
Adhere to the guidelines. Simply because it's online doesn't mean it's 24/7. Each religious streaming option has its own schedule for live services. Some even offer an on-demand option one-week after the live service.
Save for later. The nature of these religious streaming services is dominantly web-based, accessible from a desktop or cell phone with a web browser. Saving the page ensures you can find it later.
For leisure classes
Udemy
Cost: Pay-per-course
With an Udemy account, choose the courses and add them to a shopping cart. The courses include cryptocurrency, mindfulness, voice acting, makeup artistry and more. The prices vary depending on the subject — you get anything from 573 lectures for $9.99 to 10 lectures for $84.99.
Purchasing a course gives you unlimited access, which might come in handy if you feel like rewatching a lecture or two while you're stuck inside. Videos through Udemy are compatible with desktops, iOS or Android phones, tablets with access to the Internet or the app. It's currently offering 75% off your shopping cart for new users.
Try Udemy
The Great Courses Plus
Cost: $19.99 monthly
A monthly subscription to The Great Courses Plus is $19.99, but you get 14-days to try it out before paying. It covers a wide range of subjects, including economics, cooking, painting and linguistics. Imagine filling your days in isolation learning French and how to use watercolors, or the basics of cooking and learning about Pompeii.
New courses are added every three to four months and it notifies you by email or push notification. It's compatible with iOS and Android mobile devices, desktops as well as Roku, Chromecast and Amazon Fire TV Stick.
Try The Great Courses Plus
Skillshare
Cost: Free
Skillshare is an online community where you can explore creative subjects like illustration, photography and graphic design. It even offers a business class or two. There's a free membership that restricts you to free videos, and a premium membership for $19 monthly that gives you unlimited access to the entire library.
You get a two-month free trial to explore before deciding if you want to continue with a paid membership. It's also okay to stick with a free membership — simply filter the library to free videos. There's an option to watch videos offline on your iOS or Android mobile device or desktop. Students get 50% off a Premium membership when they provide an .edu email address.
For reading and meditation
Scribd
Cost: $8.99 monthly
Without libraries or brick-and-mortar stores as an option, a Scribd subscription might be a nice way to expand your online reading collection. For $8.99 a month, you get unlimited access to its books, magazines, academic documents and audiobooks.
It offers a 30-day free trial to read as much as you possibly can on your desktop or the Scribd app on an iOS or Android phone or tablet. Leaf through a few reviews left by fellow subscribers to get a good idea of what books should fill your time.
Epic
Cost: $7.99 monthly
Keeping the kids occupied while school's closed might be difficult, but if your kid enjoys a good story, Epic has a library full of 35,000. For $7.99 a month, you get unlimited access and four personalized reader profiles. While the targeted age is 12 and younger, there are a few classics The Giving Tree and The Tale of Peter Rabbit that parents might enjoy.
During normal times, Epic offers a 30-day free trial to see how well it works for your family. But because of school closures due to COVID-19, Epic is allowing classroom teachers to grant families free access to its service to keep kids engaged.
Teachers simply send parents an email invitation to get started. It's compatible with desktops and iOS and Android phones and tablets.
Try Epic
Headspace
Cost: $12.99 monthly
Headspace is a service that advertises itself as simple meditation. Its library is filled with more than 100 guided meditations, 40 mindfulness exercises, sleep sounds and expert guidance from the founder and former monk, Andy Puddicombe.
With the uncertainty of the coronavirus spreading, Headspace created a collection of meditations and exercises titled Weathering the storm that's free to everyone. In addition to this larger library, it offers profession-specific outline pages and special promotions for healthcare professionals and educators.
Your first week with Headspace is free and you can cancel anytime. Sync your Amazon Alexa or Google Home device to the app. It's also compatible with: iOS and Android mobile devices and desktops. It also offers a hefty student discount for $9.99 a year.
Case study: Shannon's experience
Shannon Terrell
Staff Writer, Incubation
I downloaded the Headspace app in 2018 in pursuit of a guided meditation practice. I rely on it daily to help me carve out some structured self-care. There are a number of 30-day courses and standalone meditations available across a spectrum of categories, including stress and anxiety, self-growth, work performance and physical health. It even has SOS meditations for panic attacks and chronic pain flareups.
But what I love most about Headspace is its collection of day-to-day exercises. On days when I don't feel like sitting still for 10 minutes, I can plug into Headspace for an eyes-open meditation while I go for a walk, cook or tackle chores.
For those that are looking to try Headspace, it's recently added a fresh program to its offerings: Weathering the storm. There are three calming meditations, two meditation courses, two SOS meditation sessions and two sleepcasts.
For concerts
Stingray Qello
Cost: $11.99 monthly
A Stingray Qello All Access Pass for $11.99 a month gives you complete access to its library of full-length concerts and music documentaries. Stingray Qello covers all sorts of music genres: classic rock, blues, pop, country, EDM and more.
It's compatible with so many devices— iOS and Android phones and tablets, smart TVs, Chromecast, Roku PlayStation 4. You can connect up to 10 devices at once. And it offers a seven-day free trial.
Nugs.net
Cost: $12.99 monthly
A monthly subscription for $12.99 gives you access to the entire streaming library of 15,000 live shows and more than 100 on-demand videos. Create your own playlists and watch videos offline. Some of the artists you can expect to find content from include: Tauk, Metallica, Dead & Company and Pearl Jam — a lot of artists in the rock genre.
It's available on iOS and Android mobile devices as well as Sonos speakers. Before you cough up the $12.99, you get 30-days to try the perks of the subscription for free.
Don't forget TV and movies
Bottom line
No matter the level of quarantine you're personally experiencing at the moment, your life can go on. Adapt with the help of a few online alternatives to fill your time. To find ways to make it through coronavirus experience, keep yourself informed when it comes to COVID-19 to better ground yourself.
More guides on Finder