Finder is committed to editorial independence. While we receive compensation when you click links to partners, they do not influence our content.
3 trading strategies if you're new to forex
Learn how to use wave trading, trendlines and moving averages, including ways to manage risk.
Choosing a strategy can be difficult when you first start trading forex. This guide outlines three trading strategies to consider for the investor who's new to forex, as well as risk management techniques to help limit your losses.
Understand how different markets move
Markets trade differently and move in various cycles. So before you devise a trading strategy, become familiar with how each asset class behaves.
Equity markets tend to trend for longer periods, since many stock investors are looking for long-term returns and retirement income. Currencies tend to be more volatile and dynamic, and they tend to revert to the mean — or move back to a more normal average — more quickly.
The foreign exchange market, often abbreviated to FX, is a great market to trade, but it tends to be more sensitive than equities. Commodities run in a more cyclical pattern due to harvesting and mining cycles. For example, grains tend to follow weather and demand patterns. Coffee is used all year-round, but futures from different markets follow harvesting cycles in their respective regions.
Trading strategy 1: Technical-based moving average
A technical-based moving average can help traders spot long-term price trends by considering the average trend over a period of time, rather than focusing on day-to-day price movements.
This strategy can help you control risk more easily than some other strategies, and it has a clear entry point. You can choose the time frames yourself, but note that trading on shorter time frames involves more risk, as prices can be more volatile and your stop-loss can cancel you out of your position quickly.
Start with a four-hour chart and add a 30-period moving average — or an average of the last 30 four-hour periods. Now, each time the price crosses the moving average in either direction, you take a position. The stop-loss should be placed at the previous wave's low or high.

Image source: Screenshot taken from author's own trading platform
This chart highlights the basic premise of the strategy: the long position (or buy) on the left side of the chart, the stop-loss (or risk limit) at the bottom left of the chart and then, finally, at the top right, the exit of the trade, where the price crosses back below the moving average.
With this strategy, when the price moves above the line — the moving average — it's a buy signal, and when it moves back below, you sell out and take profits.
Trading strategy 2: Wave trading
Wave trading is when you trade pullbacks in a trending market. A pullback is when there's a slight dip or drop in the price of an asset that's been trending upward, and it can often be a good opportunity to start a position.
First, you need to establish a trend. You can do this by looking at the closing prices each day over a period of time. If the market you've chosen has made higher highs and higher lows, it's in an uptrend. If it's made lower highs and lower lows, it's in a downtrend.
Once you've established a trend, the trick is to look for an entry point on the next wave up or down, depending on the direction. To some investors, it can be difficult to buy a security at the highs. But to seasoned investors, this is a common strategy to follow momentum and hold positions for a significant period of time.
Let's looks at an example: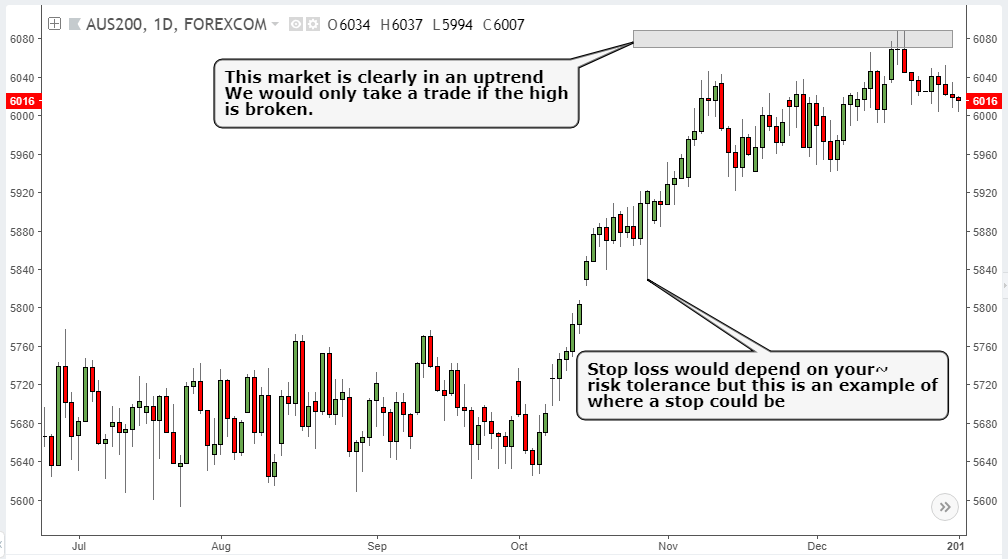 Image source: Screenshot taken from author's own trading platform
In this chart, the highlighted area at the top must break for a position to be added. You can see the index has been trading in an uptrend. Following this trend could benefit you.
You can determine risk by the size of your position and where the previous waves begin. In our example, a stop has been suggested around halfway into the trend. This might be sufficient to achieve a decent risk to reward. However, if you have a higher tolerance to risk, you could place the stop lower down at the point, before the waves begin in the uptrend.
To help limit your risk with this trading strategy, you can start with a smaller position, and when each wave high is broken, add more to the position as desired.
Trading strategy 3: Trendlines
Trendlines are an important indicator of the market's underlying trend. Once a trendline is broken, it can become a reference point for future prices.
Determining the trendline and drawing it correctly is the hard part. Similar to wave trading, a trendline can be drawn by looking at the previous closing prices over a set period of time. If each closing price is lower than the previous price, it could signal a downtrend. All price action must be under the line — that is, none of the price action must be above the line when drawing a down trendline, and vice versa for an uptrend.
Let's look at this daily chart of gold as an example: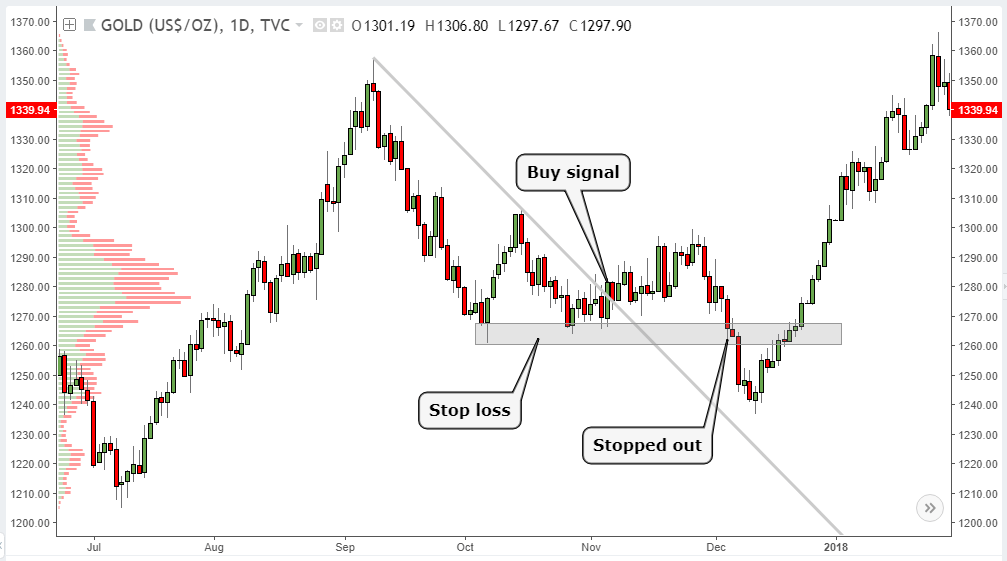 Image source: Screenshot taken from author's own trading platform
As you can see, there is a steep down trendline plotted in the middle of the chart. The buy signal is triggered on the break of the trendline.
Because the trend has been broken, the trader assumed the price would now continue in an upward direction instead, which you can see it did for a short time. However, the price quickly went down again, which is when the stop was executed and the position closed at a loss.
For this reason, you can see this particular trade didn't work out. As a trader, you must be prepared to take losses, as not all trades go according to plan.
Risk management strategies
While you can't control the future, you can control your risk. And risk management is key to all forex trading strategies.
Risk management techniques you can follow include:
Limit your capital. Making more frequent trades of less value, rather than larger trades less often, could be a way to limit your risk.
Diversify your trades. Consider avoiding too many trades that are correlated to one another. Take, for example, a long (buy) position on EUR/USD and a short (sell) position on gold. If the US dollar appreciates too quickly, EUR and gold could both fall in tandem and take you out of both positions.
Consider the size of your positions. For example, a EUR/USD position may be able to trade with a $1-per-point size (1 decimal movement in price), but a silver position may have a minimum of $4. Even if your trade decision is correct, this overleveraging may make the trade uncomfortable and force unwanted account management.
A clear trading plan and strategy in trading is among the most important — and toughest — aspects for traders to establish. But it could mean the difference between success and failure.
Once you're confident with the strategy you choose, back test it by running a simulation. Software like TradingView can do this for you, but you can also do it manually. Demo trading is also another way to see if you have a handle on executing the plan and controlling the money management.
Obviously, you cannot win every trade. But if you control the risk to reward and manage your account, you can be at least halfway in the right direction.
Something else to consider: your personal emotions. If you can't stare at your charts all day without messing with your positions, maybe a set-and-forget-it strategy on a longer-term time frame is better for you. If you enjoy the adrenaline and can stick to your trading plan, then a short-term system may be what you like.
Compare forex trading platforms
Compare multiple forex platforms to find one that meets your trading level and needs.
Disclaimer: The value of any investment can go up or down depending on news, trends and market conditions. We are not investment advisers, so do your own due diligence to understand the risks before you invest.
Bottom line
If you're interested in trading forex, take the time to become familiar with different trading and charting methods to learn what best fits your financial goals, trading style and tolerance for risk.
And if we've managed to scare you away from forex trading, you've got many other options. Learn more in our guide to investing — from stocks and bonds to commodities and more.