Stocks that spiked after Pfizer's vaccine news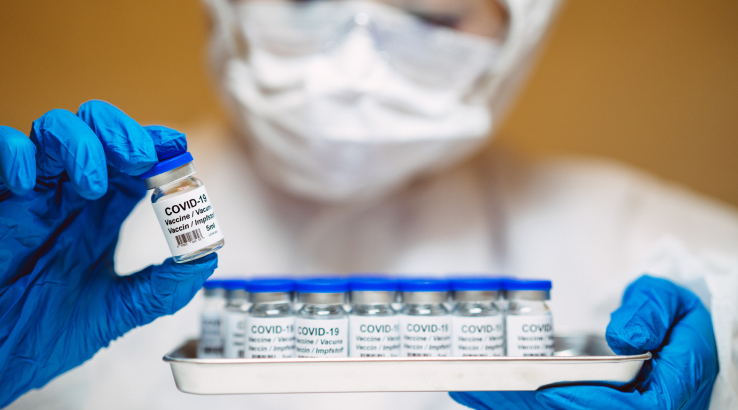 Pent-up optimism for a COVID vaccine-led return to normalcy pushed stocks higher Monday, but the gains could be short-lived.
Since the COVID-19 pandemic broke out in late February, the world has been waiting for news of a vaccine that could be used to protect the world population, contain the death rate and allow people to return to more normal social and work activities.
That was the pent-up optimism that propelled the stock market higher on Monday, when news broke that Pfizer had a promising vaccine that was possibly 90% effective in its phase three trial. The news created a cascade of positive stock moves.
In the first few hours of trading, the S&P 500 gained 3.2%, and the Dow Jones Industrial Average was up 1,610 points at its intraday peak. The gains were sharp but short-lived. The market indexes closed well off their highs for the day: the S&P 500 ended up 1.17%, the NASDAQ fell 1.52% and the Dow gained 2.94%.
Still, the news showed that a bull market could emerge if more positive vaccine news is released. It also meant that work-from-home stocks could drop in value as people's work and social behaviors revert to pre-COVID-19 levels.
What follows are some stocks that made the greatest intra-day price moves today. These stocks have the most promise to benefit from the introduction of a successful vaccine because they are in industries hit hardest by the ill effects of the pandemic. They also have the best price recovery prospects and fundamentals.
However, like any other rapid spike in equity prices, these moves may be temporary or excessive. The Pfizer news also presents opportunities for short sellers who could benefit from stocks that could fall in value if an effective vaccine was deployed.
Stocks that surged after Pfizer's vaccine news
The stocks that benefited most from the Pfizer news are in travel, tourism, pharmaceuticals, the supply chain, transportation, consumer staples, energy and entertainment. What propelled them were prospects of traffic increases and the return of domestic and international travel.
Here are the stocks and their gains for the day:
Pfizer (PFE) +7.61%
BioNTech (BNTX, Pfizer's vaccine partner) +14.00%
Royal Caribbean (RCL) +28.79%
Carnival (CCL) +39.29%
Norwegian (NCLH) +26.83%
United Airlines,(UAL) +19.15%
American Airlines (AAL) +15.18%
Delta Air Lines (DAL) +16.92%
Southwest Airlines (LUV) +9.70%
Disney (DIS) +11.87%
But not all COVID-related stocks posted major gains, especially other big pharma companies in the race to develop a viable vaccine. Here are the companies that started vaccine trials but had to delay them for various reasons. Their tepid price gains may reflect the price of their delays.
AZN began its phase three study this summer, but it stopped after a participant became ill. The trials resumed in October after receiving clearance in five countries.
MRNA began phase three trials in July, and they are continuing.
Johnson & Johnson (JNJ) +2.69%
Novavax (NVAX) +0.50%
Both JNJ and NVAX are continuing their phase three testing.
Is now a good time to buy?
There is a long drug approval process in the US that requires numerous FDA approvals. Then, if the vaccine meets expectations, there is a huge logistical challenge involving distribution, vaccine site injection preparations, training, facilities management and logistics. All this is needed before any new vaccine is injected into any American.
This whole process will be under the direction of the US Army and its Operation Warp Speed, a public-private partnership whose goal is to deliver 300 million doses of safe and effective COVID-19 vaccines by the end of 2020.
This will make it a unique national inoculation event with major distribution challenges. A key concern is that the proposed Pfizer vaccine, and others, have to be stored in special refrigerated facilities at temperatures as cold as -80 degrees Celsius, or -112 Fahrenheit. This is similar to the temperatures needed to transport ice cream and steaks to markets.
Then there is a significant credibility problem any new vaccine will face. Since the entire COVID-19 pandemic was highly politicized, it has raised issues about the validity, efficacy, safety and purpose of any vaccine.
These are significant challenges that involve a long public education campaign before a large number of Americans get the vaccine. These are unprecedented conditions that make it more difficult to attach any investment timeframe to the approval and roll-out of the Pfizer or any other vaccine.
Potential for short selling
For the more adventurous investor, there are opportunities to short stocks that do not meet expectations related to the release of an effective vaccine. As other vaccine developers are working towards their goal, some will not pass their trials or will enter the marketplace too late. These all present short-selling opportunities, though there are additional risks involved.
For instance, just after the Pfizer vaccine news broke, the so-called stay-at-home stocks tanked in the overly-optimistic news that the pandemic would be over sooner than later. Among the stocks that fell on Monday, the day Pfizer made its announcement were:
Peloton (PTON) was off by as much as 25%
Zoom Video (ZM) dropped 17%
Chewy (CHWY) fell 10%
Roku (ROKU) sunk 7%
Netflix (NFLX) fell 6%
Slack (WORK) declined 4%
What's next for investors
Markets are emotional and forward-looking, so these price moves may be exaggerated. This presents buying or selling opportunities since the big questions still revolve around the efficacy of the new vaccine and when it will be publicly available.
"I would urge investors to remain optimistically cautious and avoid the 'buy everything' mindset," said Nigel Green, the chief executive and founder of the deVere Group, an independent global advisory firm.
No one knows how fast any vaccine can be administered to 328 million Americans and whether there will be significant acceptance of the new medicine. People's sentiments drive markets. This vaccine still has to win the acceptance of most Americans. How long that takes could be a very challenging period.
Photo: Getty Images