Finder is committed to editorial independence. While we receive compensation when you click links to partners, they do not influence our opinions or reviews. Learn how we make money.
How to fill out the Public Service Loan Forgiveness application
A step-by-step guide — with pictures — on how to apply for PSLF.
You've made 120 qualifying repayments toward Public Service Loan Forgiveness (PSLF) and submitted an Employer Certification Form (ECF) for each employer you've worked for. But you can't qualify for PSLF just yet — you still need to complete and submit the actual application to your student loan servicer, FedLoan.
What steps should I take before I apply for PSLF?
Applying for PSLF is more than just submitting the application. Make sure you can check these steps off your list before getting started:
How to fill out the PSLF application form in 5 steps
Step 1: Fill out the borrower information.
Step 2: Read and sign the borrower request, understandings, certification and authorization.
Step 3: Provide information about your employer.
Step 4: Bring your application to your employer for certification.
Step 5: Sign and submit your application to FedLoan.
You can complete the PSLF application form online by using the PSLF Help Tool on StudentLoans.gov or by downloading the application and filling it out yourself.
If you choose to fill it out yourself, you can type in your answers or print them by hand using dark ink. Make sure your name and Social Security number are on all pages. Write all dates as numerals in the following order: month, day and year (MM/DD/YYYY).
Regardless of the method you use to fill out the form, you need to print the PDF to have it certified by your current employer.
Step 1: Fill out the borrower information.
Enter your Social Security number, birthday, name and contact information under Section 1: Borrower information. If anything has changed about your personal information since you took out your student loans or submitted your most recent ECF, check the box at the top of the section.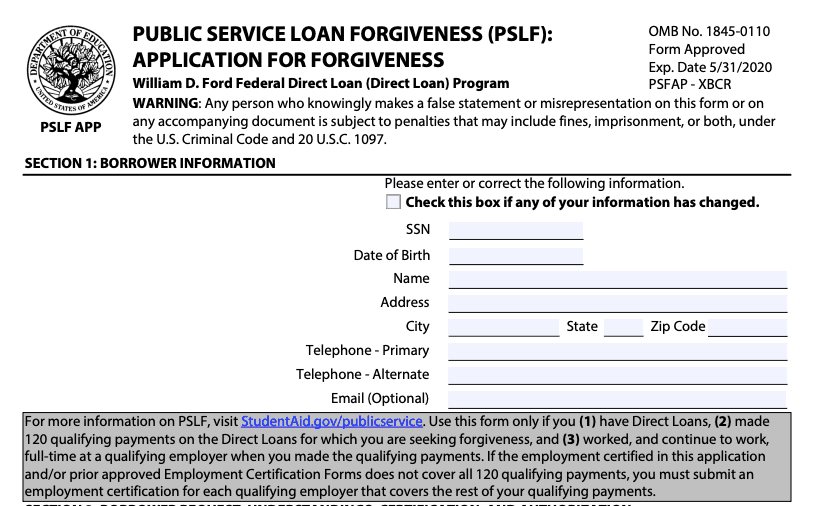 Step 2: Read and sign the borrower request, understandings, certification and authorization.
Carefully review the disclosures under Section 2: Borrower authorizations, understandings and certifications. If you don't want your loans to go into forbearance while FedLoan processes the application, check the box at the top of the section. Go over the understandings to review your eligibility requirements and what will happen after you submit this form.
By signing and submitting this application, you're authorizing your employer to give FedLoan your employment records. You're also pledging to let the DoE know if you leave your current job while your application is being processed as soon as possible.
Check the box at the bottom of this section if your employer closed or will not certify your employment. If this is the case, the DoE will contact you to find another way to verify your employment.
If you haven't already, print the PDF to sign and date the form — or hold off on this until you've completed the next section.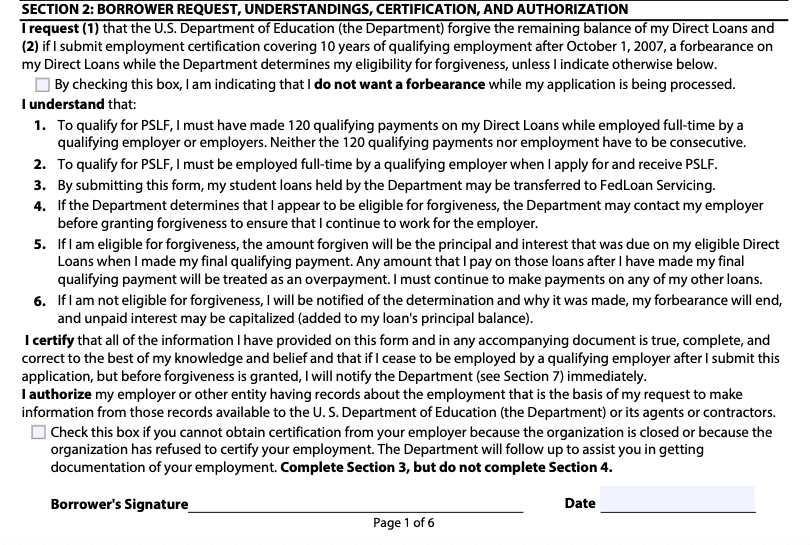 Should I go into forbearance?
Going into forbearance means you won't have to make repayments while FedLoan processes your application. However, it can make your loan more expensive if you get rejected. That's because any interest that adds up during forbearance gets added to your loan balance — so you're effectively paying interest on interest.
Since the DoE will refund any extra repayments you make after you apply, avoiding forbearance might be a safer choice. Especially since 99% of the first round of applicants were rejected.
Step 3: Provide information about your employer.
Either you or your employer can complete Section 3: Employer information. Whoever fills out this section needs to provide basic information about your employer and answer questions to determine if it qualifies for PSLF.
If you held off on printing until you completed this section, now is the time to print, sign and date the Borrower authorizations, understandings and certifications section.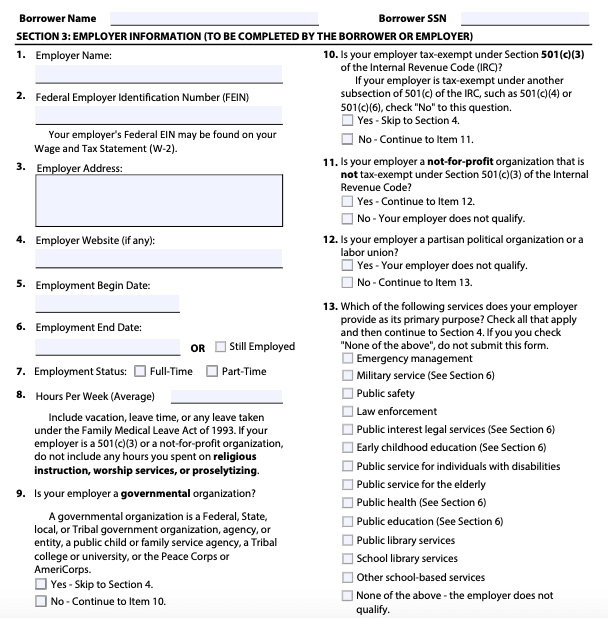 Step 4: Bring the application to your employer for certification.
Bring your application to someone who qualifies as an authorized official at your organization to sign and date Section 4: Employer certification.
The DoE defines an authorized official as anyone who works for your employer, has access to your employment records and is authorized by the organization to certify your employment status. Ask your manager if you're not sure who to bring your PSLF application to.

Step 5: Submit your application to FedLoan.
After your employer returns the signed form, you have a few options to submit your PSLF application. If FedLoan is your servicer, you can upload your application directly to FedLoan by logging in to your account.
Otherwise, mail it to the following address:
US Department of Education
FedLoan Servicing
PO Box 69184
Harrisburg, PA 17106-9184
You can also fax it to 717-720-1628.
What's the difference between the PSLF application and Employer Certification Form?
The PSLF application and ECF are very similar, but they serve slightly different purposes. The ECF only lets FedLoan know you've made repayments that might qualify for PSLF. The PSLF application triggers the application process for the forgiveness program — that's why you have the option to opt out of forbearance.
If you've only worked for one employer while you've made repayments toward PSLF, your PSLF application doubles as your ECF. So in that case, you don't have to submit a separate ECF before submitting the application. Otherwise, you must submit separate ECFs for each eligible employer before or along with your PSLF application.
What happens after I submit my PSLF application?
Once FedLoan receives your application, you can expect the following to happen:
Your servicer could change. If you've never submitted an ECF and you have a different servicer, the DoE transfers your loans to FedLoan.
You might not have to make repayments. Unless you opted out of forbearance, your student loan repayments will be paused while your application is being processed. Wait until FedLoan confirms you're in forbearance before you stop repayments.
The DoE verifies your employment. If the DoE thinks you're eligible for PSLF, it'll get in touch with your current employer to check your employment records.
The DoE accepts or denies your application. After verifying your application the DoE or FedLoan will contact you if you're approved or let you know that some of your repayments don't qualify.
PSLF approval vs. rejection
If you're approved, the DoE forgives your principal and any unpaid interest. If you made any repayments after the 120th qualifying repayment, you'll also get a refund for that amount.
If you were rejected, you're required to continue making repayments until your loan is paid off or you qualify for income-driven repayment forgiveness. You can also reapply for PSLF if you continue to make qualifying repayments. Or you can apply for Temporary Extended Public Service Loan Forgiveness (TEPSLF) if you were rejected for repayments on the wrong plan — until funds run out.
Bottom line
Even if you've submitted ECFs religiously for the past 10 years, you can't receive PSLF unless you submit the application form. Double- and triple-check it to make sure you didn't make any mistakes that could disqualify you after all that hard work.
You can learn more about how it all works with our guide to the Public Service Loan Forgiveness Program.
Frequently asked questions