STEPN guide
Learn how the move-to-earn game works and how to get a STEPN activation code.
STEPN is a lifestyle app that combines real-life activity and Web3 technology to create an interactive gamified experience. Users earn rewards by walking, jogging or running outdoors. But first you'll need to purchase a suitable NFT Sneaker. The app aims to incentivize people to live healthier lifestyles by rewarding them for movement through its utility token, GST.
Highlights
Move and earn rewards
Sneaker marketplace open — rental coming soon
Shoe-minting events
Invite-only game
What is STEPN?
STEPN is a relatively new lifestyle app using Web3 technology and the blockchain to create a game experience where users are rewarded for movement. Users purchase NFTs in the form of sneakers and record their movement outdoors to earn the in-game currency, Green Satoshi Token (GST).
At present, STEPN is invitation-only. You need an activation code in order to play the game. Activation codes are limited in number and can be hard to come by.
There's a high cost to getting started. In order to play the game, you have to purchase a suitable NFT sneaker to earn rewards. Players need to combine their preferred method of movement — walking, jogging or running — with the right NFT sneaker in order to maximize returns.
NFT sneakers can only be purchased using Solana (SOL). Prices vary depending on market conditions and sneaker type.
Players must record their movement using GPS and hit the optimal speed range for their sneaker type in order to earn GST. The utility token can be used to level up the sneaker to make it more efficient, mint a new sneaker or swap to the stablecoin USDC.
STEPN also has a marketplace where users can buy or sell NFT Sneakers. Eventually, the marketplace will offer sneaker rentals, which will open the game to new users.
How to get started with STEPN
Getting started with STEPN requires some knowledge of Web3 and how cryptocurrency works. You're required to use SOL to purchase a sneaker, and you'll need to be set up with a crypto exchange to transfer cryptocurrency to your in-app Wallet.
Here are steps you need to take to start earning:
Download the STEPN app from the Apple App Store or Google Play Store.
Sign up for STEPN using your email address.
Key in the verification code sent to your email.
Enter your STEPN activation code.
Create a new wallet by selecting the wallet icon in the top right-hand corner of the screen.
Transfer SOL to your in-app wallet.
Purchase a Sneaker via the Marketplace using the SOL in your in-app Wallet.
Wait for your first 25% energy restoration, which happens every six hours.
How to get a STEPN activation code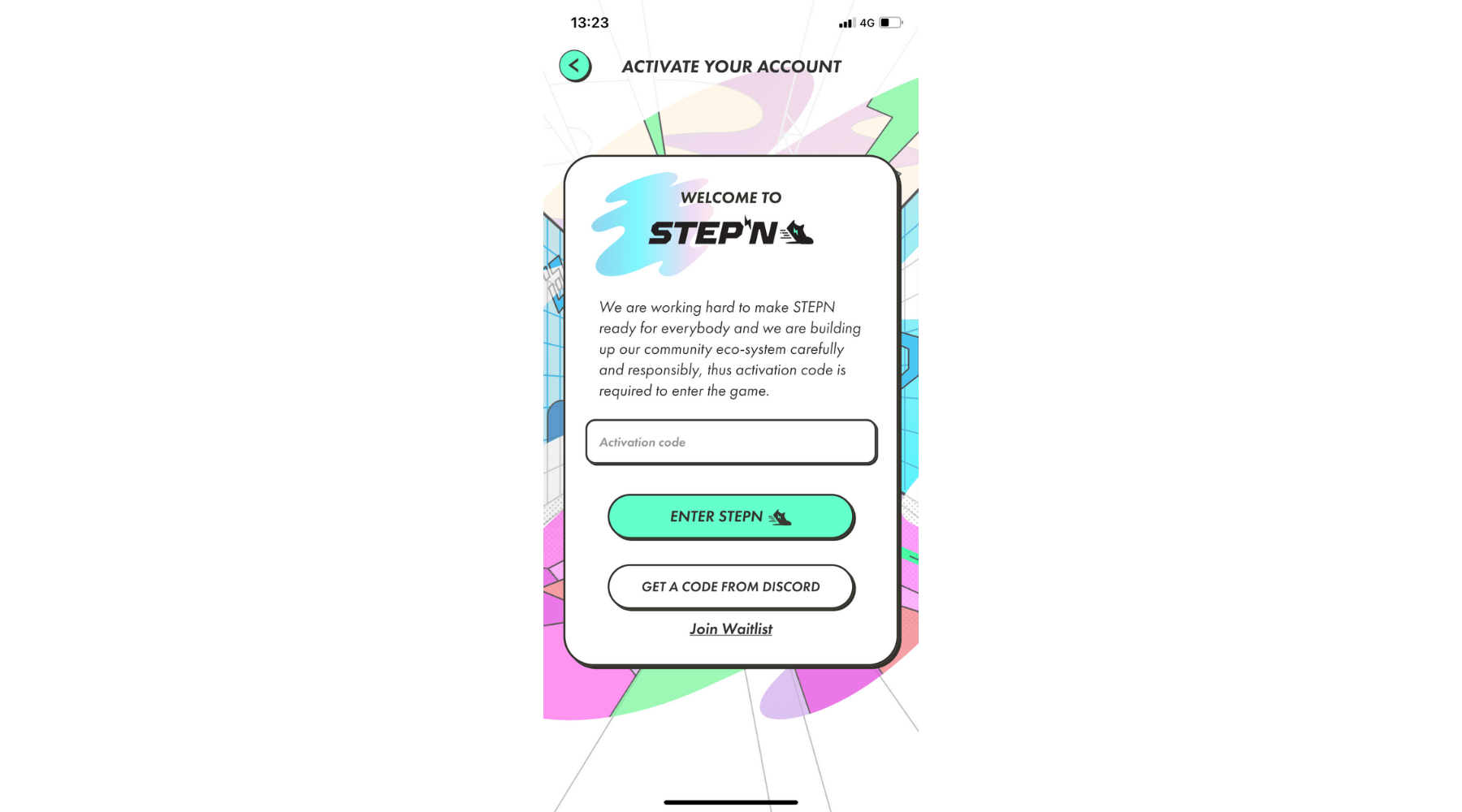 STEPN limits how many people can join its ecosystem each day. It does this by requiring new users to have an activation code in order to join. But these are relatively tricky to get.
Due to overwhelming demand, there are only a limited number of activation codes released each day. Existing users can earn one activation code for every 10 Energy spent, but they can only hold one at a time.
Here are the best ways to get a STEPN activation code:
Ask an existing user. If you know someone who's already using the game, ask them to send you an activation code.
Get a daily code on Discord. 1,000 Activation Codes are available via Discord each day.
Get a daily code on Telegram. 1,000 Activation Codes are available on Telegram each day.
Search for codes on social media. People share their activation codes on social media sites like Twitter, Instagram or Facebook. Sign up to community groups in order to keep an eye on the discussion channels.
Apply via the influencer code generator form. If you have a large following on social media, you may be eligible to apply via the influencer code generator form. You can receive 10 codes for every 1,000 people who follow you.
What is the STEPN token?
STEPN has two tokens: GST (Green Satoshi Token) and GMT (Green Metaverse Token).
GST has an unlimited supply and is earned when a user completes a movement using the app. You can use GST to repair your Sneaker, "level it up" or mint a new Sneaker. You can also swap your GST for USDC, which can then be converted into fiat currency.
GMT is STEPN's governance token. It has a total supply of six billion. It's mainly required for upgrades in the game, but it requires you to reach a level of at least 30 before you can earn it.
Find an exchange to buy, sell and trade GST by comparing deposit methods, supported fiat currencies and fees. Select Go to site to sign up directly with the provider.
How does move-to-earn work with STEPN?
The main attraction of STEPN is its move-to-earn game. Similar to play-to-earn, it gives users the opportunity to earn crypto through movement.
In order to earn, users must first purchase an NFT Sneaker that fits their fitness level. Choose from Walker, Jogger, Runner or Trainer. The Sneaker you opt for affects how much you can earn through movement.
There are several ways you can earn in the game:
Movement. The main way to earn is through walking, jogging or running. Every one Energy equals five minutes of movement.
Owning multiple Sneakers. You're able to purchase and own multiple Sneakers in order to boost your earning potential.
Purchasing better shoes. There are multiple Sneaker types. Higher quality sneakers enable you to earn additional energy.
Leveling up your existing Sneakers. If you want to improve your existing Sneaker, you can use GST to level up its quality.
Once you choose your NFT Sneaker, you can get moving and earn rewards. However, there are a few things that may affect how much you can earn:
You need a strong GPS signal. If your GPS signal drops out or is low, you won't earn anything for your movement.
There are caps on earning. There are daily energy caps (20/20) and daily token caps (300 GST and 15 GMT) in place that restrict the amount of Energy and tokens you can earn each day.
You must stay in the optimal speed range. If you go above or below the range for your chosen Sneaker, your earning could be reduced up to 90% depending on the speed discrepancy.
Mystery boxes
There is an added element to the game where users can use Gems to unlock Sockets and enhance their Sneaker Attributes — in turn increasing their Sneaker's earning potential.
A Mystery Box could be randomly dropped while you're completing your movement. It contains Gems, but there's a small base cost in GST to open it. So it's up to you whether you see value in using your GST to access Gems.
What are STEPN NFTs?
The game is based on the purchase of an NFT Sneaker. Sneakers vary by quality and earning potential. Plus, each Sneaker has a limited lifetime before requiring repair, so take maintenance costs into consideration.
Sneaker Qualities
Within the game, each NFT Sneaker has a quality or rarity level. When a Sneaker is minted it's randomly attributed minimum and maximum values which determine its quality status:
Common: minimum 1, maximum 10
Uncommon: minimum 8, maximum 18
Rare: minimum 15, maximum 35
Epic: minimum 28, maximum 63
Legendary: minimum 50, maximum 112
Level up your Sneakers by burning GST. At level-up, users attain four to 12 additional Attribute points to assign according to their Sneaker quality.
Sneaker Attributes
Alongside quality, each Sneaker has a set of Attributes that influence the earning potential of that NFT. They are broken down into four categories:
Efficiency. Having a higher Efficiency Attribute results in better GST earning per Energy spent.
Luck. This determines the frequency and quality of a Mystery Box drop.
Comfort. This attribute boosts GMT earning.
Resilience. Focused on the Sneaker's durability, a higher Resilience Attribute results in a slower Durability decay.
How to get NFTs on STEPN
At present, you can get a Sneaker NFT through STEPN's in-app marketplace. But there are a few costs to consider:
Cost of the NFT Sneaker. How much the Sneaker costs depends on the quality of Sneaker you purchase. For one regular Sneaker with good basic parameters, the cost is around 10 SOL. So it's not cheap.
Fees. STEPN calls it a "tax," but there are fees attached to in-app activities, including: a marketplace trading fee, marketplace royalty fee and shoe minting.
Repair costs. Each NFT Sneaker has a limited lifetime. As you move, your Sneaker's durability decreases, which means your earning potential drops. You can use GST to pay for repairs on your Sneaker.
Rental system
STEPN plans to introduce a rental system that allows users to lease their Sneakers out. Those looking to get started with the game would then be able to rent a Sneaker from the in-app Marketplace. Each rental contract will last 24 hours and earnings will be split 70/30 in favor of the owner.
How to mint STEPN shoes
Users of the game are able to mint STEPN shoes, also known as a Shoe-Minting Event (SME). You can use two Sneakers to "breed" and produce a Shoebox, which opens to reveal a Sneaker.
There are costs associated with Shoe Minting, with the price of GST dictating the amount of the utility token and the subsequent amount of GMT needed for minting. How many times a Sneaker has been used for mining influences how much GST/GMT it costs to mint.
How to sell or lease STEPN NFTs
Sell your STEPN Sneakers through the game's in-app Marketplace. Sellers set the price, and are charged a 2% trading fee and a 4% royalty fee that goes to STEPN. All transactions are conducted in SOL.
You can change the list price of your NFT Sneaker after it's been listed to give yourself the best possible selling opportunity.
About STEPN developers
STEPN by Find Satoshi Lab emerged from the Solana Ignition Hackathon in 2021, finishing 4th out of over 500 projects. Its cofounders are Jerry Huang — who brings a decade of game development experience — and Yawn Rong, a crypto angel investor and entrepreneur.
It also has experienced advisors on board, including Adidas VP Scott Dunlap, and William Robinson, Head of Accelerator at Alliance.
Compare marketplaces to buy and sell game NFTs
Bottom line
STEPN takes the Play-to-Earn concept one step further with its Move-to-Earn model. For those who like to be active, it offers a way to earn simply by setting out on your daily jog.
However, the price to get involved is high. STEPN's NFT Sneakers aren't cheap, starting at around 11 SOL. Players would need to do a lot of running to make back the initial investment. There are also repair costs to consider and fees attached to trading on the marketplace.
Overall, STEPN is an interesting concept. But with a high monetary value attached to getting started and a complicated onboarding process, it's probably best left to experienced GameFi enthusiasts looking for a new challenge.