Star Atlas review
Star Atlas is a sci-fi strategy game within a play-to-earn NFT metaverse.
Free to try
Complete daily quests
Earn crypto & trade card NFTs
Runs on HIVE blockchain
Go to site
A number of NFT games are adopting play-to-earn (P2E) gameplay, including Star Atlas. Play-to-earn gaming represents a simple and engaging way for people to earn cryptocurrency. Users contribute their time and skill to game metaverses in exchange for tokens that represent value in real life (IRL). Core tokens associated with each game have a specific utility within the game, but they can also be traded on open crypto exchanges. Axie Infinity and Illuvium are leading the way with play-to-earn gaming and Star Atlas hopes to follow their lead.
Disclaimer: This information is not financial advice or an endorsement of cryptocurrency or any specific provider, service or offering. Cryptocurrencies are highly volatile and high risk. Do your own research and seek financial advice before buying. And make sure the provider you're interested in is available in your state.
What is Star Atlas?
Star Atlas is a play-to-earn metaverse set in the year 2620. As the play-to-earn ecosystem enters the mainstream, gaming platforms are developing new metaverse experiences that translate into real economic value outside of the game for its players.
Star Atlas promotes itself as a "World vast beyond imagining" and is a strategy-based game where spacefaring players attempt to lay claim to territory and conquer opponents.
To begin your mission, claim land in the Star Atlas metaverse and launch mining operations. You can purchase and configure unique Star Atlas NFTs to help you succeed in Star Atlas's metaverse.
What are NFTs on Star Atlas?
Non-fungible tokens (NFTs) are digital assets whose ownership is tracked on a blockchain. In the case of play-to-earn metaverse gaming, NFTs are unique collectibles that can be used within the game and have value in the real world.
The NFTs you purchase within Star Atlas become your "Inventory." They are unique to you and are stored in your connected wallet. You can use your inventory in 1 of 2 ways. You can use them to start your career in the Star Atlas metaverse or use them to become a Star Atlas trader.
In the Star Atlas metaverse, you can purchase ships, structures, collectibles and access as NFTs.
Ships
You have several options when considering which ship you would like to use in the game, including filtering by rarity traits and size, ranging from xx-small to large.
Once you select the ship of your choice, you will see key features of the ship, including a description, ship details, its supply in the metaverse, its list price and how to buy and sell it.
Structures
In Star Atlas, structure NFTs range from claim stakes and mining drills to space stations and power plants. Each comes with its own rarity traits and utility in gameplay.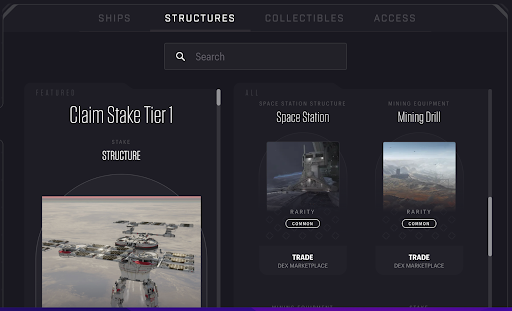 Each structure will also give you information about the key features of the NFT, including supply and specs.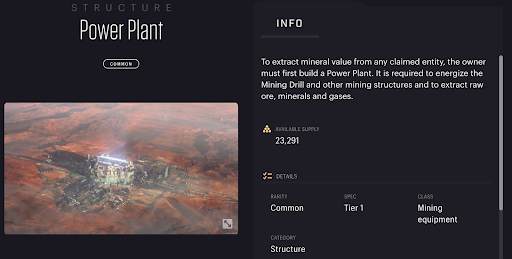 Collectibles
The NFT "Collectibles" in Star Atlas include humans, skins, posters, crew gear, emotes, charms and pets. Each will have its own utility in the game and value on the Star Atlas marketplace.
Each collectible in the marketplace will include key information, including where to buy and sell it.
Access
As NFTs continue to evolve and change within the play-to-earn gaming landscape, there will be new and creative use-cases. In the case of Star Atlas, this includes an innovative NFT line called "Access," which includes licenses and badges.
In the example above, the "Executive Badge," has baked-in current and future utility, making the NFT useful down the road. Star Atlas makes it clear in its NFT description that owning the "Executive Badge" now guarantees future benefit as the game evolves.
What are rarity traits?
Rarity is a key element in the current and future utility of NFTs. You will have noticed in the marketplace deep-dive above that every NFT has an associated supply (i.e. how many editions of that specific NFT have been minted). The more rare the NFT, the greater chance of resale value or future utility in the game. In the case of the "Executive Badge" example above, only 4 editions have been minted, making it an "Anomaly."
Rarity and supply scale
The rarity and supply scale below is listed from most common to most rare.
Common
Uncommon
Rare
Epic
Legendary
Anomaly
How do I buy Star Atlas NFTs?
Every play-to-earn blockchain-based game runs on a specific blockchain. In the case of Star Atlas, the game runs on the Solana blockchain and requires a Solana wallet to process transactions and track ownership of NFTs.
Popular Solana wallets include Phantom and Solflare. Star Atlas recommends using the Phantom wallet. If you do not already have a wallet, you will need one to buy Star Atlas NFTs and play the game. Phantom wallet has a browser integration that facilitates an easy collection.
You can buy Star Atlas NFTs in either ATLAS, the game's core token, or USDC.
Once you have your wallet connected, the appropriate amount of currency in your wallet and your NFT of choice selected, simply select the "Buy Now," feature to process the transaction.
How to play Star Atlas
Factions
To start playing Star Atlas, you need to choose which faction you will join. You can join either the Mud, Ustur or Oni factions. Each faction has its own strengths and weaknesses. As the game makers said on their blog:
"These factions are in an ongoing struggle for resources, territorial conquest and political domination. Are you ready to choose a faction?"
Each faction has a certain number of players working on its behalf in the Star Atlas metaverse and has a virtual economy that represents how much USDC has been earned by the players in that faction.
Before choosing which faction you want to be a part of, take the time to learn about each faction as this decision is permanent.
Pro Tip: Because this is a blockchain-based game, each decision you make in the game will be processed as a transaction via your connected wallet. Decisions like choosing your faction come with a very small fee and will need to be approved by you. You will be prompted to "sign" each transaction you make to ensure it is your final decision.
Events
In Star Atlas, you can participate in Events, which are a unique take on utility and engagement within the NFT world. Here is how Star Atlas describes it.
In essence, it is no different than buying any other unique NFT as a bet on its future promise or utility. In the NFT space, these future opportunities are called "drops" and owners of these unique event posters will have the opportunity to receive unlocks and rewards within the game.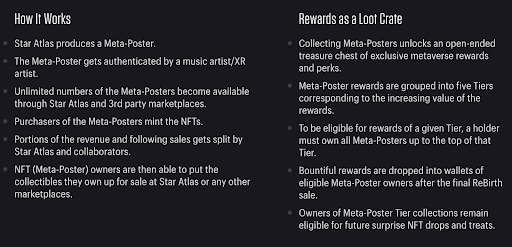 According to Star Atlas, as the sale duration decreases, the tier value that the Meta-Poster unlocks increases.
How does play to earn work within Star Atlas
Once you have chosen your faction and have purchased unique NFT inventory like a ship, you're ready to play.
As a confirmed citizen of your own faction and a faction citizen of the Star Atlas metaverse as a whole, you have the opportunity to dictate your own future. By playing the game at your best, you can earn value in the real world:
"Players stake assets with real-world value to grow their in-game corporate empires, discover unique and distant alien worlds, battle in high stakes combat and shape the game's features and future with earned political influence."
Although the Star Atlas economy is complex, as described in the whitepaper, its fundamental play-to-earn model is fairly straightforward. Beyond the world's unique NFTs, Star Atlas has 2 core tokens, ATLAS and POLIS, which are the currency of the Star Atlas metaverse.
You can earn POLIS, the game's governance token, in exchange for your time, effort and performance within the game. POLIS allows you to vote on meaningful economic decisions within the game.
ATLAS is Star Atlas's currency. Like most currencies, the idea is that its value grows as the economy of game players and gameplay grows. You can earn ATLAS by embarking on missions within the game.
Although you can earn both of these core tokens through gameplay, you can also trade them on open cryptocurrency exchange markets like FTX.
Star Atlas frequently asked questions
Disclaimer: Cryptocurrencies are speculative, complex and involve significant risks – they are highly volatile and sensitive to secondary activity. Performance is unpredictable and past performance is no guarantee of future performance. Consider your own circumstances, and obtain your own advice, before relying on this information. You should also verify the nature of any product or service (including its legal status and relevant regulatory requirements) and consult the relevant Regulators' websites before making any decision. Finder, or the author, may have holdings in the cryptocurrencies discussed.