Splinterlands game guide
Collect cards, battle other players and earn crypto.
Free to try
Complete daily quests
Earn crypto & trade card NFTs
Runs on HIVE blockchain
Go to site
Disclaimer: This page is not financial advice or an endorsement of digital assets, providers or services. Digital assets are volatile and risky, and past performance is no guarantee of future results. Potential regulations or policies can affect their availability and services provided. Talk with a financial professional before making a decision. Finder or the author may own cryptocurrency discussed on this page.
Splinterlands is known as one of the top crypto games on the market. It has an average of three million transactions every day, and around 400,000 players worldwide battling, trading and earning. At its core, it's like most collectible card games (CCG) — but built on a blockchain and with NFT cards.
Highlights:
Free to try

Playable on web browser and Android

$10 to unlock play-to-earn features

Stylistic card art

249 unique Monsters so far
What is Splinterlands?
Splinterlands is a play-to-earn, CCG built on the Hive blockchain. The game was previously called Steem Monsters and is played as a one-on-one battle between teams of monsters.
Players build collections of cards, each with its own stats and abilities. These cards are used to battle other players. At the time of writing, there are 249 unique Monsters and 40 unique Summoners – with more cards planned.
The game is completely free to try. To unlock the play-to-earn features, players purchase a $10 Summoner's Book, which unlocks their ability to complete daily quests, participate in season rewards and earn Dark Energy Crystals (DEC), the game's token.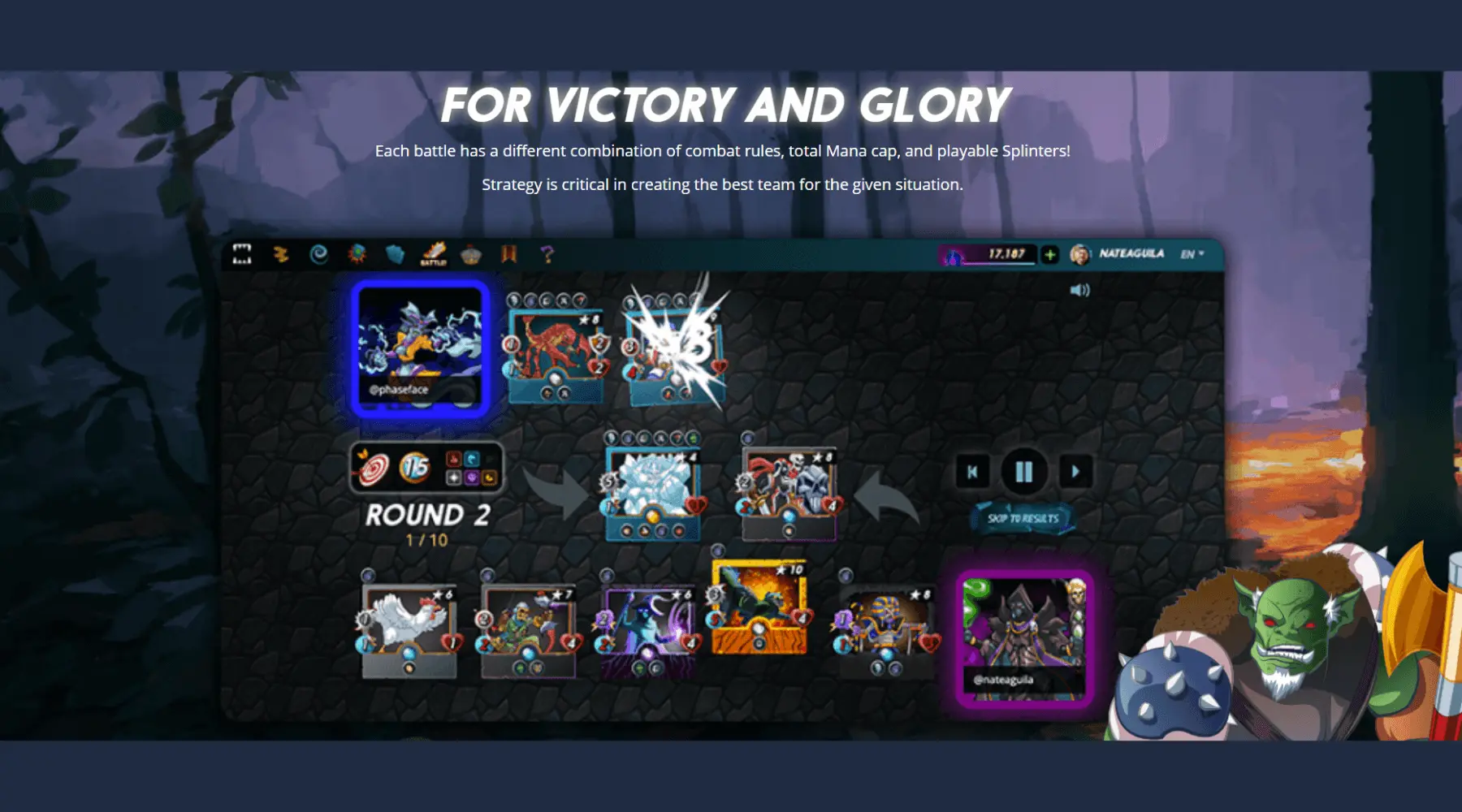 Image source: Splinterlands
Playing Splinterlands
Access the game from the website's main page, Splinterlands.com. It's also available on Android mobile devices.
Select the Play Now button at the center of the screen. Log in to the game via MetaMask, Venly, Wombat or a WAX cloud wallet or provide a username and password combination.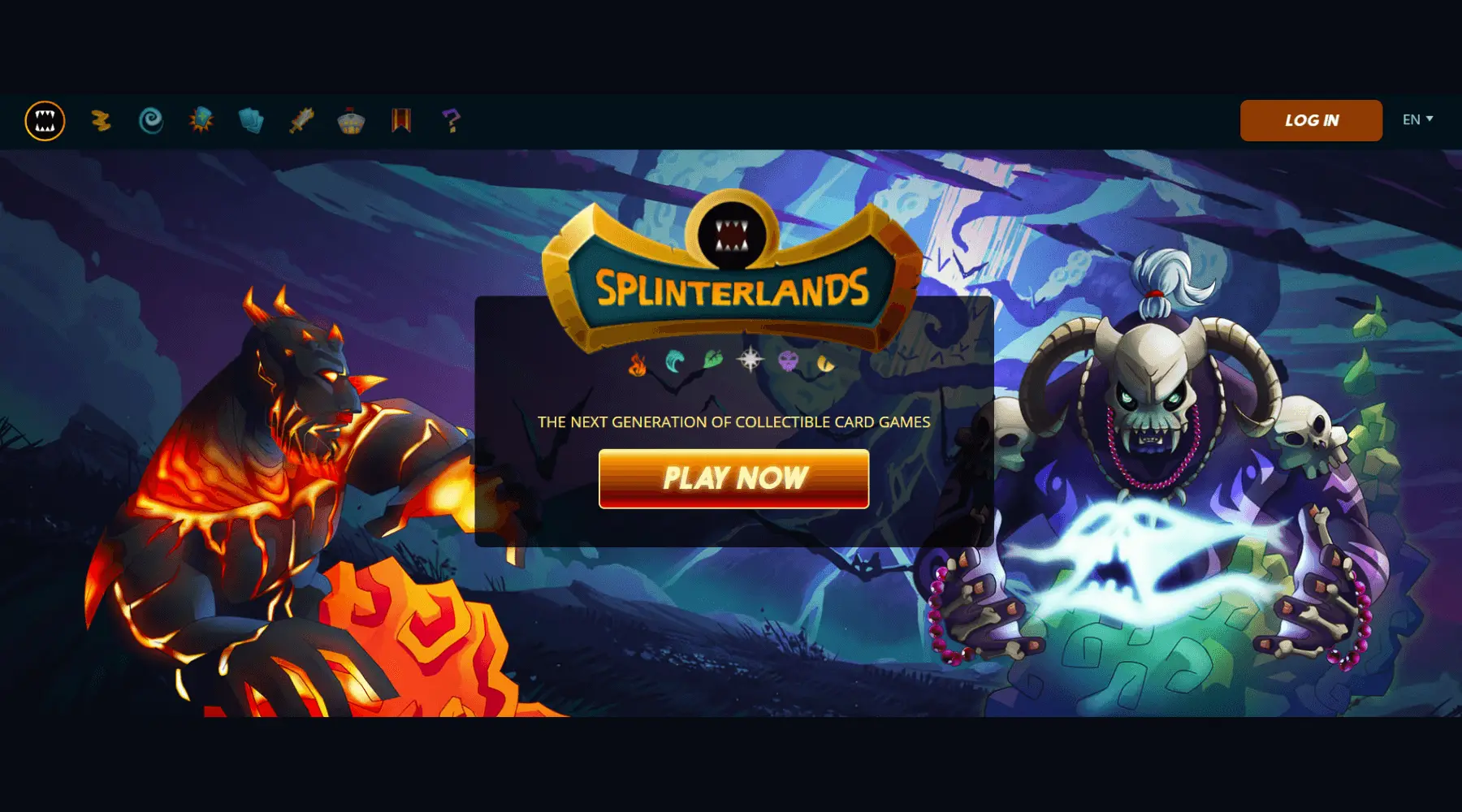 Image source: Splinterlands
The game is free to play. However, you might want to purchase the Summoner's Spellbook to access play-to-earn capabilities.
Once logged in, you'll get to the game's dashboard, which allows you to access the market, game events, missions, tools and help.
From the How to Play button, you can toggle between:
How to play – Shows you stats, abilities and strategies.

Practice battle – Allows you to fight without affecting your ranking.

Ranked – Allows you to rise higher in the leagues by winning battles.

Challenge – Invite a friend to battle without affecting your ranking.
This game is an autobattler. For each match, you choose a Summoner which determines how many Monsters you can summon for battle, then you handpick your deck for the match. You can use a max of six Monsters and one Summoner in each match.
Selecting the Battle button starts a match. A window appears once you're paired with another player, and you can view the elements they've used in past battles, allowing you to adjust your strategy and try to guess what Monsters and elements they may use.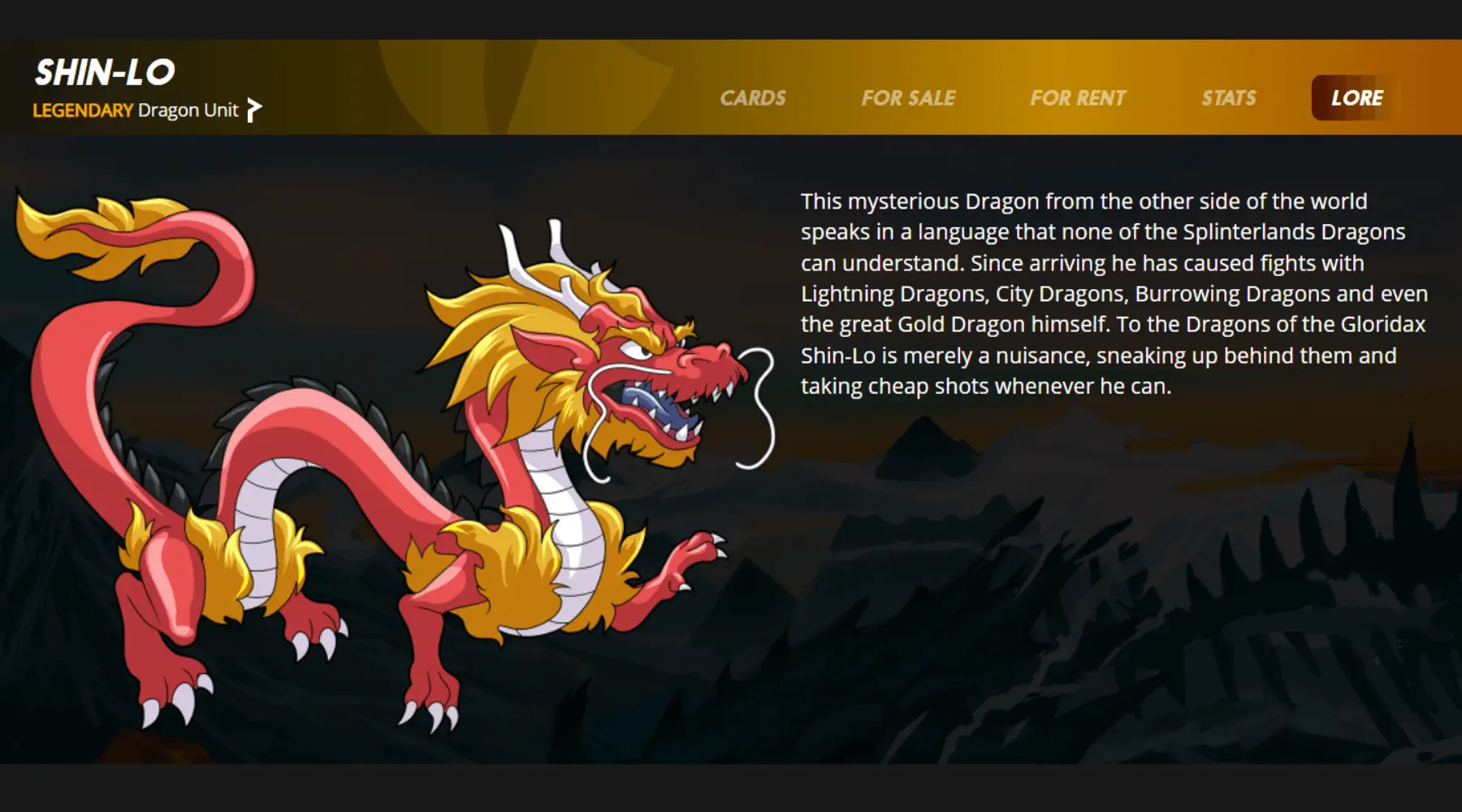 Image source: Splinterlands
There are seven elemental affinities — or, Splinters, seven stats, four rarities and over 60 abilities. There's three attack forms: melee, ranged and magic. Monsters also have speed, armor and health stats. Understanding your cards' capabilities is key to planning your strategy.
Once you've built your deck, the match starts and Monsters do all the fighting, so you're hands-off — best two out of three fights wins.
When it comes to playing strategies, like any TCG, it's impossible to outline all tactics. Monster cards vary and building a decent deck could take some time. However, spending time in Practice Mode can be a good place to hone your skills and develop a strategy.
What is the Splinterlands token?
Dark Energy Crystals (DEC) is the native currency of Splinterlands.
Splinterlands is built on the Hive blockchain. Users automatically get an account on this blockchain when they purchase the Spellbook. The blockchain supports decentralized apps, games and cryptocurrency wallets.
Players can convert some of their Splinterlands cards into ERC-721 tokens. From there, they can trade them on NFT marketplaces like OpenSea.
How to buy Splinterlands token
To buy DEC, you'll need to exchange it with a cryptocurrency such as Bitcoin (BTC) or ether (ETH) — you can buy ETH or BTC from nearly every major crypto exchange, including Gemini, Crypto.com and Binance.
Swap your crypto for DEC on PancakeSwap, DODO on BSC, TronTrade, Cub DeFi, Tribal DEX and Uniswap.
You can also convert your DEC to Tron (TRX). To do so, you'll need a Tron wallet. After setting up your wallet, link it to your Splinterlands account to transfer your DEC.
Splinterlands is also integrated with the World Wide Exchange (WAX) blockchain. Players can transfer their Splinterlands assets to WAX via the Splinterlands WAX bridge. From there, players can transfer assets to other players on WAX.
It looks like DEC may not be available to purchase on an exchange in the US.
You can still purchase DEC by using a decentralized exchange (DEX) instead. Decentralized exchanges are web applications that run on blockchains like Ethereum and allow users to trade any asset directly with one another.
Decentralized exchanges (DEX) are unregulated and run using autonomous pieces of code known as smart contracts. To use a DEX you must interact with the blockchain directly, which is not recommended for novice users. Please learn about decentralized exchanges first if you're unfamiliar.
How to purchase DEC using a decentralized exchange.
Find DEC on a decentralized exchange and make sure DEC can be traded for ETH which is the native asset of Ethereum. Popular DEXs include Uniswap, SushiSwap and 1INCH.
Buy ETH to trade for DEC using an exchange like Gemini. You will need to purchase enough ETH to swap for DEC as well as ETH to pay for transaction fees on the Ethereum network (known as gas). You can use a service like Etherscan to get an idea of how much gas fees currently cost.
Transfer the ETH into a web 3.0 wallet like MetaMask to connect to the DEX.
Trade ETH for DEC on the DEX of your choice, following the instructions on screen. Make sure to leave enough ETH in your wallet to pay for gas.
Wait for the transaction to finalize and the DEC tokens will arrive in your wallet.
You may now keep the tokens in your web 3.0 wallet or transfer them somewhere more secure like a hardware wallet.
You can follow the same process when you want to sell your tokens, or come back to this page to see if they can now be traded on an exchange in the US.
How does play-to-earn work with Splinterlands?
Play to earn in Splinterlands works in four ways:
Tournaments. Earn DEC rewards each time you win a battle if you're playing in ranked mode. If you win two games in a row, you get bonus DECs.

Receiving gifts. Earn gifts by finishing your daily quest. Additionally, you get season rewards every 15 days when a season comes to an end. Other players can also send you gifts directly.

Card flipping. Buying, selling and then renting packs and cards can give you an income.

Burning cards. Burn cards for DEC rewards. Burning a card removes it from existence.
To unlock these play-to-earn features, you'll need to purchase the $10 Summoner's Spellbook.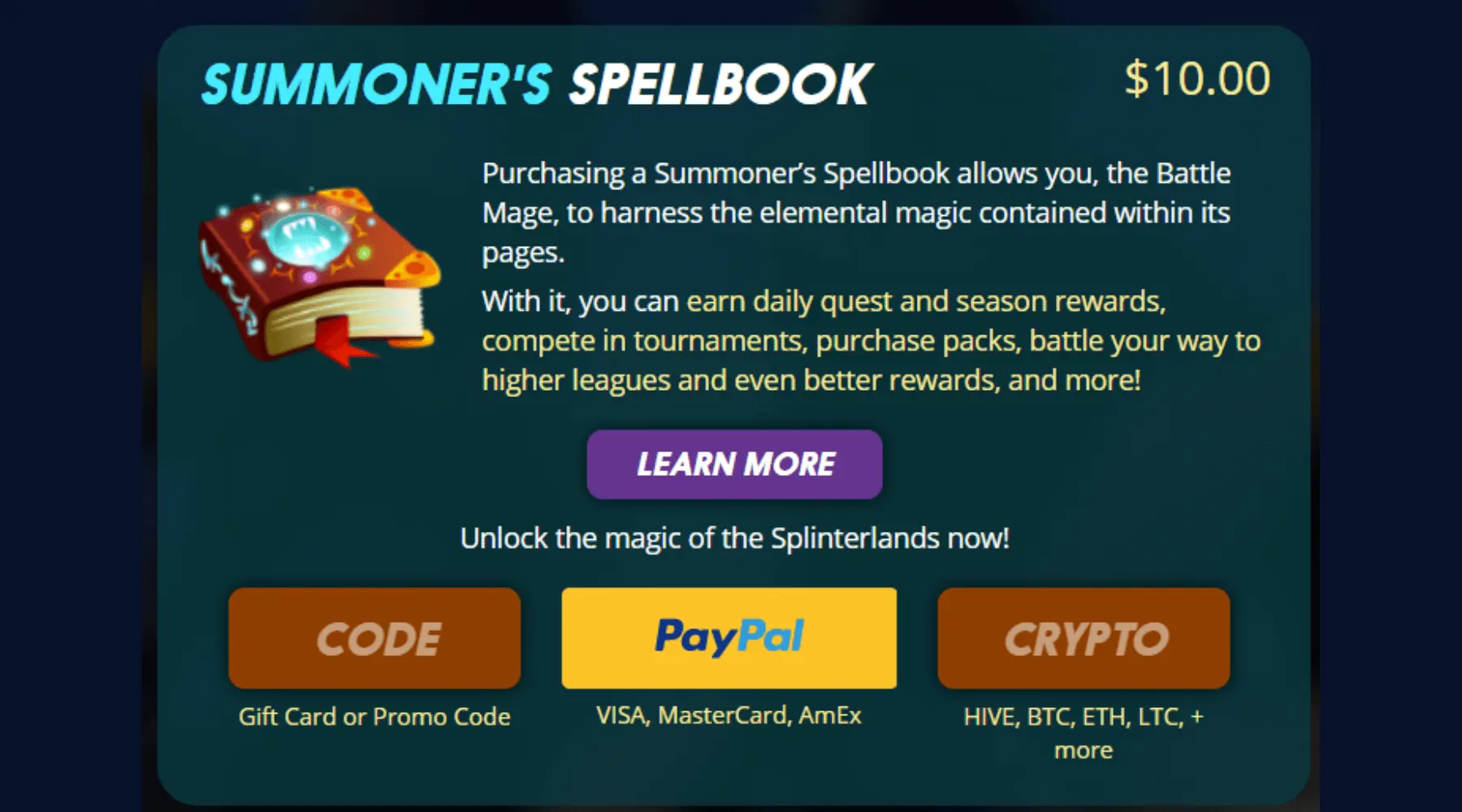 Image source: Splinterlands
What are the Splinterlands NFTs?
The cards in Splinterlands are NFTs. These include the Monster and Summoner cards. Other NFTs include:
Land — Purchase land from the lands tab in the shop menu. Land in Splinterlands varies in value depending on its geography, rarity and magic. With land, you can oversee construction projects on the parcels or use existing character cards as labor for production on the land.

Potions — Used to optimize pack openings. For instance, the alchemy potion doubles your chances of opening a gold foil card from a booster pack. Potions can be purchased on the Splinterlands marketplace. Each card in a pack must have a potion.

Dice — One of the six card editions in Splinterlands. The others are Alpha, Beta, Promo, Reward and Untamed. Dice can be purchased in the game as well as on external markets.
Buy NFTs on Splinterlands
How to buy Splinterlands NFTs
To buy Splinterlands NFT cards, you have a few options. First, there's the proprietary market at Splinterlands.com. Arguably, this is the safest place to start building your collection.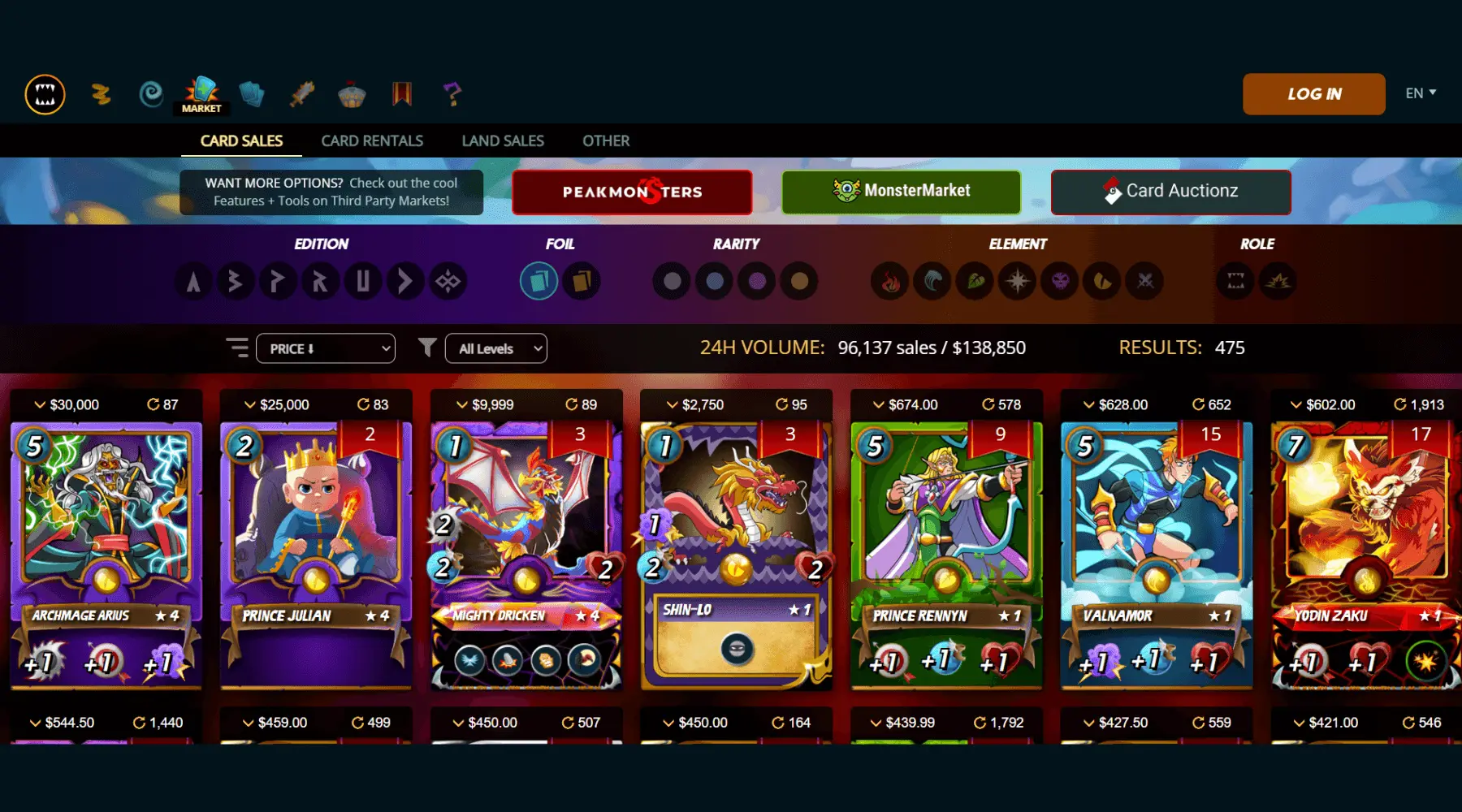 Image source: Splinterlands
You can also buy cards on PeakMonsters.com, MonsterMarket.io, CardAuctionz.com, OpenSea and AtomicHub.
With any NFT you buy, make sure what you're buying is legitimate. One of the better ways to avoid counterfeit cards is buying directly from the site's marketplace, or using third-party marketplace links on the site itself — which Splinterlands features.
Other crypto games and NFT projects
How to sell Splinterlands NFTs
Sell your Splinterlands NFTs on the Splinterlands' market, or sell on secondary marketplaces such as OpenSea.
Typically, selling an owned NFT on the secondary market requires five steps:
Connect wallet. Connect your crypto wallet to the marketplace of your choice. Many accept MetaMask.

Choose a marketplace. Splinterlands recommends selling cards on their marketplace, OpenSea or AtomicHub.

Make an account or sign in. Secondary marketplaces like OpenSea require an account. Create an account if you need to, or simply sign in.

Select the asset. In your account, view your assets and select the one you want to sell.

Confirm the listing. Most secondary marketplaces allow for fixed-price sales or auction sales. Choose the fixed price or minimum bid and confirm the listing.
Most secondary marketplaces charge a marketplace fee and take a percentage of the final sale price — OpenSea takes 2.5% on each transaction. Additionally, there may be gas fees for listing an NFT, depending on your chosen marketplace.
Sell NFTs on Splinterlands
About the Splinterlands developers
The Splinterlands cofounder and CEO is Dr. Jesse "Aggroed" Reich. The other cofounder is Matthew "Yabapmatt" Rosen. Both carry experience in creating games, with Reich creating his own game in 2014 and Rosen making games for nearly a decade.
Within the Splinterlands docs in GitBook, you can view the profile of each founder, along with a photo of them. Many blockchain developers don't divulge much information about their team, or the team is faceless.
Splinterlands is transparent which sends trust signals — the extra effort is a good sign in the newer world of blockchain games and topsy-turvy crypto.
Splinterlands roadmap
In July 2021, Splinterlands released the governance token SPS (Splintershards token). It trades on the Binance Smart Chain, and allows players to participate in decision-making for the future of the game.
Splinterlands' announced via its roadmap the launch of SPS DAO (Decentralized Autonomous Organization) and the launch of SPS Oracles, in the first quarter of 2022.
SPS Oracles will be users or entities elected by the SPS token holders that "will be responsible for running software that will relay relevant information about game transactions on the Hive blockchain to the SPS token smart contracts on BSC and vice versa and will receive SPS token rewards for doing so properly," according to Splinterlands' whitepaper.
If you want to buy the SPS tokens and take part in governance, you can purchase the token on Gate.io, LBank, BKEX, PancakeSwap and AOFEX.
Other updates for 2022 include:
In-game governance.

SPS Ranked Battle rewards.

SPS Guild Brawl rewards.

SPS Land Expansion rewards.
Compare marketplaces to buy and sell game NFTs
Bottom line
Splinterlands is already one of the most popular play-to-earn crypto games on the market. However, many cards are pricey — some of the best cards are hundreds of dollars which means some of the more invested players may have more of an in-game advantage.
But you can find cards as cheap as $0.03 at Splinterlands' market. And if you start raking up wins, you can earn crypto and buy better cards simply by playing.
CCGs aren't for everyone, but since this CCG is all online, it may be a little easier to start collecting and playing compared to traditional card games. It's also an autobattler, so aside from getting good at building a deck, very little skill is required. And by paying only $10, you open opportunities to earn crypto.