Spirit stock up 13% on JetBlue hostile takeover bid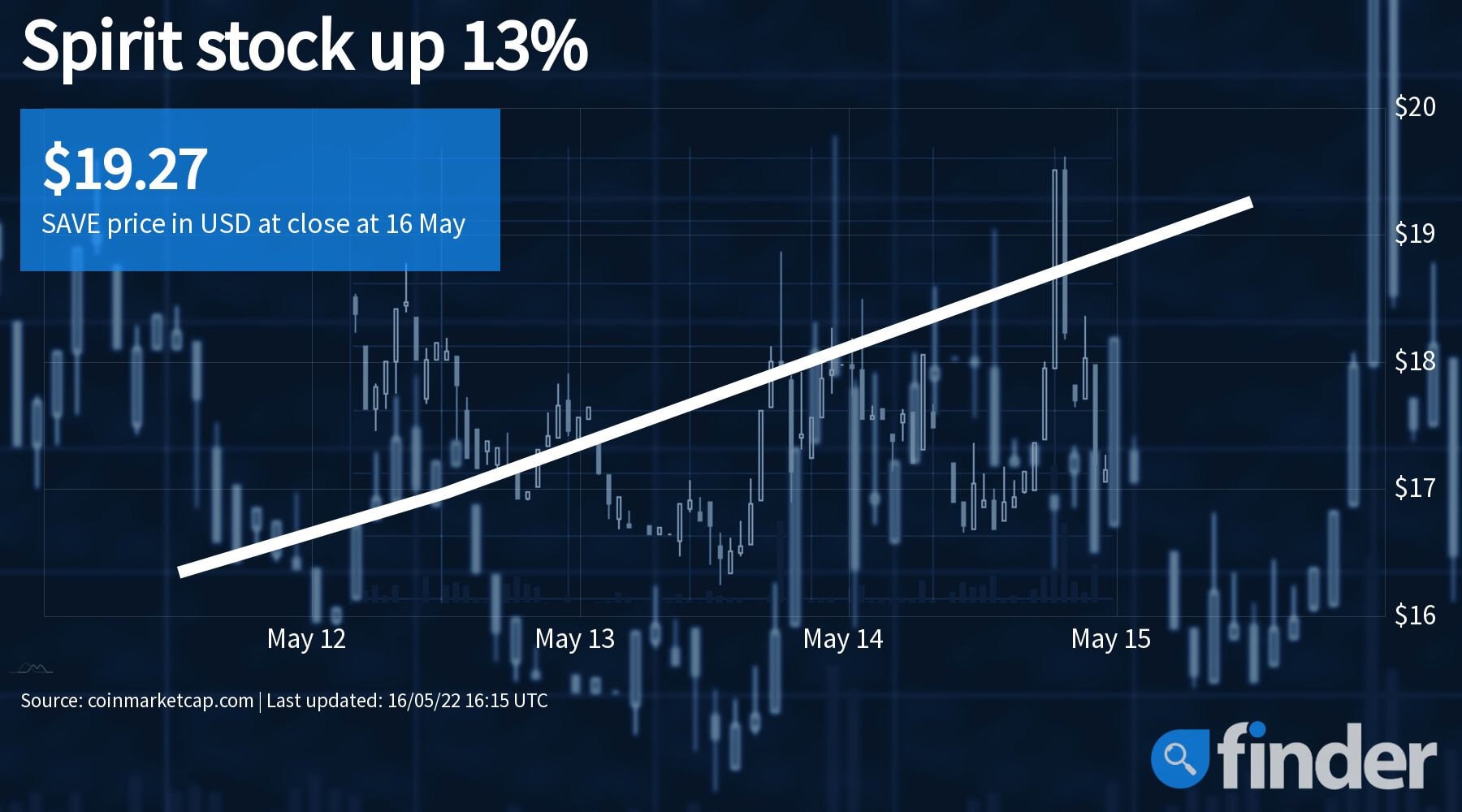 It's JetBlue's third attempt after Spirit rejected the airline's $3.6 billion offer in favor of a deal with Frontier. Spirit shareholders can vote June 10 on the Frontier merger. So what's the better deal for investors?
Shares of Spirit Airlines (SAVE) are trading higher Monday in response to a hostile takeover attempt by JetBlue Airways (JBLU) after that carrier rejected JetBlue's $33 per share, ​​all-cash offer earlier this month.
It's JetBlue's third attempt to buy the ultra-low-cost carrier (ULCC). Spirit's board of directors rejected the carrier's $3.6 billion buyout offer in favor of the pending transaction with Frontier Group (ULCC), the parent company of Colorado-based ultra-low-cost carrier Frontier Airlines.
The JetBlue offer is worth more to investors in cash, but Spirit management contends the Frontier deal is better long term and more likely to go through.
Spirit Airlines stock opened 8% higher Monday and was up as much as 14% within the first hours of the trading session. The stock was trading at $19.23 per share as of 2:11 p.m. ET.
Shares of Frontier Group were up about 6% Monday, while JetBlue shares fell by as much as 5%.
What we know about the Spirit/Frontier merger
Spirit and Frontier announced on February 7 their plans to merge to create a more competitive ULCC. Together, the two carriers would serve over 145 destinations across the US, Latin America and the Caribbean with ultra-low fares, allowing them to compete more aggressively against the dominant "Big Four" airlines — American Airlines (AAL), Delta Air Lines (DAL), United Airlines (UAL) and Southwest Airlines (LUV).
"We are thrilled to join forces with Frontier to further democratize air travel," said Spirit President and CEO Ted Christie in a February statement. "This transaction is centered around creating an aggressive ultra-low fare competitor to serve our Guests even better, expand career opportunities for our Team Members and increase competitive pressure, resulting in more consumer-friendly fares for the flying public."
Combined, the company would have annual revenues of approximately $5.3 billion based on 2021 results, with a cash balance of approximately $2.42 billion as of the end of 2021.
Spirit shareholders are scheduled to vote June 10 on Frontier's $2.9 billion buyout offer, according to a regulatory filing.
Terms of the deal
Upon closing of the merger, Spirit shareholders will receive 1.9126 shares of Frontier plus $2.13 in cash for each existing Spirit share they own. The transaction valued Spirit at $2.9 billion, and a transaction value of $6.6 billion when including net debt and operating lease liabilities. Existing Frontier shareholders will own approximately 51.5%, and existing Spirit equity holders will own approximately 48.5% of the combined airline.
JetBlue's offers to buy Spirit
JetBlue's hostile takeover attempt Monday comes after two unsuccessful attempts by JetBlue to acquire Spirit.
In April, JetBlue submitted an unsolicited proposal to acquire Spirit in an all-cash transaction for $33 per share. As a part of its merger agreement with Frontier, Spirit's board could accept JetBlue's or any other third-party offer, if the offer were deemed to be a "superior proposal." That is, an offer that's more favorable from a financial point of view than the original merger.
On May 2, JetBlue submitted an "enhanced superior proposal" to acquire Spirit. In addition to the $33 cash per share offer, JetBlue said it would agree to a divestiture commitment and provide up to $200 million toward a reverse break-up fee.
The Jetblue offer represented a substantial premium to the Frontier deal. But Spirit ultimately rejected JetBlue's offer, stating it does not constitute a superior proposal because it is "not reasonably capable of being consummated."
JetBlue on Monday offered Spirit shareholders $30 a share, down from the previous $33 per share offer, and encouraged them to vote against the Frontier deal during Spirit's June 10 shareholder meeting. JetBlue said it would raise the offer to $33 per share if Spirit negotiates.
"If the Spirit shareholders vote against the transaction with Frontier and compel the Spirit Board to negotiate with us in good faith, we will work towards a consensual transaction at $33 per share, subject to receiving the information to support it," JetBlue said in a statement.
JetBlue said acquiring Spirit will create a more compelling and viable competitor to the Big Four airlines.
Whether Spirit joins with JetBlue or Frontier, the newly-formed airline would ​​create the country's fifth-largest carrier by passenger volume.
Now what?
Spirit has yet to issue a statement on Jetblue's latest takeover bid. If you're a Spirit shareholder, you can vote on the merger with Frontier on June 10.
As of market close on Friday, May 13, JetBlue's $30 per share offer represents a 77% premium over Spirit's Friday close price of $16.98 and a 60% premium to the value of the Frontier transaction.
Ready to open an account or considering a new broker? Find the best online brokers for your needs. Or check out fees and features in our comparison table to find a better deal today.
At the time of publication, Matt Miczulski did not own shares of any equity mentioned in this story.
Information on this page is for educational purposes only. Finder is not an advisor or brokerage service, and we don't recommend investors to trade specific stocks or other investments.
Finder is not a client of any featured partner. We may be paid a fee for referring prospective clients to a partner, though it is not a recommendation to invest in any one partner.