Finder is committed to editorial independence. While we receive compensation when you click links to partners, they do not influence our content.
Sony LF-S50G review
Sony's first smart speaker leverages Google Assistant to deliver real-time information.
With its rich history in developing high-quality audio products for the masses, Sony's first attempt at a smart speaker is a viable alternative to Google's own Home speaker system, with some unique additions that help it stand out.
The LF-S50G's inclusion of an LED clock, water resistance and gesture controls all help it claim a unique position in the market, but it's the impressive sound quality that will really sway you to this model over Google's own speakers.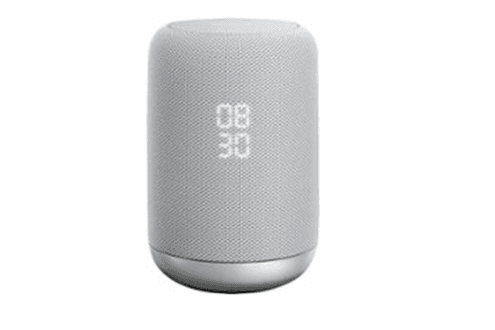 Sony - LF-S50G smart bluetooth speaker - white
from Best Buy
Shop now
Design
There's an elegant simplicity to the design of the LF-S50G smart speaker, available in black, white or blue. The glossy plastic bottom houses the power jack, as well as dedicated buttons for muting the microphone and Bluetooth for easy connectivity.
Beneath the speaker are two buttons so subtle you might miss them: a dimmer for the clock and a button that locks gesture and touch controls for three minutes. An NFC chip on the speaker's mesh grill allows for simple and quick Android device pairing, while the front of the speaker houses a two-line LED clock. Above the clock, four LED lights flash when you say "OK Google," indicating that the microphones are actively listening to you.
The top of the LF-S50G is marked by the iconic Sony badge and features two microphone holes on either side. The top is touch sensitive, allowing you to control the volume and use gesture control.
From a design standpoint, the one major flaw is in the LF-S50G's name. Competing with devices named "Echo" or "Home," Sony's decision to go with a product code as the key identifier for this speaker is somewhat confusing. But that's not likely a dealbreaker.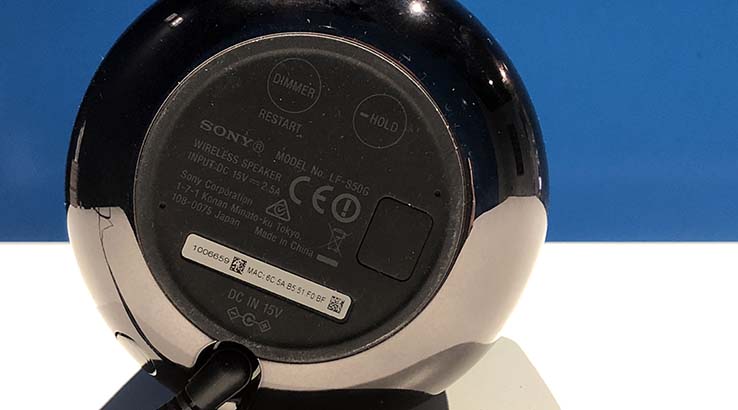 Audio performance
Sony is an audio company, so it's no surprise that the sound quality from the LF-S50G is solid. It doesn't come close to the much more expensive Apple HomePod or the recently updated Sonos ONE speaker, but it definitely sits above the Google Home and Amazon Echo family of speakers.
The sound is fairly balanced — maybe a little weak on the bass front, but not terribly so. Crank it up to full volume and that lack of bass is more noticeable. But the speaker manages to play back bass-heavy tracks without distortion.
The touch panel on the top of the Sony speaker will let you drop volume in increments of three, which doesn't give you a huge amount of granular control.
It's also important to note that the Sony's volume setting isn't recognized by Google Assistant. So if you have the speaker's volume set at the lowest possible setting, Google Assistant's responses still come back at a standard (loud) volume. This makes things like setting an alarm late at night while everyone else is asleep challenging to do with voice commands.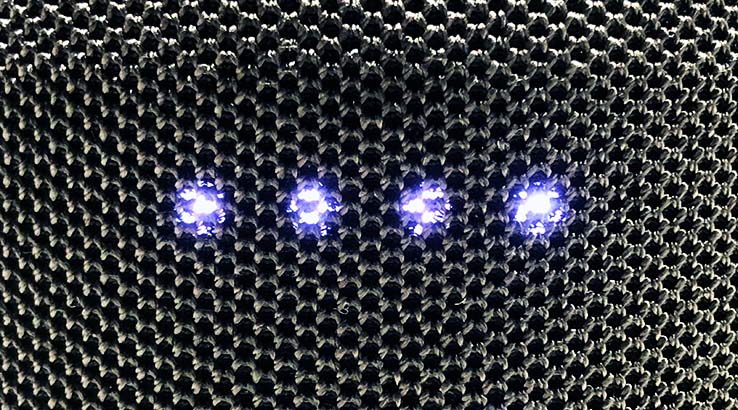 Digital assistant performance
Google Assistant will answer your questions about the weather, offer you news updates and tell you about your day by checking your Google calendar. Unlike Alexa, Google Assistant can be paired with multiple Google accounts — including kids' accounts using the family link app — and can detect different voices for personalized responses.
The platform also offers smart home controls, so you can use your voice to monitor other devices around the house. Google Assistant's voice recognition software does a good job of accurately hearing and actioning commands, even when speaking from across the room.
One of Google Assistant's best implementations is the ability to send recipes from a web browser to your smart speaker with a single button. Then, the speaker will read out a step-by-step guide while you cook. This is especially useful for the Sony speaker, given its splashproof design.
Touch/gesture controls
One of the unique selling points for the LF-S50G is the inclusion of touch and gesture controls on the top of the speaker. These are designed for hands-free control, specifically in a kitchen environment where your hands might be covered in food or water and you don't want to streak up your shiny new speaker.
But the reality is that neither gesture nor touch work very well. The touch panel, for example, can be used to control volume if you gently touch the top of the speaker in a circular motion. But it only works on a specific part of the top panel, which is not clearly marked, so it's difficult to hit the right spot.
Gesture controls are similarly frustrating. Waving your hand from left to right over the top of the speaker is supposed to skip forward a track, while right to left will rewind.
Going from back to front activates the microphone so you don't have to say "OK Google," though it works so haphazardly you'll likely never opt for this method. Front to back will play or pause your music, but it's an awkward movement.
Verdict
Sony's first smart speaker is a mixed bag. At its core, it's a balanced speaker that delivers the full Google Assistant experience to your home. Like the Google Home, the LF-S50G is a companion to your everyday life in a smart speaker format: It has the ability to control your smart home and keep your kids entertained with fun audio-based games.
But Sony's attempts to make the speaker unique with touch and gesture controls is a misfire that doesn't add to the experience. And given you're paying for those features when you opt for this speaker, you might not feel like you got such a great deal.
Still, for the slight premium over the Google Home, you do get better audio quality. So if sound quality and Google Assistant are important to you, this could be a match.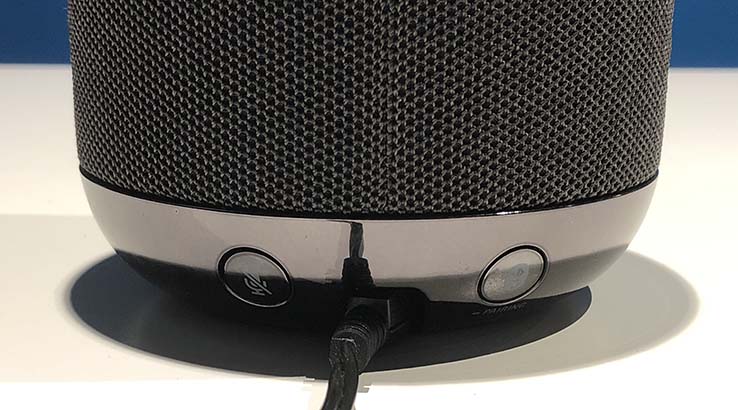 Pricing and availability
The Sony LF-S50G is currently available for $189.99.
Sony LF-S50G at a glance
What is the Sony LF-S50G? Sony's first smart speaker, which runs Google Assistant to play back music, answer queries and control your smart home.
When did the Sony LF-S50G come out? Sony first introduced the speaker in August 2017.
How much does the Sony LF-S50G cost? The LF-S50G currently sells for $189.99.
What is the Sony LF-S50G?
The LF-S50G is a compact speaker that offers direct access to the Google Assistant, just like Google Home. It boasts an integrated LED clock, as well as an IPX3 water resistance rating, meaning it can handle minor splashes of water. This makes it a better option as a kitchen or bathroom speaker than many other smart speakers available on the market.
What can the Sony LF-S50G smart speaker do?
The Sony LF-S50G is powered by Google Assistant, so you get all the same types of services and controls as the Google Home family of speakers. By using the "OK Google" phrase, you can activate the speaker and ask it questions for real-time information from the Internet.
Of course, the LF-S50G is also a speaker, so you can play music from subscription services like Spotify, Google Play Music, YouTube Music and others. It also supports Bluetooth streaming for playing songs from your phone without requiring a data connection.
Google Assistant can also support smart home devices like Philips Hue lights and Ring smart doorbells.
What other devices is the Sony LF-S50G compatible with?
Since the Sony LF-S50G is powered by the Google Assistant service, it offers the same device support as the Google Home family of products. So you can use the Sony speaker to control Chromecast devices, as well as smart home products compatible with the Google Assistant.
Google Assistant also supports IFTTT, which means you can connect hundreds of services to your smart speaker for custom actions based on specific voice commands.