Finder is committed to editorial independence. While we receive compensation when you click links to partners, they do not influence our content.
Sonos Beam review
Smart sound with a lot of future promise.
Pros and cons
Good audio quality for the size
Alexa and Google Assistant integration
Voice enhancements work well
Alexa music choices are limited
No Bluetooth
Trueplay only works on iOS
Sonos has a strong reputation in the sound space, offering its high-quality mesh networked speakers for many years. The Sonos Beam isn't the company's first soundbar, but it's the first to come compatible with Alexa and Google Assistant.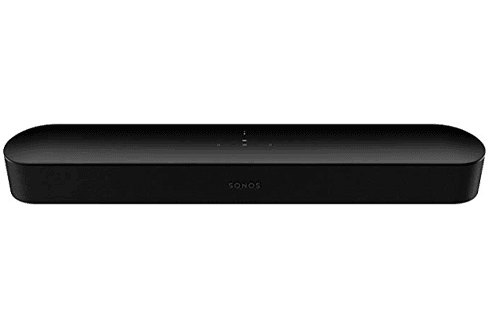 Sonos Beam: Design
Sonos Beam's black model is most likely to blend with the front of most TVs, but it's also available in clean white.
Measuring 26 x 4 x 3 inches, the midsize soundbar's design is undeniably Sonos — from the rounded corners to the touch-sensitive buttons that mimic the Sonos One.
One trap to avoid: Don't block the IR ports with the soundbar if they're both sitting on a stand. Mounting your TV and Sonos Beam could help you dodge the issue altogether. I got around that by shifting the Sonos Beam slightly to the side of the IR port on my TV.
Sonos Beam: Installation
Like other Sonos products, installation's largely handled through the Sonos App for iOS or Android. For connection to your TV, you've got the choice of HDMI-ARC or optical audio — though HDMI-ARC is highly recommended.
Optical audio will work for audio output, but if your TV has an HDMI-ARC compliant port, you'll also be able to control audio levels with your existing remote and engage TV control features through Amazon Alexa.
Sonos also boasts a speaker equalization tool called TruePlay to match the room that you're installing in for perfectly balanced sound. There's a slight catch, though: To enable TruePlay, you have to use an iOS device to measure sound reflections using your iPhone, iPad or iPod Touch microphone. Sonos says there's too much variance in Android microphones to fine-tune the audio.
TruePlay can make quite a difference to the audio output of the Sonos Beam. The best advice for Android users is to invite an iPhone-owning friend over for a movie night to get it set up.
Then there's the voice assistant installation. I tested with a system already containing an Alexa-enabled Sonos One, so some of the setup was already done. But you might have to bounce between the Sonos and Amazon apps to make sure the app and accounts link up.
Sonos Beam: Audio performance
The Sonos Beam has five onboard digital amplifiers, four woofers and a single central tweeter to handle its audio output. Audio is generally very good, although it's not the loudest soundbar I've had. And there are some limitations depending on connectivity.
Dolby Atmos is notably absent. Sonos does sell a subwoofer product, and you can engage other Sonos speakers to act as surrounds — although this can get expensive. The Sonos Beam delivers a strong room-filling presence when playing music.
For TV-based audio, the Sonos Beam delivers good central sound, albeit not quite full surround sound. The Sound Enhancement feature emphasizes voices nicely, with both quieter dramas and more rambunctious action content mixing in vocals and explosions.
The Sonos Beam night mode works much like competitor modes, with lower tones to avoid disturbing your fellow dwellers — though you'll still need to keep the volume down.
Sonos Beam: Digital Assistant performance
At the time of this writing, Amazon's Alexa was the only digital assistant enabled for the Sonos Beam. Since my review, Sonos has added Google Assistant to its compatibility list.
Alexa is fine as a basic smart home assistant, although you lose the calling ability and Audible audiobooks on the Sonos Beam. If can perform simple TV functions when it's connected via HDMI-ARC, including volume and power adjustments. But my testing experiences with this were patchy, to say the least.
Volume adjustment worked fine, though I suspect most users have one or two levels they prefer the volume to stay. The Sonos Beam's five far-field microphones work well across the room, except if you tell Alexa to set the volume to 10. At that point, as I rather painfully found out, you have to shout to get it to pick up your voice. I tested with Beta software, so this feature could improve over time.
In theory, connecting to the HDMI-ARC can activate voice-controlled TV power, but I couldn't get that function working on a Sony TV. There's also no real support for channel or input switching on the Sonos Beam (or at least not yet) via voice, so you may find your voice inputs limited to simple volume shifting.
Alexa's other limitation: It only fully "talks" to Amazon Music and Spotify. Alexa plays and pauses tracks that you queue up from other sources, but you can't use your voice to search or play.
Sonos Beam: Should you buy it?
If you've already invested in Sonos speakers and the better sounding Playbar or Playbase is too much for your budget, I recommend the Sonos Beam. It's not the greatest soundbar Sonos has produced, but it's a good performer at its price level.
It's worth your while if you're looking into smart home appliances. Once the Sonos Beam is fully across the Amazon, Google and Apple ecosystems, it'll be a much better buy and a serious leader in its price category.
Sonos Beam: Pricing and availability
The Sonos Beam is available for $399.
Sonos Beam: What other reviewers say
| Site | Comment | Score |
| --- | --- | --- |
| Wired | "The Sonos Beam is an impressive and thoughtfully designed soundbar." | N/A |
| SMH | "As both a soundbar and a wireless multiroom audio speaker, Sonos' Beam is an impressive allrounder that's hard to beat." | N/A |
| The Next Web | "The Sonos Beam isn't the company's best speaker, but it's almost certainly its most versatile." | N/A |
| What Hi-Fi? | "A compact Sonos soundbar which could transform your listening experience." | 5/5 |
| TechRadar | "A smart speaker that, despite its small size, packs a suitable audio punch." | 4.5/5 |
| The Verge | "If you have a reasonably new smart TV with HDMI ARC and you're still using the built-in speakers, the Sonos Beam is an excellent upgrade." | 8/10 |
Specifications
Product Name

Sonos Beam
Assistant

Alexa, Google Assistant to come
Wireless network

Proprietary mesh
Weight (grams)

2800
Height

68.5mm
Width

651mm
Depth

100mm
Speaker information

5 Class D amps, 4 full range woofers, 1 central tweeter
Bluetooth

No
Min. Frequency Response (Hz)

TBC
Max. Frequency Response (Hz)

TBC
Audio out

No
Water rating

NA
---
Follow us for all the latest smart home news and deals
More guides on Finder