Finder is committed to editorial independence. While we receive compensation when you click links to partners, they do not influence our content.
Compare the best backup software
Don't wait for disaster to strike before backing up your data.
Many of us don't consider backing up our photos, videos, documents and other files until we've already lost something. But the best way to keep from losing everything is to back up all your devices with backup software before you encounter a problem.
Compare popular backup software
Name
Pricing
(USD)
Free version?
Platforms
Acronis True Image 2019

$49.99
No
Windows
Mac
iOS
Android
EaseUS ToDo Backup

$9.95
Yes
Windows
Mac
Paragon Backup & Recovery


$31.58
Yes
Windows
Novastor NovaBackup PC

$145.00
No
Windows
Genie9 Timeline Home 10

$39.95
No
Windows
iOS
AOMEI Backupper

$39.95
No
Windows
Genie9 Backup Manager Home 9

$39.95
No
Windows
Android
O&O DiskImage 12

$59.00
No
Windows
Ashampoo Backup Pro 12

31.00
No
Windows
Veritas System Recovery

$69.99
No
Windows
Linux
Data obtained February 2019. Prices are subject to change and should be used only as a general guide.
What is backup software?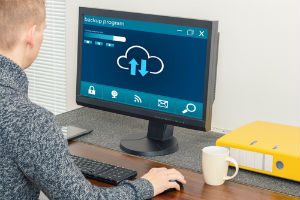 Backup software is a type of software designed to copy or duplicate data. Backup software ensures that you won't lose everything in the event of hard drive malfunctions, theft, fire, flooding or other natural disasters.
It's so important that there's even a day to remind people around the world to back up their data (it's March 31 if you're wondering).
If your primary drive is damaged, backup software will help to restore your data, files, hard drives, documents and anything else you have stored on your computer or network.
With so many of us running our businesses and lives through our devices, backing up our data is more important than ever.
Backup software performs three essential functions:
File and data backup
File and data restoration
Disaster recovery
You can use backup software to save copies of your entire systems or individual files that you don't want to lose. Most business software will give you the option of scheduling backups or having the software perform backups automatically. In the event of malfunction, corruption or even accidental deletion, backup software will restore the files. If your computer fails entirely, disaster recovery will ensure that all will not be lost.
Why should I consider backup software?
Backup software can give you peace of mind. You won't have to worry about losing your digital memories overnight. Additionally, backup software can provide the following features:
Return on investment. Like all business software, one of the most important features is the return on investment. While backing up your entire business might seem costly, it could save you a lot in the long run. Losing all of your company's data could cost not only money but time, and reputation.
Encryption. Backup software can encrypt your files and give you an added layer of protection from cyber attack and theft.
Streamline your business. Backing up your data regularly with backup software means you and your employees can have more time to focus on other essential business functions. Backup software can also create a lighter workload for your IT department. If you're looking for other ways to streamline your business, you should consider using accounting software.
Organization. Another useful feature of backup software is the ability to sort and organize your files into volumes or folders. This can be especially helpful for businesses and anyone with large amounts of data.
Upgrade your computer. You can also use backup software to replace or upgrade your hard drive and restore everything that was on your original.
What to look for when choosing backup software
With the right backup software, you can choose how often your data is backed up and how it's stored. Look for reliable and secure software with the features you require that doesn't slow down your computer. Of course, you'll also want to consider the cost.
Price. You should try to stick to your budget. However, if you can't find backup software with all the features you need within your price range, you might want to adjust your budget. On the other hand, it's not worth paying more for features that you won't use. Figure out exactly what you need from your budgeting software and then determine how much it will cost.
Backup vs. mirror. A backup allows you to keep existing files and make an additional copy elsewhere. Mirroring, on the other hand, overrides files, often in real time. Mirroring can be useful for saving real-time updates, but the ability to have multiple backups of a file is a crucial component of any backup software.
Speed. Some backup software can take a long time to perform backups, especially if you are backing up to multiple locations or have large files. This can slow down your computer.
Reliability. Backing up your files is of no use if the process is stopped or stalled mid-backup, leaving files incomplete and unusable. Look for backup software with positive user reviews and a low rate of errors. Also, once you have chosen your backup software, try not to interrupt a backup.
Security. Depending on the type of storage you use for your backups, your data could be at risk of cyber attacks. Reputable backup software vendors will store your information on secure servers, but anything that is connected to the internet has some vulnerability to breaches. If you are looking for additional ways to keep your data safe, you should consider antivirus software.
Physical vs. cloud storage
You have two main options for data storage: physical or online cloud storage.
Physical storage allows you to copy your data to a physical device such as an external hard drive, CD or DVD. While many physical storage devices are inexpensive, they are also vulnerable to damage and malfunction.
Cloud storage allows you to save your files on a server or network of servers via the Internet. Cloud storage is generally subscription-based, and while you can store pretty much an unlimited amount of data online, it can get pricey.
The best option for most people is a combination of the two. This way, you can ensure your data has multiple layers of protection.
Storage
Pros
Cons
Physical

One-time cost
You control the location
More secure against hacks if not connected to the Internet

Vulnerable to accidents, malfunctions and disasters
Limited storage
Only accessible from one location

Cloud

Unlimited storage options
Scalable
Access your files anywhere

Long upload and download times
Vulnerable to hacks
Subscription-based services can be expensive
Bottom line
Back it up, back it up, back it up. We can't say it enough. It doesn't matter how long you spend choosing the perfect backup software if you never actually use it.
Whether you choose physical storage or cloud storage, automated or scheduled backups, you should start backing up your devices as soon as possible. Even better, create multiple copies in different locations. A combination of physical and cloud storage gives you added layers of protection against accidents and malfunctions.
How to keep your computer safe
How did we choose these products?
To choose our list of the best backup software, we conducted online research to determine some of the most popular options currently available. We also compared the cost, security, speed, software type and other features.
Frequently asked questions