Finder is committed to editorial independence. While we receive compensation when you click links to partners, they do not influence our content.
Shows you can binge-watch while working from home
Working from home can be isolating, but having an upbeat show in the background will do wonders for your mood.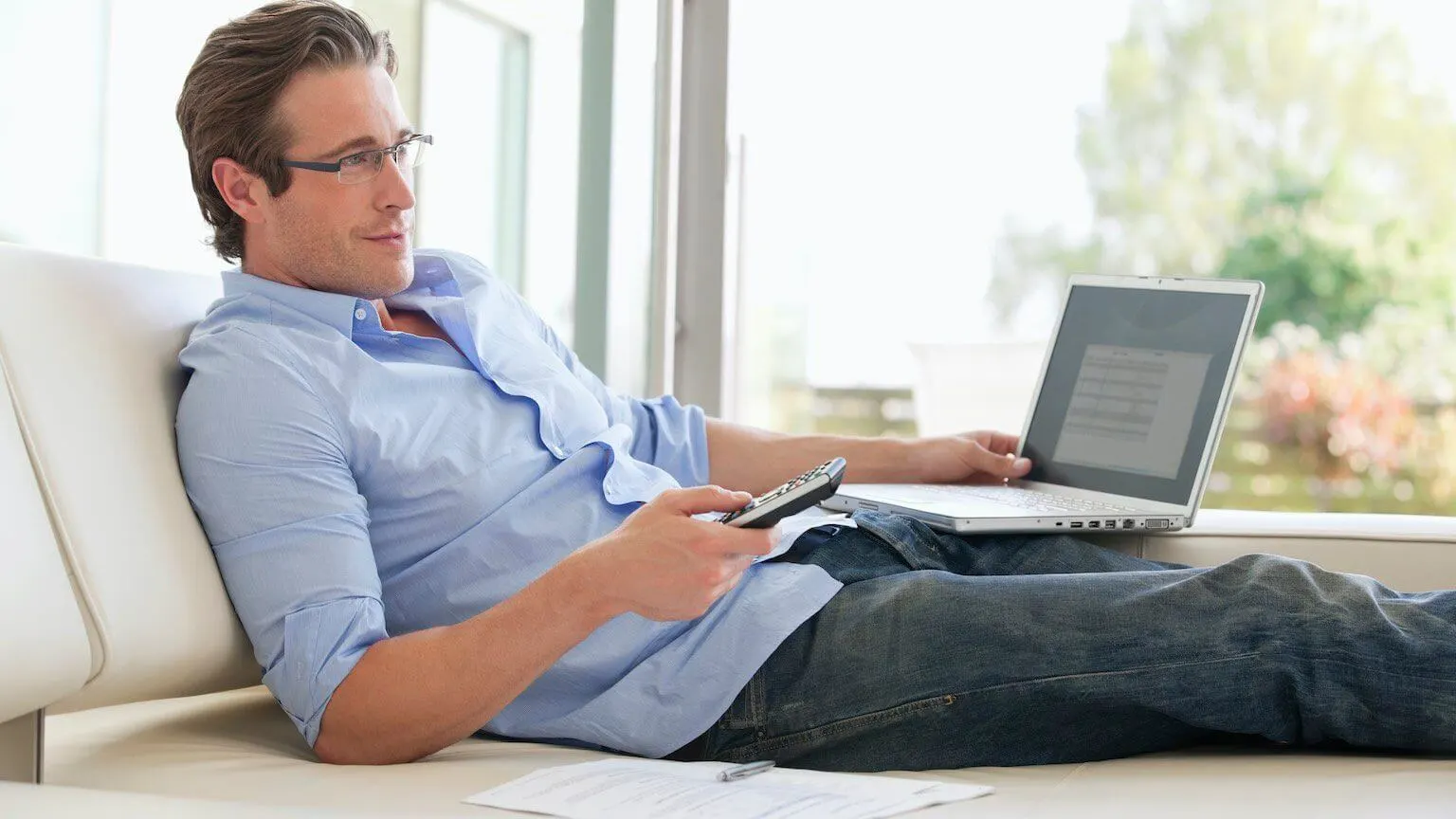 Working from home comes with obvious advantages. You can wear comfy clothes. There's no more commute to worry about. Your pets will be ecstatic. Your colleagues won't interrupt you as often, ruining your flow.
On the downside, working from home gets lonely. While IM and video meeting apps help you keep in touch with co-workers, spending that much time indoors can become a bummer once the novelty wears off. Not to worry: we've got some excellent recommendations for binge-able shows that will make your work from home days more bearable.
Granted, not everyone who works from home can afford to multitask. On the same note, certain series require your undivided attention to fully understand what's going on. However, if you have several mundane tasks on your to-do list that don't require too much brain power, having a light-hearted TV show in the background can do wonders for your mood. Here are 15 titles to get you through the next few weeks.
---

1. Brooklyn Nine-Nine
---
Year: 2013
Cast: Andy Samberg, Andre Braugher, Melissa Fumero, Stephanie Beatriz, Terry Crews, Joe Lo Truglio
---
Despite being a show about cops, Brooklyn Nine-Nine is relentlessly optimistic, which makes it the perfect cheer-up series to binge. The sitcom revolves around a diverse and quirky team of detectives working in New York and their efforts to catch criminals and, ultimately, help the world become a little bit better.
You might miss a few jokes if you turn it on for background noise, but the show's joy and compassion will still come through.
Stream it on Hulu
Stream it on Sling TV
---

2. Parks and Recreation
---
Year: 2009
Cast: Amy Poehler, Jim O'Heir, Nick Offerman, Chris Pratt
Heartfelt and addictive, Parks and Recreation follows the antics of the eccentric public officials employed by the Parks Department of Pawnee, Indiana. Led by the animated Leslie Knope, these mid-level bureaucrats might not always come off like the most endearing people out there, but they'll definitely pull on your heart strings.
While Season 1 is a bit rough, it gives you a lot of background for the hilarity you'll experience in Season 2 and onward.
Stream it on Amazon Prime Video
Stream it on Hulu
---

3. The Good Place
---
Year: 2016
Cast: Kristen Bell, William Jackson Harper, Jameela Jamil, Ted Danson
After getting hit by a car and passing away, Eleanor Shellstrop finds herself in the Good Place— a world designed for people who have been good throughout their lives. She has not. When she finds out they've gotten her name right, but not her personality, she knows she doesn't belong there.
With the help of her arithmetically assigned soulmate, Chidi, Eleanor attempts to earn her spot in the Good Place. None of this happens without a hiccup here and there, but watching them get in and out of jams is encouraging. This feel-good series might actually make you crack a smile between the drudgery of writing reports.
Stream it on Hulu
---

4. Keeping Up with the Kardashians
---
Year: 2007
Cast: Kourtney Kardashian, Kim Kardashian, Khloé Kardashian, Kendall Jenner, Kylie Jenner
Technically speaking, any reality show makes incredible background noise. So why not indulge in one of the most popular celebrity series of all time?
As you follow the Kardashian-Jenner clan live their glam lives, the drama surrounding the family will make you feel considerably better about your humble surroundings. Plus, if you really think about it, the Kardashians work from home as well— totally relatable.
Stream it on Hulu
Stream it on Sling TV
---
5. Sex and the City
---
Year: 2007
Cast: Sarah Jessica Parker, Kim Cattrall, Kristin Davis, Cynthia Nixon
The show that jump-started HBO has plenty of sex, sure, but it's true essence is about friendship. Carrie, Charlotte, Samantha and Miranda have a lot of their own drama to handle on a regular basis, yet they're always there for each other.
Whether you choose to relive the magic of the fabulous series or join in the fun for the first time, Sex and the City is joyous escapism. Surprisingly enough, most of the storylines still hold up. Just make sure you don't forget to pause it before joining a video meeting.
Stream it on Hulu
---

6. House M.D.
---
Year: 2004
Cast: Hugh Laurie, Omar Epps, Robert Sean Leonard, Lisa Edelstein, Jesse Spencer, Jennifer Morrison
Let's all agree that procedural dramas that focus on solving crimes are comforting. If you're into medical shows, House M.D. remains one of the best in the genre, despite a small dip in quality in later seasons. The series follows the misanthropic yet brilliant Dr. Gregory House, who has a knack for puzzles and manages to diagnose patients with symptoms that leave others scratching their heads.
Plus, you'll get to enjoy an amazing performance from Hugh Laurie. Binge with caution – House M.D. is not recommended if you're a hypochondriac.
Stream it on Amazon Prime
---

7. Queer Eye
---
Year: 2018
Cast: Antoni Porowski, Bobby Berk, Jonathan Van Ness, Tan France, Karamo Brown
Queer Eye quickly became one of Netflix's most successful reality shows and it's easy to figure out why. The cast is charming, the makeovers inspiring and the social commentary is on point.
The series sees as a group of experts— the Fab Five— run around the US (and sometimes international destinations) helping men and women improve their lives. Improvements usually involve fashion-forward clothes, a fresh grooming routine, an updated home and a healthy dose of honest conversation.
Keep some tissues close. Crying isn't completely out of the question with this one.
---

8. The Office
---
Year: 2005
Cast: Steve Carell, Jenna Fischer, John Krasinski, Rainn Wilson
Missing your work environment? This iconic series will likely keep your nostalgia for office politics in check.
The Office revolves around a group of employees at a paper company, Dunder-Mifflin, who regularly indulge in all sorts of foolishness. Often outrageously funny, it's the perfect choice if you're on the lookout for fictional colleagues to keep you company when working from home.
---

9. Psych
---
Year: 2006
Cast: James Roday, Dulé Hill, Corbin Bernsen, Maggie Lawson, Timothy Omundson
The only bad thing about Psych? It's severely underrated. A silly procedural drama, the show centers on Shawn, an immature young man who possesses uncanny powers of observation.
To get out of trouble, he convinces the cops that he's a psychic and realizes he can make some extra cash if he consults on cases. As a result, he recruits his reluctant friend Gus to help and they get into all sorts of shenanigans as they assist with investigations.
Besides being a whole lot of fun, the show introduces you to one of the best TV bromances of all time. That's reason enough to watch.
Stream it on Amazon Prime Video
---

10. Parenthood
---
Year: 2010
Cast: Peter Krause, Lauren Graham, Dax Shephard, Craig T. Nelson, Erika Christensen
When you take the simple family storyline and kink it until every possible scenario that could unfold, unfolds, you get Parenthood. Six seasons follow the Braverman family of six: the parents— Camille and Zeek and their kids— Adam, Sarah, Crosby and Julia. Each now-adult has their own story, their own mess of drama to add to the family dynamic and you get to sort through it all.
It might require a little more attention to keep up than some of the other series we've listed, call it a puzzle if you will. It's a series you take a break with a nice shot of espresso with, not turn on for a little background noise.
Stream it on Hulu
---

11. Gossip Girl
---
Year: 2007
Cast: Blake Lively, Leighton Meester, Penn Badgley, Ed Westwick, Chace Crawford
One of the most popular teen dramas of all time, Gossip Girl revolves around the lives of privileged upper-class adolescents living in Manhattan's Upper East Side. Their movements are carefully chronicled online by an anonymous and ever-present blogger, which makes for a fairly intriguing premise.
Add an attractive cast, a killer soundtrack and some excellent outfits into the mix and you can understand why Gossip Girl became such a huge hit in the early 2000s. Plots in later seasons can come off as ridiculous, but that doesn't make the series any less binge-able, especially if you keep it in the background while you follow up on emails.

12. Gilmore Girls
---
Year: 2000
Cast: Lauren Graham, Alexis Bledel
Is there a cozier TV series than this one? We doubt it.
Gilmore Girls follows a mother and daughter as they live their lives in a small American town filled with quirky characters. They're freakishly close, obsessed with pop culture and prone to consuming copious amounts of junk food.
If you're on the lookout for witty dialogue and uplifting storylines, visiting Stars Hollow is a must.
---

13. Below Deck
---
Year: 2013
Cast: Lee Rosbach, Ben Robinson, Kat Held
Below Deck is a juicy reality series about attractive yachties who live aboard luxurious vessels while making sure that their demanding clients' needs are met. It's already a challenging job, but the drama below deck intensifies it.
Given the crew's policy to work hard and play even harder, you can expect plenty of "omg" moments as each season unfurls – including illicit affairs and conflicts between co-workers. What better way to spice up mundane work from home days?
Stream it on Hulu
Stream it on Sling TV
---

14. That 70s Show
---
Year: 1998
Cast: Topher Grace, Laura Prepon, Mila Kunis, Danny Masterson, Ashton Kutcher
As the title suggests, this charming series is set in the '70s, when high school students didn't have a lot to do besides hanging out, trying to score free beer, and driving around aimlessly.
The aimlessness is what makes the show so appealing— it allows you to mentally escape to simpler times. The well-crafted jokes and engaging characters are a welcome bonus. With such a talented cast, there's no wonder That 70's Show lasted for eight seasons.
Stream it on Fubo TV
---

15. Community
---
Year: 2009
Cast: Joel McHale, Gillian Jacobs, Danny Pudi, Yvette Nicole Brown, Alison Brie, Donald Glover, Chevy Chase
A quirky series for sure, Community follows an oddball group of students attending a community college.
Filled with meta-humor and pop culture references, the show is clever and fast-paced as well as kooky and playful. More importantly, it touches on how crucial it is to care for your chosen family, however it might look like.
Community respects no rules when it comes to sitcoms, so you'll be in for a wild ride. Epic paintball battles, sophisticated genre parodies and storylines that increase in their oddity are on the horizon.
Stream it on Hulu
Image source: Netflix, Youtube, iTunes
More guides on Finder