Finder is committed to editorial independence. While we receive compensation when you click links to partners, they do not influence our content.
Sites like Poshmark
These clothing resale sites offer fashion finds at a fraction of their original cost.
More than 50 million shoppers use Poshmark as a marketplace to buy secondhand clothing directly from motivated sellers across the country. Clothing resale is easy on the wallet and good for the environment. If you're on the hunt for an amazing find, check out these other sites to broaden your search.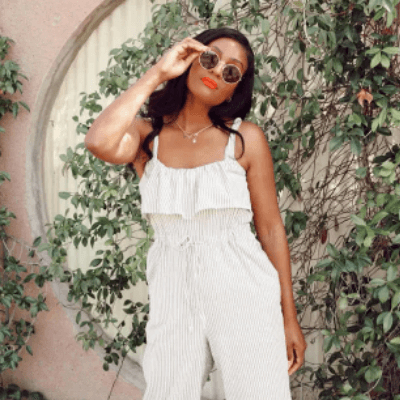 ThredUp
An online clothing resale giant where you can buy and sell quality second-hand items.
ThredUp is a huge, online thrift store where you can find new or gently used clothes, shoes and accessories from hundreds of popular brands, including Anthropologie, Kate Spade, Lululemon, Madewell and Nike. Every item is guaranteed authentic.
$5.99 flat-rate shipping
All orders are sent directly by ThredUp
Frequent discounts
Free returns within 14 days
Finance your order with Affirm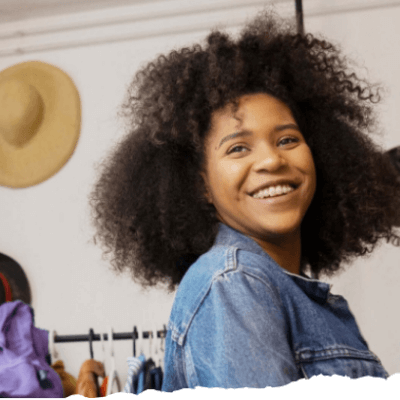 Vinted
A marketplace where you can find women's clothing, shoes, accessories and beauty items to buy, swap or sell.
Find a wide range of new, gently worn or used products up for grabs. Vinted oversees all transactions while owners sell and ship items directly to their new homes.
Coupons often available
Various shipping options
Reliable return policy through Vinted
An option to add extra buyer-protection to your order
Tradesy
Find high-end fashion, shoes and accessories at a fraction of their original price tag.
Tradesy directly connects shoppers with individuals selling their collections of designer items. The site promises authenticity on every item and guarantees full refunds on products that don't live up to their advertisements.
Free shipping on all orders
Free returns
Frequent discounts
Dedicated customer support team
Finance your order with Affirm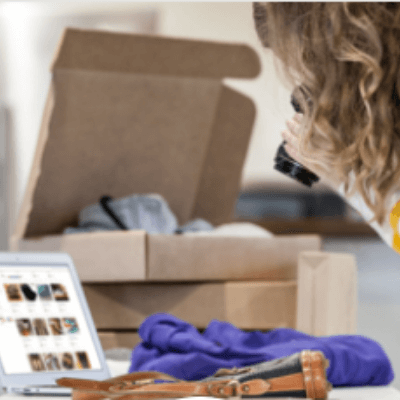 ReRuns
A clothing resale market with a charitable twist.
Like Poshmark, Vinted and Tradesy, ReRuns is a clothing marketplace where you can shop thrift items from individual sellers across the country. What makes this site different is that it donates all of its profits to charities.
$2.99 flat-rate shipping
Returns only permitted if item arrives differently than described
Profits from every item sold is donated to charity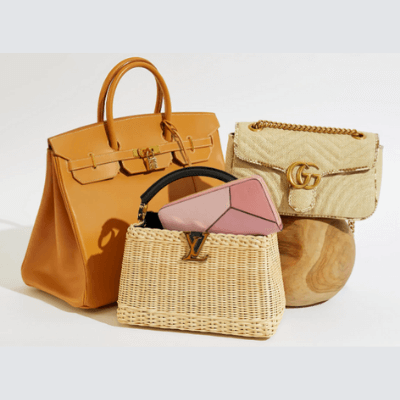 The RealReal
Luxury consignment online with a tried-and-tested authentication system.
The RealReal offers authenticated luxury consignment online. It manages its own inventory, accepts second-hand items from sellers, sets pricing standards and retails directly to shoppers.
$11.95 flat-rate shipping
Frequent discounts
Free returns within 14 days
Finance your order with Affirm
Rebag
The authority on resale for handbags, purses, wallets and leather goods.
Rebag buys, sells and exchanges luxury secondhand designer bags and accessories directly to shoppers. Rebag manages all inventory to ensure authenticity and value, and ships items directly to customers.
Free shipping on orders $500+
$20 flat-rate shipping for orders under $500
Option to shop through Infinity program for frequent exchanges
Coupons often available
Returns accepted within seven days
Finance your order with Affirm
Rent The Runway
Buy vintage clothing that has been cared for by experts.
With a subscription base of over 100,000, Rent The Runway has a wide array of vintage designer clothing at its disposal. After each item runs its course in the rental market, the brand sells it through its ongoing online sample sale with a steep discount.
$9.95 flat-rate shipping
Discounts for members
All items have been gently worn
No returns accepted
Which alternative clothing resale sites offer free shipping?
Poshmark offers a flat expedited shipping rate of $7.11 for all orders. Most clothing resale sites don't offer free shipping, though many provide lower rates.
If you're looking for a better deal, shop these retailers:
Tradesy: Free shipping on all orders
ThredUp: $5.99 flat- rate shipping
ReRuns: $2.99 flat- rate shipping
Rebag: Free shipping of orders $500+
Which alternative clothing resale sites deliver faster than Poshmark?
Poshmark ships all orders using Priority Mail service so you get your order within one to three business days once dispatched. Poshmark's shipping policy is faster than most clothing resale sites, as most retailers have a longer delivery window.
Which clothing resale sites have a similar price to Poshmark?
Clothing resale sites feature items across a wide price range, and costs are typically based on a product's original value, quality and age. You can find quality casual dresses from Poshmark for around $15 dollars, jeans for an average cost of $30 and designer handbags around $100.
Alternative sites with similar prices are:
ThredUp: Casual dresses cost as low as $4, jeans start at $5 and designer handbags range from $50 to $100.
Vinted: Most dresses cost between $10 and $30, jeans are as low as $6 and designer bags are priced around $150.
ReRuns: Casual dresses run around $12 to $30 and jeans range between $5 and $35.
Which clothing resale sites have a returns policy like Poshmark?
Poshmark says on its website that all sales are final. However, it will honor returns for a full refund if a buyer can prove that an item doesn't appear as it was described or is incorrect. The request must be submitted within three days of receiving the order.
Most secondhand clothing sites hold similar return policies. Retailers that allow returns include:
ThredUp
Vinted
ReRuns
Tradesy
The RealReal
Rebag
Bottom line
With constantly changing selections and hundreds of one-of-a-kind items, no two clothing resale sites are alike. Keep your eye on a few of them to find your perfect piece at the perfect price.