Shiba Inu soars 19% on rumored Robinhood listing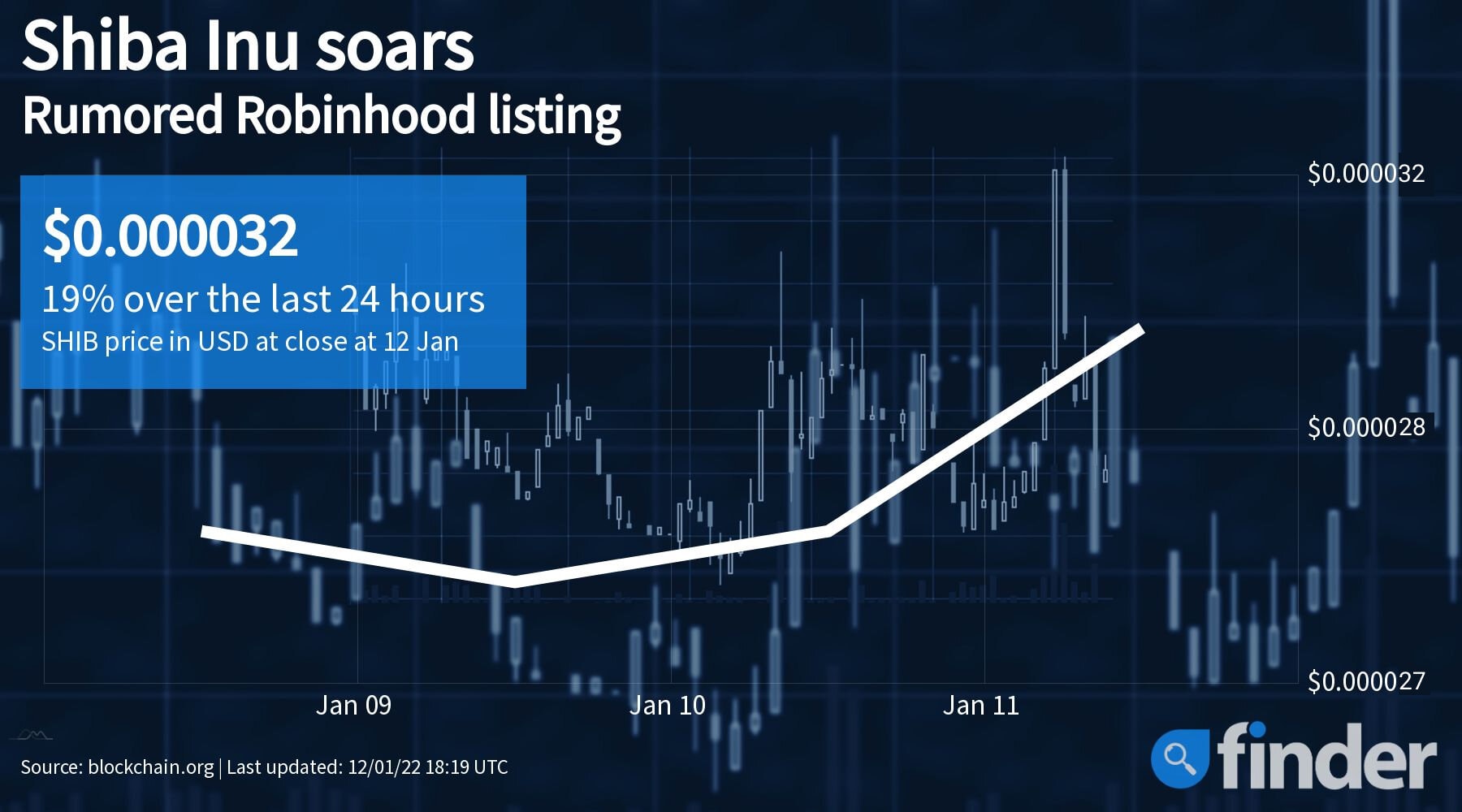 It's not the first time this rumor has circulated and it's yet to be confirmed by Shiba Inu or Robinhood.
Shiba Inu (SHIB) climbed 19% Wednesday on rumors that the meme coin would be listed on the popular retail brokerage platform Robinhood in February 2022.
Neither Shiba Inu nor Robinhood has confirmed the rumors.
Shiba Inu is now changing hands for $0.000032, according to data from CoinDesk, up roughly 19% over the last 24 hours.
What's the buzz?
Several crypto news sources claim knowledge of insider information that Shiba Inu will be listed on Robinhood this February.
BreakingCrypto tweeted out the news this morning, citing an anonymous source, followed shortly thereafter by Wccftech, a technology media publisher.
So far, there's been no word from Robinhood or Shiba Inu to confirm the rumors. But perhaps a cryptic tweet late last week was meant to tease the development. Shiba Inu developers tweeted last Friday that they're "working on amazing things." Whether that's getting listed on Robinhood remains to be seen.
This has been rumored before
Shiba Inu peaked at an all-time high of $0.000089 on Oct. 28, 2021, on similar news that it might be listed on Robinhood.
At the time, a petition "designed to kindly request of Robinhood to please list Shiba Inu coin to trade" was circulating on Change.org, which may have contributed to the token's 72% rise.
The petition has gathered more than 555,000 signatures as of Jan. 12.
What is Shiba Inu?
Shiba Inu is a decentralized cryptocurrency also known as Shiba Token. The coin was created in August 2020 by an anonymous person or group known as Ryoshi and is built on the Ethereum (ETH) platform.
The price of Shiba Inu is currently $0.000032 according to CoinDesk, with a market cap of $18.93 billion.
At the time of publication, Matt Miczulski owned Ethereum.
The value of any investment can go up or down depending on news, trends and market conditions. We are not investment advisers, so do your own due diligence to understand the risks before you invest.