Finder is committed to editorial independence. While we receive compensation when you click links to partners, they do not influence our content.
Body-positive shave clubs for women
Don't pay a premium for pink. Check out Billie and Flamingo.
Sick of paying extra for razors just because they're pink or say "for women" on the package? Or how about trying to stretch your pricey razor further by shaving with a dull blade, only to end up with razor burn and ingrown hairs?
Shave clubs made just for women are putting an end to the "pink tax" by offering a high-quality, convenient product for less than competitors.
What are online shave clubs?
Online shave clubs work like most other monthly subscription services. You pay a monthly fee and get razors automatically delivered to your door.
Most online shave clubs come with a starter kit that includes a razor handle, razors and sometimes accessories like a shower wall holder. Replacement blades come in the mail each month.
Billie
Billie is one of the first online shave clubs for women. The brand focuses on offering women's shaving and body care products at a fair price, kicking the pink tax to the curb.
Brand highlights
Starter kit is $9
Four razor refills cost $9 per shipment
Free shipping on all razor subscriptions and other orders over $15
Also offers vegan, gluten-free shaving cream, body lotion and body wash
Razors and body care products made in the USA
Donates 1% of all revenue to women's causes around the world
Famously launched an ad campaign showing women with body hair
How the service works
Each starter kit includes a Billie handle, magnetic shower holder and two five-blade cartridges. You can add optional body care items to your order at an additional cost.
To order your first kit, visit the Billie website and follow these steps:
Click Get Started.
Choose your holder color.
Choose your refill delivery frequency.
Add optional body care items.
Enter your shipping and payment information.
Subscription services can be canceled at any time.
The only way to buy a razor through the Billie website is to sign up for its monthly subscription service. But you can purchase body care products separately.
Where to buy Billie razors
Currently, Billie's website is the best place to shop for the brand's razors and body care products. While Madewell offered a limited-time-only Madewell x Billie shave kit, it quickly sold out.
Shop Billie
Flamingo
Flamingo — born out of men's shaving club Harry's — doesn't currently offer a subscription service, but it's quickly become one of the most popular female-centered hair removal startups in the country.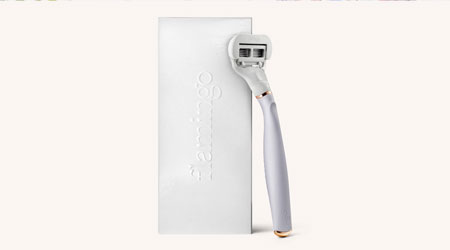 Brand highlights
Shave set is $16
Free shipping on all orders over $10
Also offers waxing kits, shaving cream and body lotion
Razors and blades made in Germany with steel from Sweden
Wax kits are free of fragrances, parabens and artificial colors
Free 30-day returns
How the service works
Buy Flamingo razors and other products through its online store. Right now, the brand doesn't offer a subscription service, but it does sell shaving and waxing bundles to help you save.
The $16 shave set includes:
1 Flamingo razor handle
2 five-blade cartridges
1 foaming shave gel
1 body lotion
1 shower hook
1 reusable pouch
The $10 face wax kit includes:
20 face wax strips
6 post-wax cloths
1 calming serum
Other bundles and separate products are available as well. A single Flamingo razor is $9.
Where to buy Flamingo razors
Flamingo razors are currently available through the brand's website, at Target.com and in Target stores across the US.
Shop Flamingo
Other shave clubs to consider
Billie and Flamingo aren't the only shave clubs for women. Compare even more options to make sure you're getting the most bang for your buck.
Gillette Venus – $10 subscription includes one handle and four cartridges. Large selection of optional body care products.
Angel Shave Club – For $9, you get one handle and two five-blade razors. Shave cream and sugar scrub also available.
All Girl Shave Club – Subscription costs $18 and includes one metal handle, four six-blade razors, safety cover and a shave tote. Whipped Shave Butter and other body products available.
Oui Shave – One stainless steel razor and 10 blades cost $75. Designed specifically for women with sensitive skin.
Bottom line
Gone are the days of paying a premium for a pink razor. Treat yourself to a quality product at a better price that's delivered straight to your door with one of these popular shave clubs for women.
Top shave kit deals
It looks like we don't have any coupons at the moment.
More guides on Finder