Finder is committed to editorial independence. While we receive compensation when you click links to partners, they do not influence our content.
Win a holiday for two when you sign up for a new credit card this GSS!
The promotion has ended.
It's the time of the year againfor plenty of shopping and hot deals! If you're in the mood for spending, you'd better be racking up the air miles or collecting cashback rebates when you pay with your cards.
This Great Singapore Sale,we're giving away three pairs of tickets to various holiday destinations.
From now till 31July2019, sign up and be approved for the following credit cards and you might be one of three lucky winners to walk away with your next holiday.
Will you be road-tripping in The Land Down Under, jet-setting to the Land Of Smiles, or city-roaming inthe Pearl of The Far East? Follow the steps closely if you'd like to win a holiday for two to one of these places!.
Win a holiday for two to Melbourne,
Bangkok, andHo Chi Minh City!
Step-by-step guide to win a pair of flight tickets: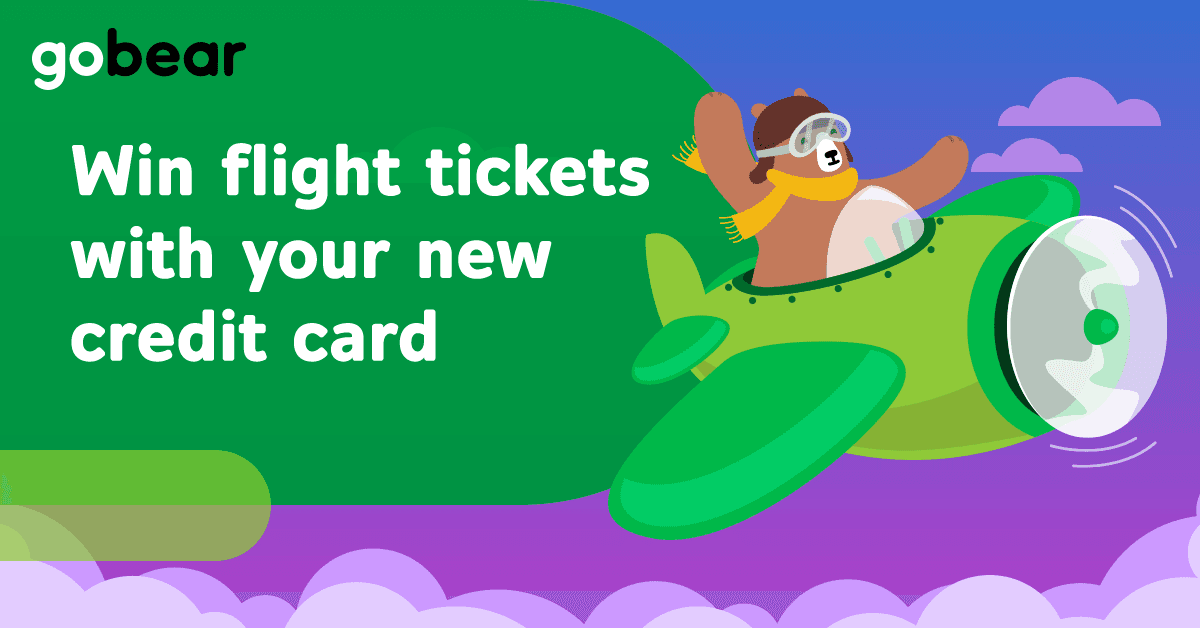 Be sure to follow the steps closely when applying for a credit card to participate in our GSS Holiday Giveaway.
So, take your time to go through the guide thoroughly to ensure that you've completed the necessary steps to be enrolled in our lucky draw.
Step 1: Choose from one of the following credit cards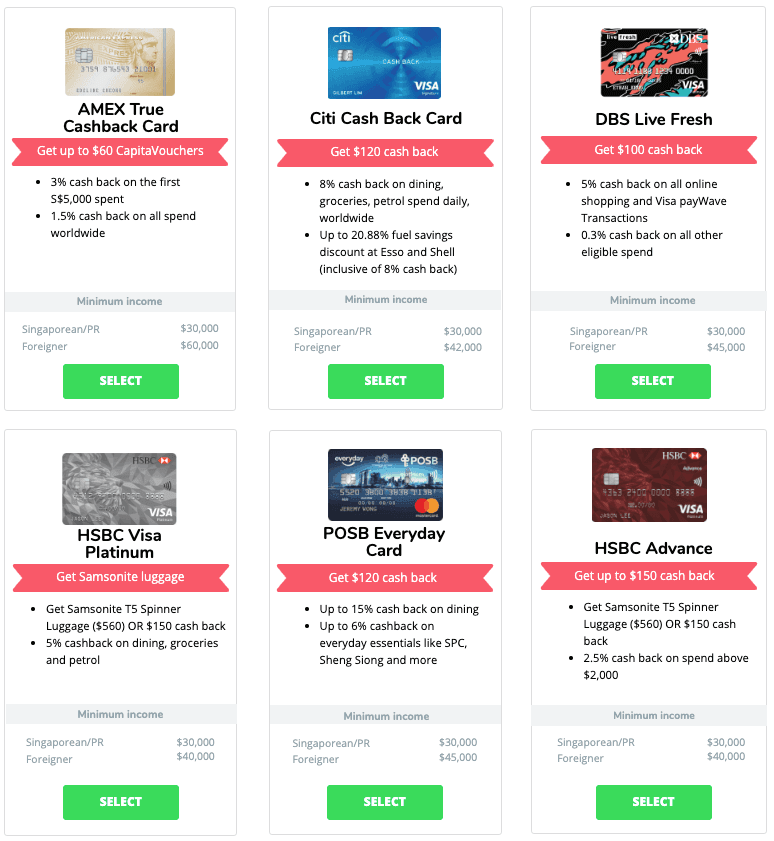 Are you looking for cashback, air miles, or rewards with your credit card? We've got you covered.
Simply choose a credit card that best suits your need. Or if you're looking to spread out your spending across different cards, you can definitely choose more than one!
Step 2: Select the card
Click the SELECT button and begin the application.Make sure the card you've selected is highlighted. After that, click the NEXT button to go to the next step.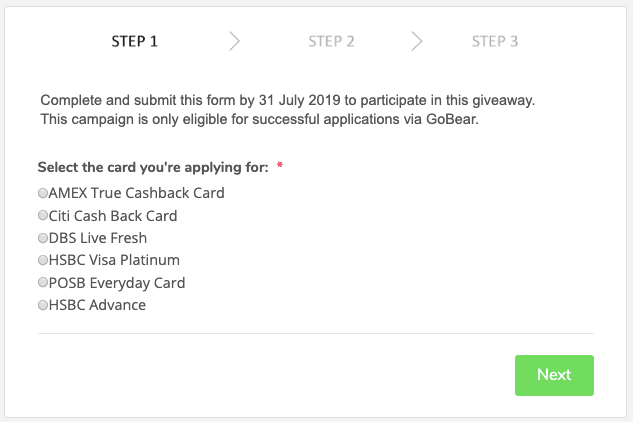 Step 3: Click GO TO BANKand startyour credit card application
Do notclose the GoBear browser while doing this! You will be returning to this form to complete your application for the GSS Holiday Giveaway.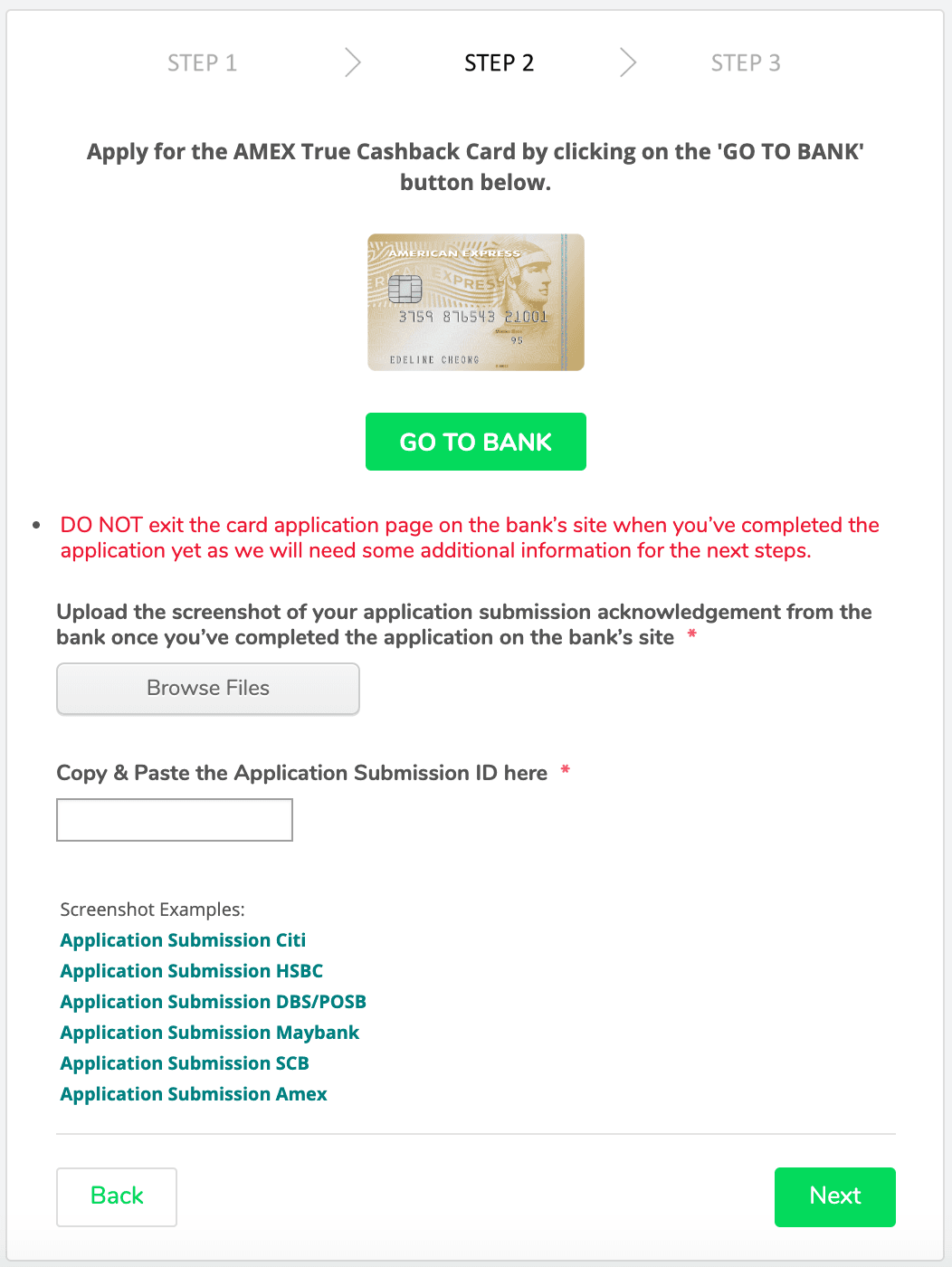 Once you have completed the application on the bank's site, take a screenshot of the credit card submission acknowledgement screen.
Take note that you'll need to take the full screen, not just part of it. Here are some examples: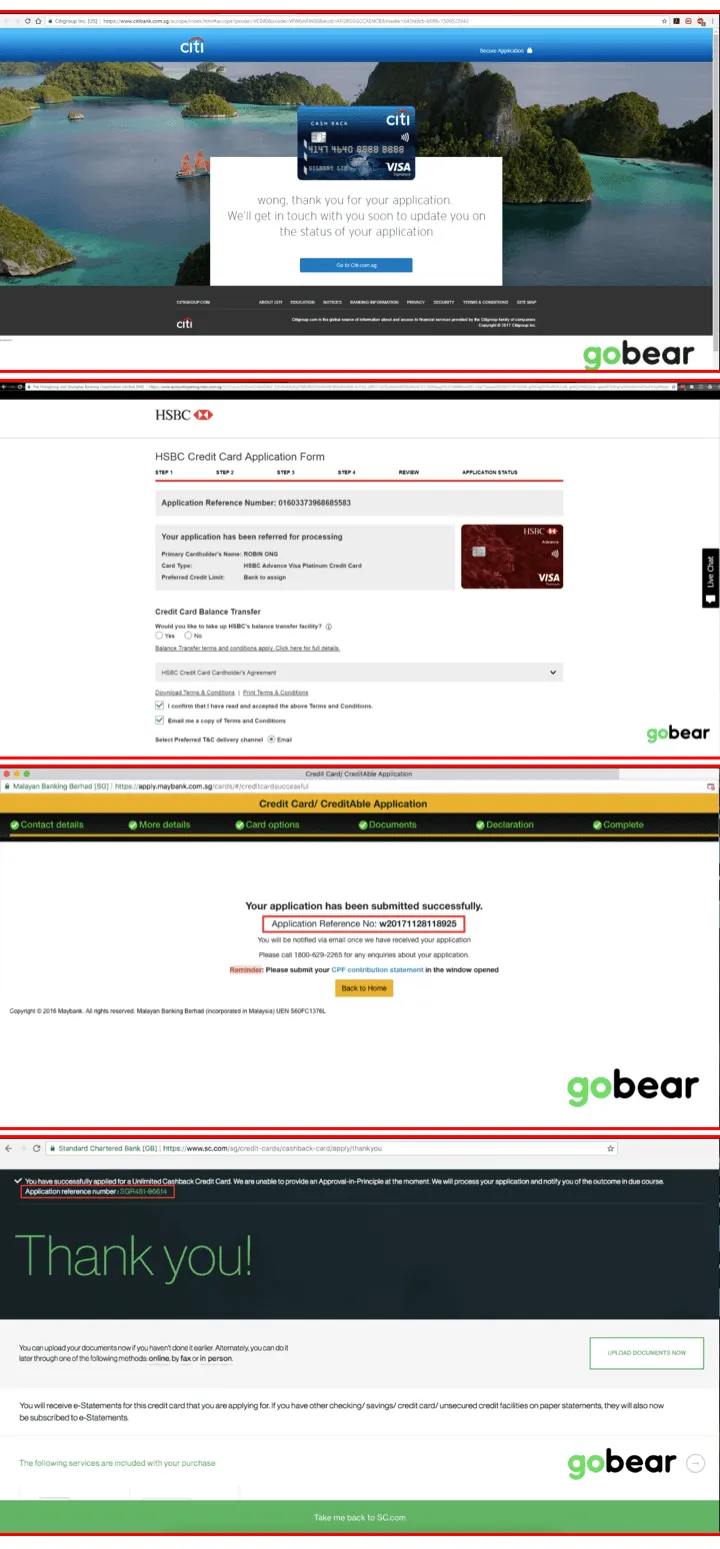 Step 4: For all applicants, uploada screenshot of the credit card submission acknowledgement from the bank
Return to the GoBear browser and upload this screenshot to continue your application for the GSS HolidayGiveaway. Do not close your bank's browser while doing this!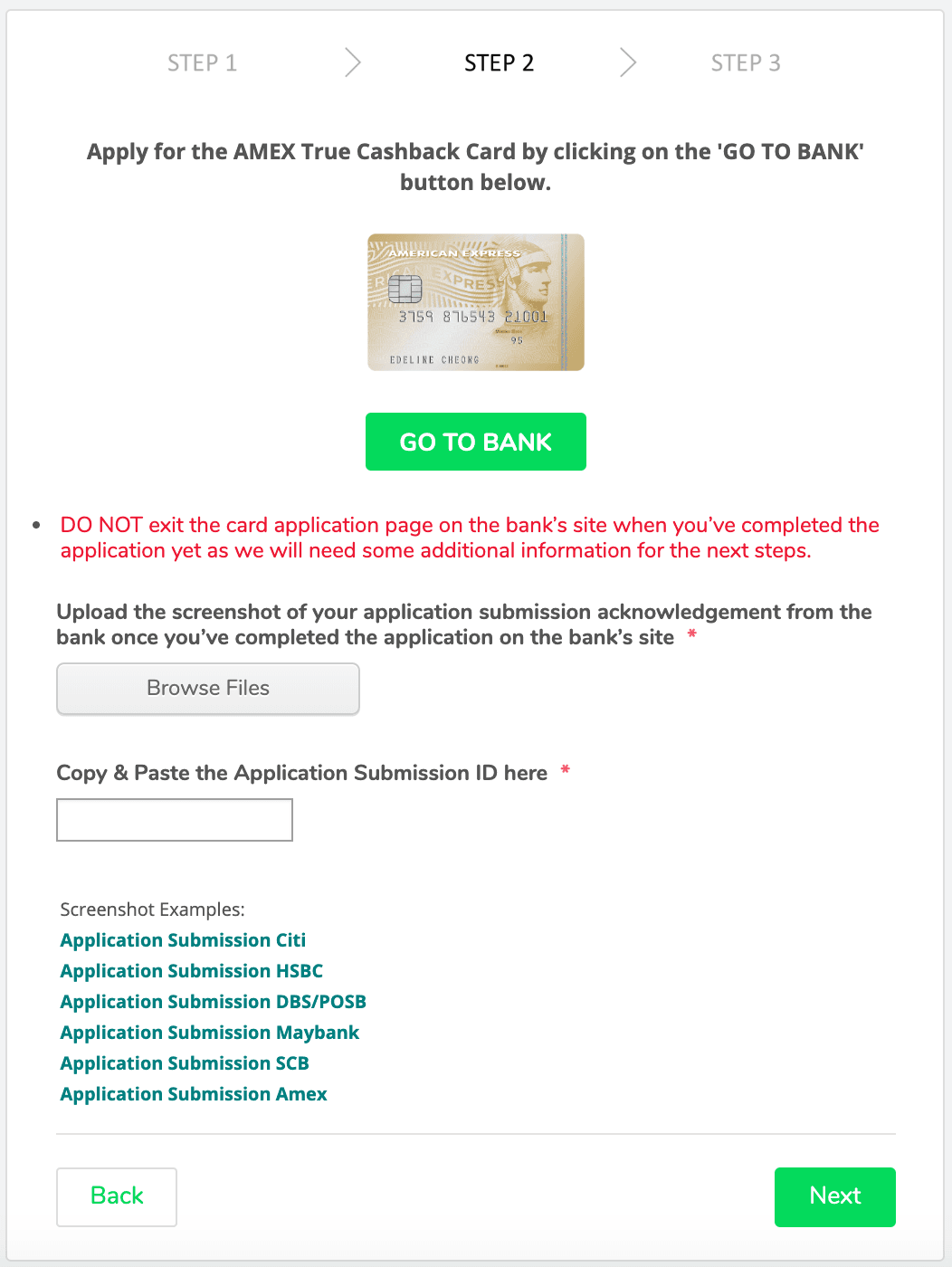 For Citibank applicants, copy and paste the URL of the submission screen and insert it into the field provided.

For AMEX, DBS, POSB, and Maybank applicants insert the Application ID into the field provided.

For HSBC applicants no further details are required.
Examples are given in the form.
This step is crucial as it verifies that the application was done through the GoBear site.
Step 5: Fill up your details
Let us how we should contact you.

Step 6: Check your inbox for an email from GoBear
If you do not find anything in your inbox, make sure youcheck your junk mail and flag this mail for future reference.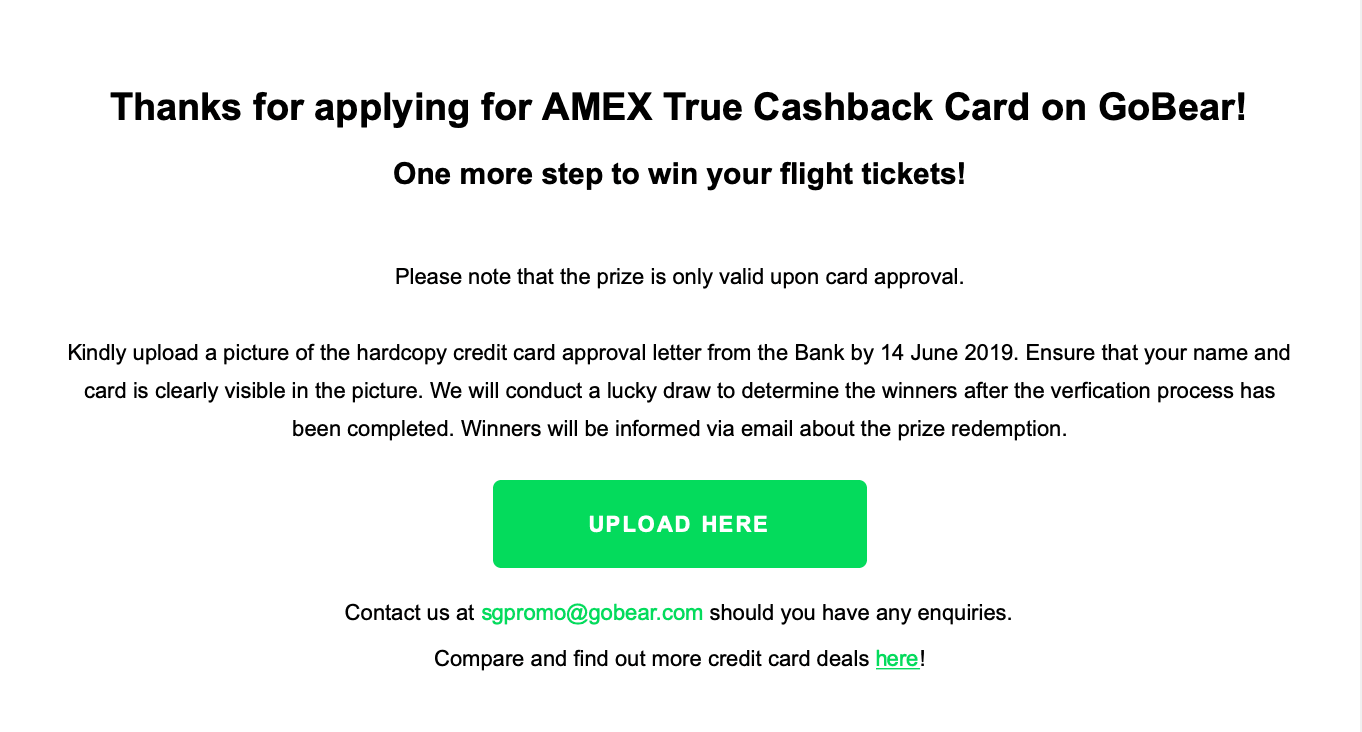 Step 7: Upload your credit card approval letter
Once you have received the hardcopy credit card approval letter from the bank, take a picture of the letter with your name and the card clearly visible. Please black out any other details that you deem sensitive.
Please note that no approval emails or SMS will be accepted as proof of approval. You have to provide a picture of the actual letter.
Upload this picture by clicking on the UPLOAD HERE button in the email sent by GoBear.
Make sure you complete this step by 14 August 2019. Submissions of credit card approval letters will not be accepted beyond this date. Check out the Terms & Conditions for other requirements.

You're all set! If you have completed all the necessary steps above, you have earned yourself a chance to win a holiday for two. Now cross your fingers, toes, legs, and arms and hope that lady luck is on your side!
A quick reminder, you have until 31 July 2019to apply for the selected credit cards and submit the documents for verificationby 14 August2019 to qualify for the lucky draw!
Win a holiday for two to Melbourne,
Bangkok, andHo Chi Minh City!
Related articles: