Finder is committed to editorial independence. While we receive compensation when you click links to partners, they do not influence our content.
Win 50,000 KrisFlyer miles when you buy travel insurance on GoBear
Hey there, did you manage to snag a discounted flight ticket in the recent online sales? Or maybe you've booked your year-end holiday in the last travel fair.
If you haven't already gotten travel insurance for your upcoming holiday, here's why you should buy your travel insurance early. What's more, you'll be getting plenty of bonus miles if you buy travel insurance in our latest promotion.
From now till 15 October 2019, we're giving away 3 KrisFlyer miles for every dollar spent on selected travel insurance plans via GoBear. What's more, one lucky winner will be walking away with 50,000 KrisFlyer miles in our lucky draw – that's enough miles to take you on a round trip to Japan or Korea!
Are you feeling lucky? Here's how you can participate.
Step 1:Find your desiredtravel insurance
Simply enter your travel destination, travel dates, and the type of plan, and you will see the price and coverage of all travel insurance plans from our trusted partners.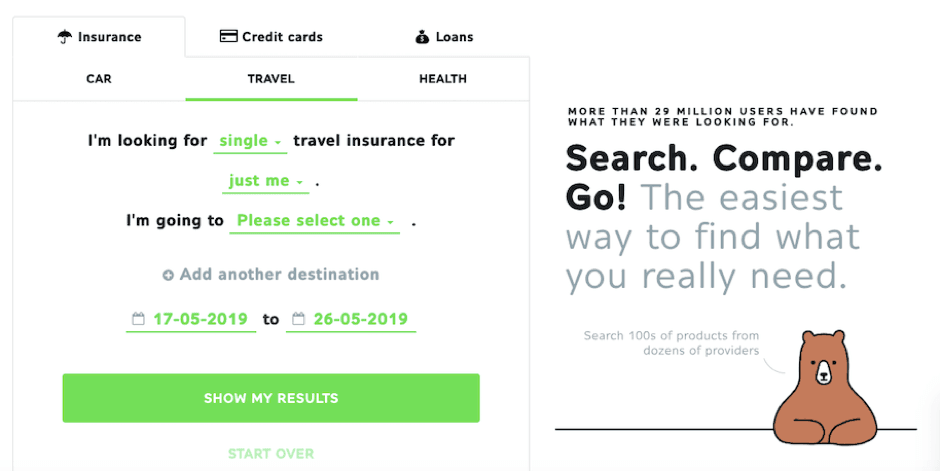 2. Purchase selected travel insurance plans from our participating partners before 15 October 2019.
Participating partner(s):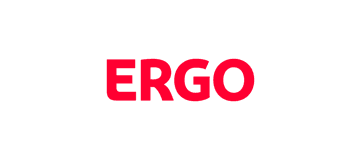 Plans that allow you to earn 3 KrisFlyer miles per $1 spent are easily identifiable by the bear icon.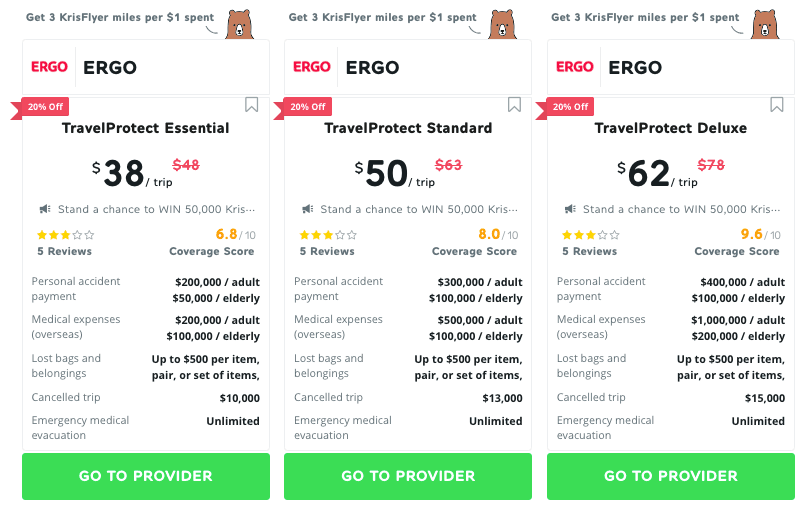 Once you've decided on the plan, click onGO TO PROVIDERand you'll be redirected to our Partner's page to complete the purchase.

After you've successfully completed your purchase on our Partner's page, you'll receive a confirmation and the policy letter in your email.
3. Visit theGoBear x KrisFlyer Milespageto submit your purchase details before 29October2019. All submitted information has to be accurate and complete for the KrisFlyer miles to be credited successfully.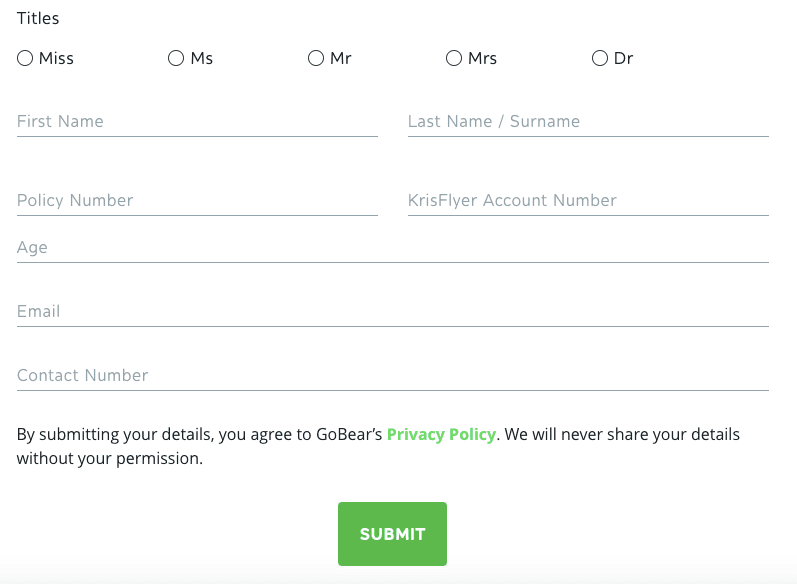 You have to purchase travel insurance fromERGOby 15 October 2019 AND submit the form by 29 October2019 to be eligible for this promotion. Submissions of forms beyond the dates will not be accepted.
All eligible participants will earn 3 KrisFlyer miles for every dollar spent on their travel insurance plans. GoBear will credit the miles within 6 weeks of receiving all required documents. For more information, please refer to the campaign'sTerms & Conditions.
If you are already planning to get travel insurance for your upcoming holiday, why not choose from one of our participating partner(s) to earn extra miles for your purchase.
4. Stand a chance to win 50,000 bonus KrisFlyer miles.
All eligible participants are also in the running to win 50,000 KrisFlyer miles. Check out this article to see where 50,000 miles can take you.We'll be picking the lucky winner at the end of the campaign period andthe winner will becontacted via email.
Purchase travel insurance via GoBear now and let your next holiday be on us.
Compare Travel Insurance
with GoBear
Related articles:
Flight cancelled? Claim travel insurance and get compensation
Fallen sick before a flight? Here's what to do