Finder is committed to editorial independence. While we receive compensation when you click links to partners, they do not influence our content.
Singapore TV streaming statistics
On average, streaming services in our study saw a 35% month-on-month increase from February to March 2020.
Are you staying in and streaming more than usual during the COVID-19 outbreak? You're not alone. Finder analysis of SEMrush data reveals that the majority of streaming websites analysed have seen huge traffic increases over the last couple of months. On average, streaming websites included in the study saw a 35% increase from February to March. So which one saw the biggest jump? And what are some of the biggest trends in the industry? Let's break down the stats.
How coronavirus changed our streaming habits
The prize for the most growth since the COVID-19 outbreak goes to HBO Go Asia, with an increase in visits of a whopping 94.4% from February to March 2020. MeWatch had the second-biggest jump at 49.64%, and Netflix was third at 40%. Singtel also saw a significant jump, with a 31% increase in page views, putting it in fifth place.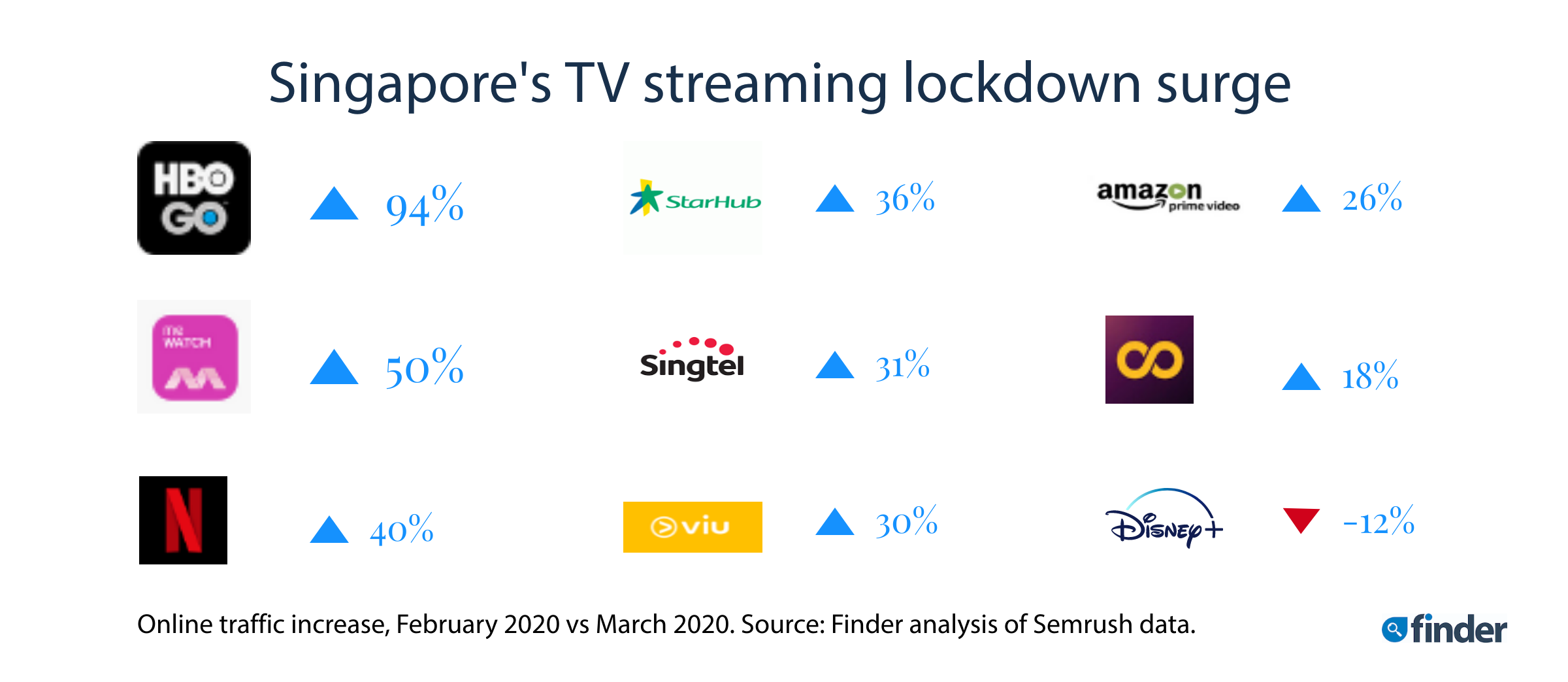 But which platform is more popular overall? Finder's analysis of Google Trends data for the first week of April 2020 reveals that Netflix has the highest comparative search volume interest in Singapore, followed by
Singtel
and
Starhub
. While both
Amazon Prime Video
and
Viu
saw an uptick in online traffic, they didn't see much of an increase in search volume according to the data.
Not only that, but a new report from the GlobalWebIndex tells us that 35% of Singaporeans say they're streaming TV to keep them occupied during the coronavirus outbreak. A further 19% of Singaporeans say they've significantly increased the amount of time spent streaming TV.
Singapore's biggest streamers by age, gender and income
Young Singaporeans account for the biggest share of streamers
Prior to the COVID-19 pandemic, Statista data from 2019 suggested that those aged 25-34 accounted for the biggest proportion of people using streaming services at 33.4%. This was followed by those aged 35-44 (24.6%) and those aged 18-24 (21.2%). Singaporeans in older age groups accounted for a smaller share, with 45-54-year-olds making up just 14.5% of those tuning in, while just 6.3% of TV streamers were aged 55-64.
Lower income earners make up the biggest proportion of streamers
If you thought streaming services were a luxury only for the rich, you'd be mistaken. Overall, low-income earners accounted for the lion's share of streaming users in 2019, with a whopping 47.7% of streaming users coming from this income bracket. Medium-income earners take up the smallest percentage, at about a quarter of all streaming users, while high-income earners accounted for just over a quarter at 27.2%.
Men make up a bigger percentage of streamers than women
It turns out that men accounted for the biggest proportion of streamers at 54.1%, while women accounted for just 45.9%. So next time you find yourself annoyed at your boyfriend's attention span while his eyes are glued to the TV, you can take heart in knowing that you're definitely not alone.
The devices Singaporeans are bingeing Netflix on
Statista data from 2019 reveals that smart TVs were the number one device that people used to stream TV, with nearly half of all Singaporeans streaming video content this way. Set-top boxes, Google Chromecast, and Apple TV were also popular ways of streaming.
How Singapore's streaming industry compares to other countries
Gone are the days of watching one show at a time and waiting a whole week until the next episode airs. Streaming in Singapore is now a US$75 million dollar industry, and it's showing no signs of slowing down. In fact, the industry is expected to hit just under US$1 billion in revenue by 2024.
So how does Singapore compare to other countries around the world? It comes as no surprise that the home of Hollywood itself, the US, takes the prize for the biggest market in terms of revenue, with a market volume of US$11,950 million in 2020. Next up is China (US$1,926 million), Japan (US$1,246 million), Germany (US$1,117 million) and the UK (US$ 1,018 million). Singapore actually ranks pretty far down the list at 41st place, with US$75 million.
Methodology
Sources: GlobalWebIndex, Statista and SEMrush.
Compare TV streaming services
---