Finder is committed to editorial independence. While we receive compensation when you click links to partners, they do not influence our content.
Travel insurance for Bangkok
Whether for work or play, travelling to Bangkok requires travel insurance so you can travel worry-free.
Are you travelling to Bangkok? Just 4 hours away by flight from Singapore, the capital city of Thailand beckons with its exciting open-air markets, rich culture and delicious food. Whether travelling for work or play, Bangkok has a lot to see, do and enjoy. However, the last thing you want to do is spend your holiday worrying about lost luggage, pickpockets or unexpected flight cancellations. So before you say "Sawadee krab/ka" (Thai for hello) to Bangkok, here's what you need to know about purchasing travel insurance.


Image: Getty Images
Compare travel insurance for travelling to Bangkok
Should I consider travel insurance for Bangkok?
While travelling to a new place is exciting, there are also unknown risks such as flight cancellations or unexpected accidents. Should you need medical attention or lose valuable items such as your passport, it can turn into a stressful situation. Worst, you might be stranded if something unexpected happens on your journey.
Though most Singaporeans have incident-free trips to Bangkok, it's good to be prepared if something goes wrong. Travel concerns include the following:
Cancellation
Repatriation
Emergency evacuation
Delayed flights
Unexpected illnesses and accidents
Lost luggage, cash or documentation
Travel insurance for Bangkok can protect you from high costs if these incidents occur while on your trip. It gives you the peace of mind and financial protection you need if you encounter difficulties.
How safe is it to travel in Bangkok?
A trip to Bangkok is generally safe. The city offers a variety of experiences whether you prefer to shop 24/7 at open-air markets or visit its ancient Buddhist temples. Thais are also friendly so you can get around without speaking the language fluently. However, here are some travel concerns that you should be aware of:
COVID-19 concerns. As of 1 July 2022, Singapore passport holders may enter Thailand without a visa for tourist purposes and stay up to 30 days. There is no need to apply for a Thailand Pass or undertake a COVID-19 test upon entry. You can check the embassy page for details.
Road safety. Thailand is reported to have one of the world's highest traffic-related fatality rates. Traffic accidents happen due to hazardous road conditions, reckless driving and driving under the influence of alcohol or drugs. If you want to drive in Thailand, ensure that you have the appropriate licence and travel insurance. Note that motorcycles and scooters at beach resorts might not be licensed to operate on the roads. Before renting any vehicle, check the fine print and ensure your travel insurance covers any driving-related accidents. Thai law requires drivers and passengers to wear safety helmets on a motorcycle.
Scams/fraud. Travellers have reported scams involving vehicle rentals. Do rent only from licensed companies, carefully read the rental contract and purchase comprehensive insurance with third-party coverage. Thoroughly check the rental vehicle before renting it to minimise the risk of a dispute. When taking taxis or tuk-tuks, check with the driver about the fare before boarding as there are reports of overcharging by drivers.
Crime. If you are out at night, beware of overcharging at entertainment venues. Should you find yourself in a confrontation where you feel unsafe, get help from the police. There have also been reported incidents of drink spiking, usually followed by sexual assault or theft. Avoid leaving your food or drinks unattended or with strangers. Seek immediate medical attention if you suspect that something is amiss.
Pickpockets. Pickpockets may use razors to slash bags, especially in busy markets and streets. Keep your valuables secure and out of sight to reduce the chances of being targeted. You must report to the Thai police as soon as possible if you realise your belongings have been stolen before you leave the country. Most insurers will require a police report before you can make a claim.
What does travel insurance to Bangkok usually cover?
It's essential to prepare for any unexpected travel concerns. Buying travel insurance protects yourself against any incidents in Bangkok. Insurance gives you peace of mind for the following:
Emergency medical assistance. This includes cover for any medical bills you may encounter while travelling. You will be covered for ambulance fees, medical evacuation back to Singapore, hospitalisation expenses and funeral arrangements.
Additional accommodation and travel expenses. Should you be unable to travel to your destination due to a sudden illness or injury while overseas, travel insurance for Bangkok will cover you for reasonable additional travel and accommodation expenses. This cover applies if there are unexpected occurrences while you are travelling or if your companion dies, is injured or falls sick while overseas.
Loss of luggage. Should your baggage, valuables, documents or credit card get lost or stolen, your travel insurance will cover replacement costs to the policy's limit. You will be covered if your airline carrier delays or misdirects your luggage for more than 12 hours.
Cancellations. This covers your cancellation fees should your pre-paid travel arrangements get cancelled or delayed due to factors beyond your control. Meals and accommodation expenses in case of a flight delay or cancellation and any alternative transport expenses you incur are also covered.
Bangkok travel highlights
Bangkok is often the backdrop for many Hollywood movies because of its exotic contrast between traditional and modern. The capital city is an intriguing mix of street vendors, weekend markets and cultural landmarks. You can shop for bargain finds or walk around the peaceful grounds of its many Buddhist temples.
Here's what you can add to your itinerary:
Grand Palace. The magnificent Grand Palace is in the heart of Bangkok. It was previously a residence for the Rattanakosin kingdom in the 17th century. The palace grounds also host several other prominent landmarks, such as Wat Phra Kaew (Temple of the Emerald Buddha). Today, the place is used for royal ceremonies and welcoming foreign state guests. Visitors can also visit the palace to appreciate the grand buildings. There is a dress code for visitors, so dress appropriately in modest clothing before entering.
Buddhist temples such as Wat Arun and Wat Pho. There are over 400 temples in Bangkok. Out of these, the most famous ones are Wat Arun and Wat Pho. Wat Pho is famous for being the largest temple in the city. It houses an impressive reclining gold-plated Buddha statue with Mother of Pearl engravings. Across the river is Wat Arun. Known as the Temple of the Dawn, it is one of Bangkok's most recognised landmarks. You might have seen its elongated prang on several postcards in Thailand. Get there by taking a boat ride from Wat Pho.
Shopping. Bangkok is well-known as a shopping paradise. There are plenty of malls, outdoor markets and floating markets nearby. First, pop into Icon Siam if you want to shop in air-conditioned comfort. The mall is located on the banks of the Chao Phraya River. A spacious mall with 10 floors of shops, it regularly hosts cultural performances on the first floor. Next, you must check out Chatuchak Weekend Market if you prefer outdoor markets. You can find almost anything here, from second-hand goods to trendy fashion items. Quaint cafes dot the streets where the market is located, so you can just hide in one and people-watch.
Find the best way to take your travel money to Bangkok.
Bangkok travel tips
Weather. You can visit Bangkok year-round as Thailand does not have seasonal changes. It is humid and warm throughout the year. However, late November and early December might be the best time to visit because the city is drying out from the monsoon season and the temperatures are cooler.
Medical. Many private clinics offer decent medical services if you need medical care. However, Bangkok does not have reciprocal health care arrangements with Singapore. You are better off getting travel insurance with comprehensive medical cover when travelling to the city.
Touring. Bangkok can be confusing with its shifting street names, winding river, expressways and lack of demarcated neighbourhoods. So arm yourself and get a map with street names in English and Thai. Google Maps can be helpful, but you'd need to translate addresses that still appear in Thai script manually.
Use public transport. While tuk-tuks are fun to get around the city, you might not want to travel around in a tuk-tuk all day due to the hazardous traffic. Instead, take the Skytrain and underground Mass Rapid Train (MRT). They are fast and air-conditioned and you can get almost anywhere in Bangkok on them just by getting a day or week pass.
Avoid scams. There are several well-known scams that you can find by searching on travel forums. A popular one is when a stranger approaches a tourist at the Grand Temple and then offers to bring the tourists around before bringing them to a gems shop. Tourists often feel pressured to buy something after touring with a stranger for an entire day. This is an example of a scam. If unsure, you can book a local group tour instead. That way, you avoid visiting landmarks on your own and falling prey to a scam.
While Thais are friendly, be vigilant if strangers approach you on the street. If they offer to bring you around, something may be amiss. If you want to travel from Bangkok to other places, check out our Thailand travel guide for more information.
Who do I contact in an emergency?
If you find yourself in an emergency in Bangkok, some helpful contacts include the following:
Your travel insurer. Your insurance provider will have a 24/7 helpline for claims and medical emergencies.
National emergency hotline. You can reach this service by dialling 1155 for the Tourist Police or 191 for the general emergency hotline.
Singaporean embassies and consulates. Singapore has a consulate in Bangkok. Visit this page for contact information.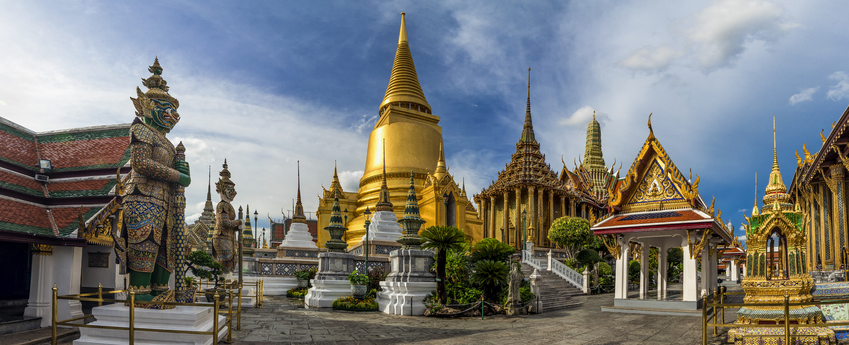 6 steps to comparing travel insurance for Bangkok
When selecting the level of travel insurance you need, ask yourself these 6 questions:
Where in Bangkok are you going? Understand the risks in different parts of the country.
How many times will you go to Bangkok this year? Decide on a single trip or annual multi-trip cover.
What activities in Bangkok will you take part in? Ensure you get cover for activities you will participate in (e.g. Muay Thai in boxing gyms).
Are you taking valuable items? Consider extra cover for any cameras or electronics you take to Bangkok.
Do you have any medical conditions? Make sure you declare any pre-existing medical conditions and pay for any extra cover necessary.
Do you prefer paying more upfront or only when you have to claim? Look at both the policy price and the excess required for claims.
Travel insurance traps you must avoid in Bangkok
Your claims while travelling in Bangkok might be rejected in these circumstances:
You left your belongings and valuable items unattended.
You were under the influence of drugs or alcohol, except those prescribed by your medical practitioner.
You didn't declare your pre-existing conditions.
Your claim arose because you broke the law (e.g. possessing illicit drugs).
You travelled to Bangkok even though a travel warning was issued.
You travel to Bangkok for planned surgery. Travel insurance only covers unexpected hospitalisation.
You can compare travel insurance plans to find out exclusion details.

Frequently asked questions
Travel insurance is essential while travelling overseas. It covers you for most unexpected expenses, including loss of personal effects, additional accommodation expenses, injuries and medical expenses.
Back to top
Bottom line: Apply for travel insurance to Bangkok
Instead of stressing about unforeseen events, protect your travel investment by getting travel insurance for your Bangkok trip. Knowing you are protected from any incidents that could disrupt your trip overseas gives you peace of mind while travelling.
Images: Getty Images