Finder is committed to editorial independence. While we receive compensation when you click links to partners, they do not influence our content.
Travel insurance and other essentials for your next Hokkaido snow trip
This article was written by Serene, a seasoned snowboarder who has organised group ski trips for the past decade.
---
Autumn is finally nearing for the Northern Hemisphere!

For an introduction to other snow regions and other tips, take a look at our handy-dandy Ski Trip Planning Guide for a brief rundown of the things you should do.
You can also book a ski tour with any travel agency (and sacrifice the flexibility), but remember to use GoBear to find a travel insurance that covers not only adventuresportsbut also travel agency insolvency.
Skiing in Japan
First of all, be prepared to see more snowboarders in Japan on the slopes as compared to other places in the world. If you are not used to sharing the piste with snowboarders, try to give them more space than you would a skier as snowboarders need to make turns to stay in control.
The skiing season in Japan starts around December and stretches to April. Peak season is in February when the best snow is found. The wonders of Japanese snow arise from the winter monsoon that blows northwesterly over the Sea of Japan. The weather can vary from resort to resort and each region ends up having its own 'microclimate', but look at all that snow!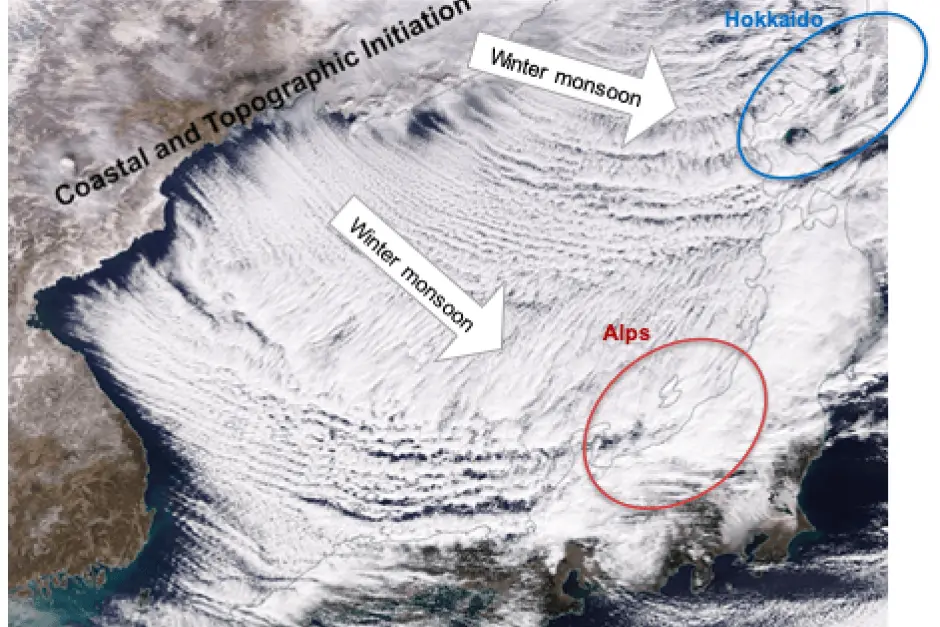 Japan resorts are mostly divided into two areas: Japanese Alps in Nagano (Honshu) and Hokkaido. The public transportation in Japan is world-class, and many regions are covered by some sort of rail transport, especially from a local airport. The famous Niseko resort in Hokkaido is easily accessed by an international flight into New Chitose Airport (CTS) followed by a direct bus transfer of about 2 hours. Other resorts in the region are Furano, Tomamu, Kiroro and Rusutsu, all accessible by bus transfers. Bus tickets should be booked online and in advance.
The piste difficulties in Japan are ranked by colours in order of difficulty – green (beginner), red (intermediate), and black (advanced).
As always and as with all ski resorts, safety is key.
● Wear a helmet to protect yourself
● Don't go on advanced pistes that you are not ready for, and if possible, go with an instructor
● The downhill skier always has right of way; don't stop and rest or wait just after the crest of slopes. Skiers coming down may not see you until it's too late. Rest or wait for your friends at the side of the piste.
● Respect the resort boundaries. Some places allow off-piste butmost do not. The penalties are severe and the resort can confiscate your lift pass or institute a ban if you violate their rules.
● If you see an accident or injury and you are confident on your skis, you can either help position the warning X by crossing the skis or poles, or ski down to inform any lifty or ski patrol. If you do not have first aid training, do not attempt to move the victim.If it's just a fall and he needs help getting up, offer assistance only if you are confident on your skis.
Skiing in Niseko
Ah the famous Niseko pow. Niseko resort is a combination of 4 resorts which are accessible by walking across at the top.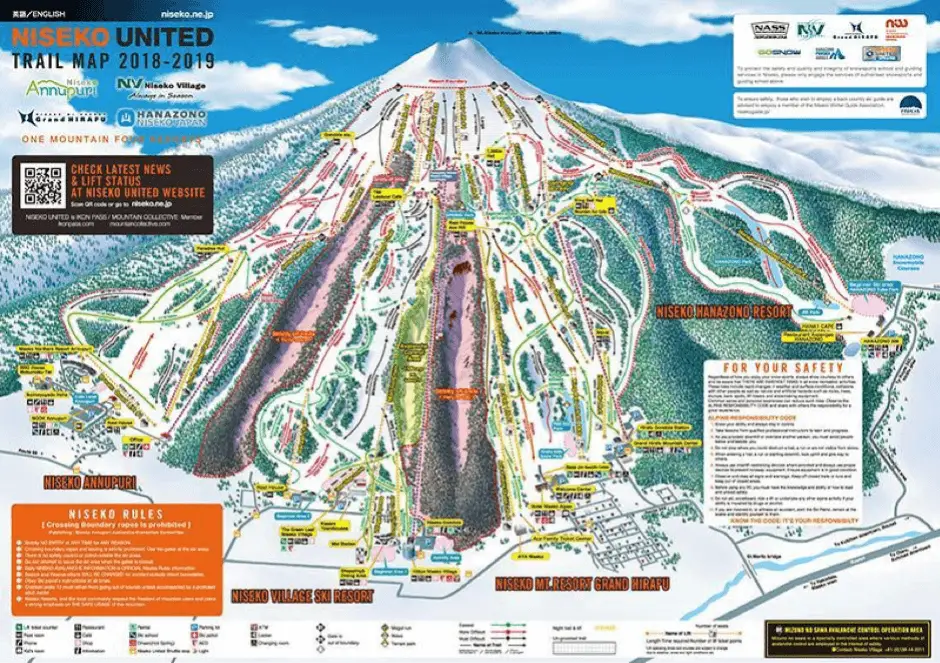 From left to right shown on the map above, the resorts are Annapuri, Niseko Village, Grand Hirafu and Hanazono. Accommodation in Niseko tends to be more expensive the closer you get to the Grand Hirafu. Most of the restaurants and shops are in Grand Hirafu as well. All 4 resorts are accessible at the top during lift operation hours and by the Niseko United shuttle bus (free if you have a Niseko All Mountain Pass, less than 500 yen per trip if you don't).
The Hokkaido resorts, especially Niseko, tend to be full of tourists trying to get some of that Niseko pow. As a result, there is a variety of cuisines and restaurants at different price points and everyone speaks English.
Group ski lessons are also available in English whereas most other resorts only provide English instruction for private sessions.There are babysitting and creche services for families with young children.
Elevation Info
255m – 1188m (Difference 933m)
Pistes
Total: 50.8km
Easy: 22.4km (44%)
Int: 18.2km (36%)
Adv: 10.2km (20%)
5-day All Mountain pass
¥34,800 (around S$438)
5-day Rental (full set)
¥17,500(around S$220)
Group lessons
¥9,000 per half-day(around S$113)
Season
Late Nov to early May
Recommended days
3 to 5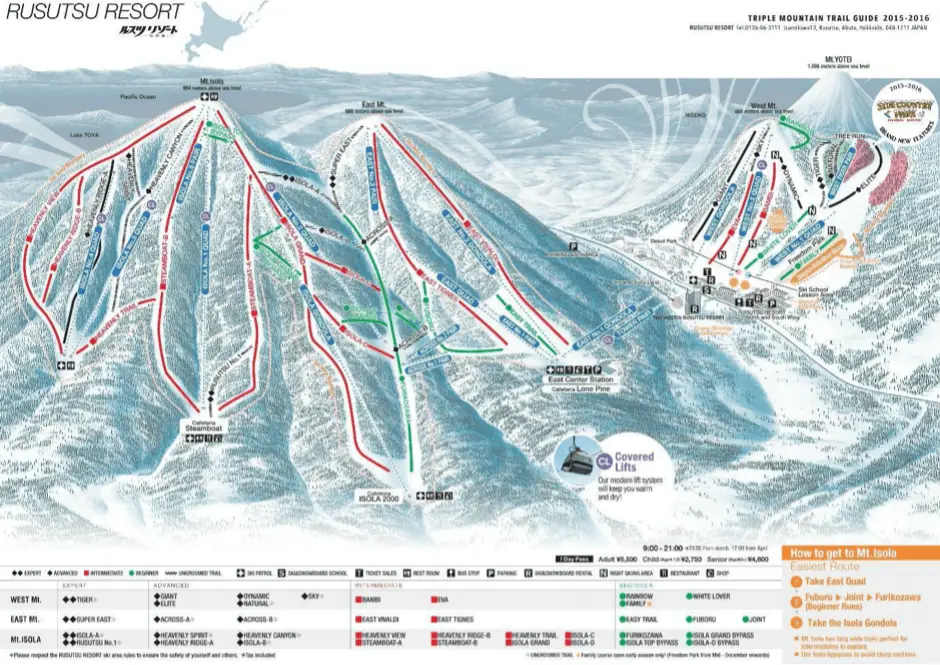 Skiing in Rusutsu
Accommodation in Rusutsu will typically be at the Westin or the Rusutsu Resort, which are across the road from each other. Tree skiing isn't banned in Rusutsu so you can ride off-piste and into the trees to your heart's content. It is a 30 to 40-minute bus ride from Niseko so it'll be easy to do a day trip from there. You'll also find that Rusutsu becomes a quiet little town with few bars and not much nightlife in the evenings.
Elevation Info
400m – 994m (Difference 594m)
Pistes
Total: 42km
Easy: 12.6km (30%)
Int: 16.8km (40%)
Adv: 12.6km (30%)
3-day pass
¥17,500(around S$220)
3-day Rental (full set)
¥11,500(around S$145)
Group lessons

¥25,000 per half-day, for a group
(around S$314)

Season
Late Nov to early Apr
Recommended days
1 to 3
Skiing in Kiroro
Kiroro is another resort near Niseko that can be done as a day trip.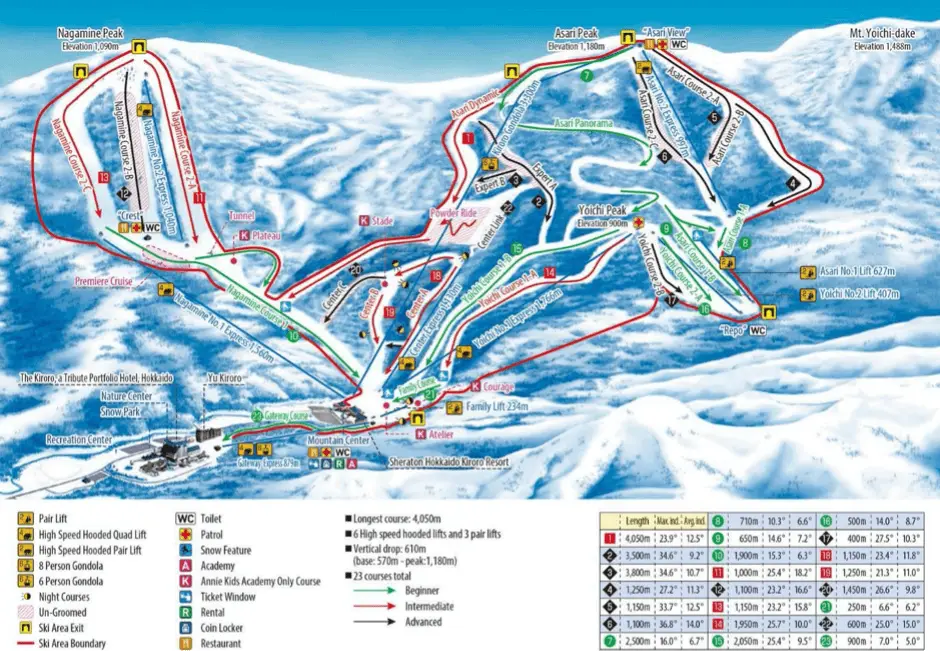 Kiroro is a bit smaller as can be seen from the piste map but there's no fear of getting lost as all the pistes lead to the same central point. There are two hotels by Marriott for you to choose from – Sheraton and the Kiroro Tribute. And then there's a smaller local hotel, Yu Hotel.
All are ski-in ski-out resorts, which means that you get direct access to the slopes from the hotels. There will also bea new combi lift, which will open in December 2019 to bring guests from the Tribute and Yu to the Sheraton.
Elevation Info
520m – 1180m (Difference 660m)
Pistes
Total: 42km
Easy: 12.6km (30%)
Int: 16.8km (40%)
Adv: 12.6km (30%)
2-day pass
¥11,200(around S$141)
2-day Rental (full set)
¥8,800(around S$110)
Group lessons

¥27,000 per half-day, for a group
(around S$340)

Season
Late Nov to early May
Recommended days
1 to 2
Visiting the rest of Hokkaido
Hokkaido is an island located at the northern part of Japan and is connected to Honshu (mainland Japan) by shinkansen (bullet train) via Hakodate. The Hokkaido shinkansen from Shin-Hakodate-Hokuto to Sapporo (the main city in Hokkaido) is scheduled to open in 2030, which will make it even more convenient to travel between Sapporo and Honshu.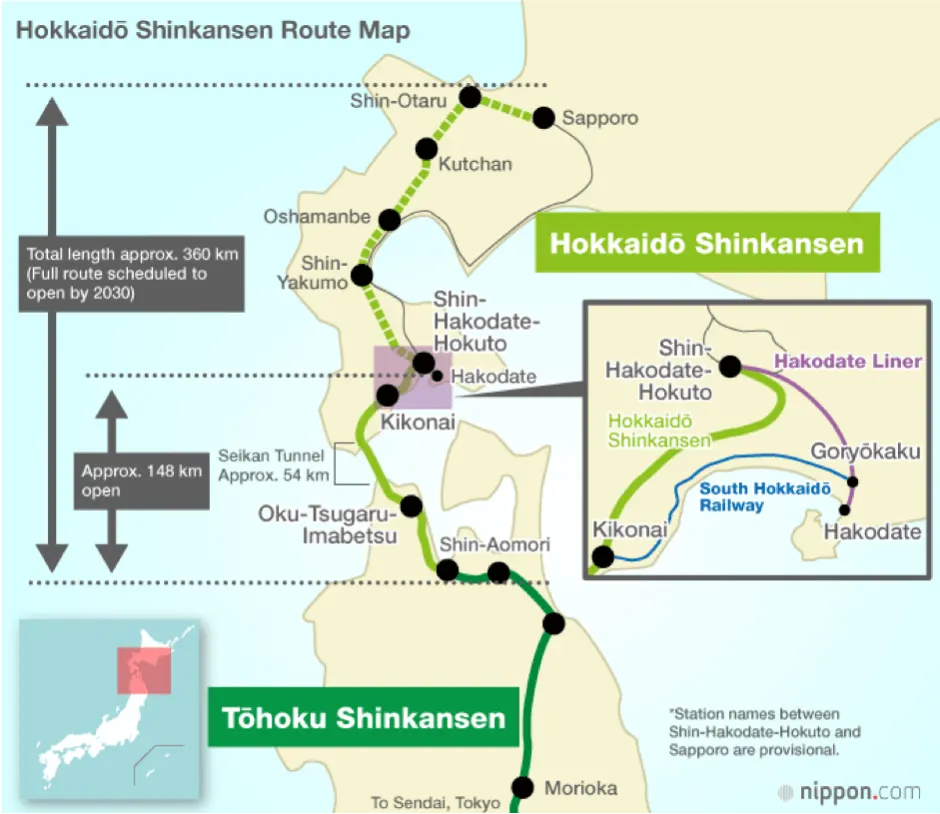 Hokkaido is known for its majestic nature and gourmet paradise,and is a beautiful place to visit in all seasons. You'll not have much trouble finding Halal food in Japan, and there are also plenty of vegetarian options.
There are many winter activities unique to Hokkaido, especially in winter, and you may wish to include them in your trip. Some of them are:
● Sapporo Snow Festival (Yuki Matsuri) with huge snow and ice sculptures
● Abashiri or Shiretoko for a 1-night stay. They are small cities next to the Okhotsk Sea which is famous for annual ice floes. Visitors can travel aboard icebreaker ships as they uh, break through the ice.
● Akan Mashu National Park which has lakes and mountains galore, but also a Iozan – an active volcano
● Asahiyama Zoo – and the winter penguin walks
● The Nikka distillery, if alcohol is your thing
● Otaru town and its beautiful canals, old warehouses, and a Snow Light Path Festival
● Shikotsu Lake with a magical winter illumination of ice and snow sculptures around a lake with Hokkaido's "Mount Fuji" in the background and fireworks on weekends
● Tomamu Ice Hotel where everything is carved from ice
● The Blue Pond in Biei

Getting travel insurance with ski cover
With so many activities that can be done in Hokkaido during winter, it is a popular travel destination across all seasons. In recent years, Japan has been hit by a spate of natural disasters including multiple typhoons, heat waves, and extreme weather that have evacuated towns and causedflight cancellations. As such, it's importantto purchase travel insurance with the appropriate cover at the time of booking so that you can be protected for the maximum length of time in Japan.
As you decide which travel insurance to purchase, do read through the T&Cs to make sure "skiing" is covered under the definition of adventure sports. Take note of the emergency assistance number in your insurance policy as that is the number to call should you get into an accident.
Look out for the section on overseas medical expenses as well. There is a hospital located near Niseko where the doctors have no doubt seen all types of skiing injuries. You should get a reasonably high medical coverage of at least $200,000 and above.
If you have pre-existing medical conditions, remember to get a policy which covers that before you go to ski. For example, Income and Etiqa have such plans. Theytend to be more expensivebut there's no point in buying a cheaper policy if you're not coveredin the first place.
Ending Note
As an avid snowboarder, I am also concerned about the state of the earth and the future of skiing, especially with the catastrophic consequences of global warming and climate change. Eschew single-use plastics, minimise waste and fast fashion, do your part and save our earth and our mountains!
So long, and HAPPY RIDING!
*Exchange rates above assumes 1JPY:0.013SGD, as per 1 November 2019.
Related articles:
Think twice before buying travel insurance from airlines
Be prepared for unexpected natural disasters during your trip