Finder is committed to editorial independence. While we receive compensation when you click links to partners, they do not influence our content.
Top 5 most trendy neighbourhoods in Singapore
Besides the shimmering malls and flashy displays along Orchard Road, or that iconic Jewel that'sattracting flocks of visitors, you might be happy to hear that there still exists hipster, not-so-commercialised neighbourhoods that exude their unique charms. These areas are easily accessible by a bus or the newer MRT stops, so why not check out these trendsetting hangouts for a change?
Some of theseplaces have been refurbished to catch up with the times, but there is still an old, rustic tone underlying their refreshed looks. At the end of this, you just might want to start staying in and around these areas.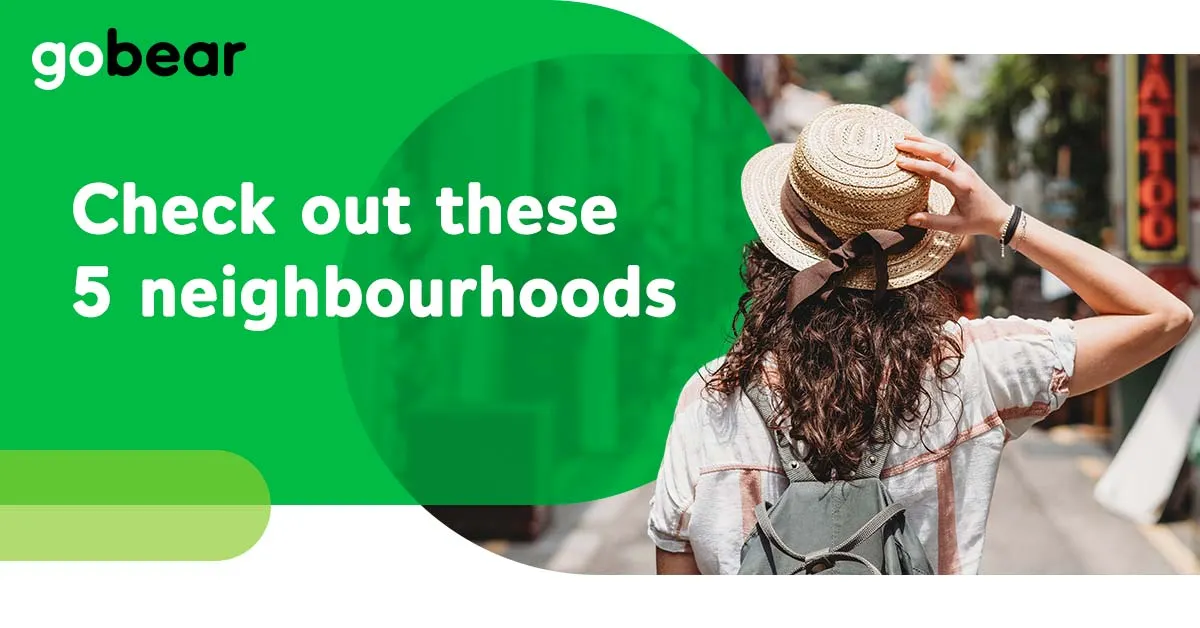 Arab Street and Haji Lane
A long time ago, impoverished Malay families lived in this Middle-Eastern escape. Today, there is nothing mediocre about this particular chunk of Bugis. As a matter of fact, it is rich in history, good food, and music.
Both Arab Street and Haji Lane present two very different facets in the day and atnight. The vibrancy is a little more subdued during the daytime when tourists and locals would ply the streets in search of hidden treasures in indie fashion boutiques and speciality fabric stores. You'll also find a queue outside the original outlet of Rich & Good Cake Shop– famous for its light and flavourfulswiss rolls.
When night falls, the Persian restaurants, speakeasies, and live bands come alive. Even though shisha has been clamped down on, revellers still throng restaurant bars such as Blu Jaz Café. Discerning drinkers still pop by Bar Stories for a cocktail that matches their mood. The hippies are lulled into a state of induced bliss with beer towers and jazz performances that run through the night.
Duxton Hill, Tanjong Pagar
You can take a six-hour flight to Seoul, or you can head down to Duxton Hill at Tanjong Pagar. Informally known as Singapore's own Little Korea, the enclave is littered with Korean BBQ and fried chicken restaurants at every corner; this has been a change from what used to be its sleazy KTV days.
Most people are familiar with the likes of Chicken Up, 2D1N Soju Bang, and Don't Tell Mama,but only a handful knows about a gem stashed at the back of the main street: Kream Beer. Their menu boasts a decent selection of fruit beers and soju that is dangerously innocent and you might forget you're actually downing alcohol.
Tanjong Pagar is not just about the K-fever. It is also home to highly acclaimed restaurants and bars such as Kilo Kitchen and Ryan Clift's Tippling Club. Aren't you glad its prime location in the CBD allows you to swing from those moneyed glass towers to trendy post work tipples in just a minute?
Farrer Park and Jalan Besar
You probably have heard of Jalan Besar Stadium, where some of the S League football games are played. Do you know that plenty of hippie cafes and bakeries lie in its vicinity?
Boutique creative studios and agencies have set up offices in many of the old, refurbished shophouses lining the small streets, because of theproximity to town and funky food options. Along Tyrwhitt Road, you get Chye Seng Huat Hardware cafe on one end, who's famous for their cold brews and coffee. Venturing down the street gets you to Swee Choon Tim Sum Restaurant, a popular dim sum stall that opens from 6 PM till 6 AM.
Yes, if you're up in the wee hours and starving, or if you're looking for food after a night of partying, this is where you should be headed.
On an unassuming corner, lies The Great Madras boutique hotel and its restaurant The Great Mischief, which serves up local tapas and mocktails. The hotel is an architectural delight that bears semblance to The Grand Budapest Hotel – a picturesquesight, with dazzling neon lights abound and retro-looking interior designs.
If you're looking for Instagrammable sights and food, this is definitely the hood to check out.
Upper Thomson, Marymount
This is literally one long road in Singapore, possibly one of the longest, which stretches from Sembawang all the way to Marymount. Nearer to one end, you have the famous Casuarina Curry.And right across the road, you'veSembawang Hills Food Centre, which is wherethe private taxi service of the 1960s (Sembawang Hill Estate Taxi Services) used to be housed.
The hip stretch starts a little after the Thomson Post Office, with 24-hour The Roti Prata House catering to supper hunters after dark. Then you have back-to-back ice cream madness with Salted Caramel and Udders. The old but trusted Bak Chor Mee (Minced Meat Noodles) and Zi Char (Chinese-style stir fry) stalls continue to trail the street.
If you aren't feeling the local flavours, cross to the other side of the road to indulge in burgers and beers by night. By day, it's hard to go wrong hopping into Pacamara Boutique Coffee Roasters, Habitat Coffee, or One Man Coffee for your caffeine and brunch fix. Filling in between all of the cafes are a couple of Korean restaurants and popular bingsu (a Korean dessert) franchise Nunsongyee.
There is where the cool kids hang out 24/7, and there is a little bit of everything for all the growling stomachs.
Yong Siak Street, Tiong Bahru
Residents of Tiong Bahru have finally hit pay dirt – in terms of caffeine, that is. The old school neighbourhood has been reinvented into a hippie's playground today, and people are flocking in by the droves to get their coffee fixes and poached eggs brunches. One such option is Forty Hands, which is usually packed weekdays or weekends. Besides their speciality coffee, their eggs benedict with steak and Tau Sar Pau can't be missed.
When you're done breaking bread (and egg yolks) with your brunch bunch and feel all poetic and calm, head a few steps down to check out BooksActually. It is an independent bookstore that champions local literature. The good news is that it's probably the one place in Tiong Bahru where you don't have to queue.
---
If you're tired of the spinning cityscapes or the bustling vibes of the shopping districts, why not visit one of these places and you might discover a hidden gem for yourself.
As you eat your way around these trendy, hipster neighbourhoods, you can be relieved that most of the aforementioned places do accept cashless payments. So if you're planning to go cashless with your payments, be sure to pay with a credit card that gives you cashback rebates or earn you air miles. To find out which credit card gets you the best rebate, simply compare across credit card merchants on GoBear.
Compare Credit Cards On GoBear
P.S. We run regular giveaways on top of the credit card promotions.
Related Articles:
Best cashback credit cards in Singapore (2019)