Finder is committed to editorial independence. While we receive compensation when you click links to partners, they do not influence our content.
Think twice before buying travel insurance from airlines
Most of us have done it at some point. We're planning atrip whichwe're super excited for. We're right at the airlinecheckout page to book our flights. But right before we finalise the booking, we see a little box for us to tick. It's asking if we'd like to also book airline travel insurance while we're at it.
Wethink to ourselves, "Why not? I'll probably need travel insurance anyway."
While it might be more convenient to kill two birds with one stone and get your flight and travel insurance sorted with just one click, it's important to understand that convenience and affordability sometimes comes at a price you may have to pay later on.
So, it's definitely worth asking yourself, "Is airline travel insurance really worth it?"
Travel insurancefrom insurance providervsairline travel insurance
When consideringairline vsinsurer fortravel insurance, there are a few important factors to consider.
Convenience may beone thing, and it may be tempting to simply tick a box on your flight booking checkout page to secure a policy, but that may cost you down the line should you realise you're actually underinsured for your trip.
Here are a few things to be aware of before you tick that box and choose travel insurance from an airline.
1. Affordability
When it comes down to cost, airline travel insurance is typically more affordable than travel insurance from an insurance provider.
However, the reason for this is that travel insurance from airlines also usually offers less in the amount of coverage as well as the types of coverage offered. For instance, certain airlines, particularly budget airlines, may not cover baggage delays.
How much you shouldpay for your travel insurance will vary depending on your own individual risk. Let's say you're a solo traveller looking to backpack through Europe. You'll want to make sure you have coverage for theft and loss of your belongings, which may not be covered by standardairline insurance.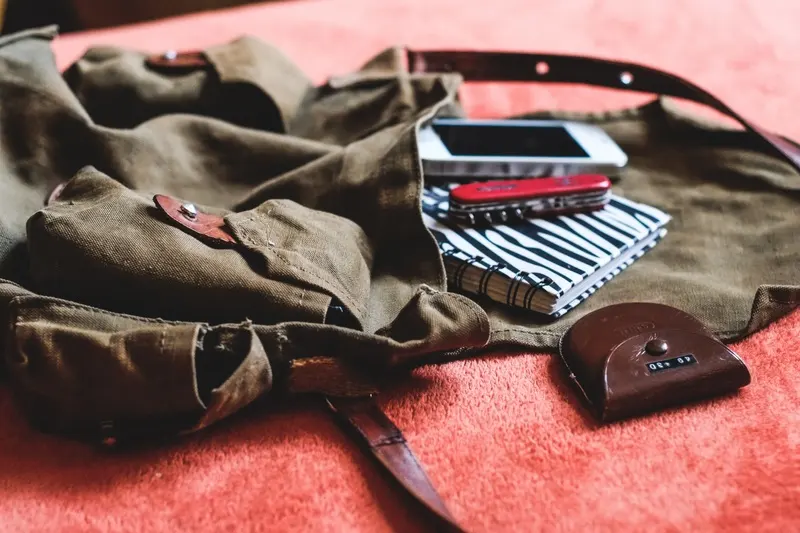 On the other hand, if you're a business traveller travelling to a destination for just one or two nights, you might be more concerned with coverage for baggage loss or delays which could result in missed meetings or presentations.
Understanding your own risk will help you determine if airline travel insurance can truly offer you the coverage you need, and whether a lower price is really worth the affordability and convenience of not having to shop around for the best deal possible.
While it's not wise to pay an exorbitant amount for your travel insurance if you don't need the coverage, it's definitely a lotmore risky to travel underinsured.
| See also: Travel survival guide – what to do if you're robbed while abroad |
2. Coverage
While it might be tempting to assume that airline travel insurance, i.e.the most convenient option,should have all your bases covered for your next trip, the truth is that coverage under these travel insurance policies are usually much less comprehensive than those frominsurance providers.
Here are some of the types of coverage you may want to check are included in your policy, before you decide to purchase airline travel insurance.
Trip cancellations or delays
While trip cancellations and flight delaysareprobably the most commonly faced issues you'll need your travel insurance to cover, in actual fact, not all policies actually include this coverage. Meanwhile, others may include it but only on certain preconditions.
For instance, travel insurance offered by certain airlinesonly reimbursepassengers should the flight be delayed due to particular reasons such asmechanical breakdowns, civil unrest,natural disastersor employees going on strike.
Should your policy have a list of these preconditions, it's important to note what isn't included.
For example, AirAsiaoffers travel insurance which only reimburses your flight should there have been a strike by AirAsia employees,a natural disaster or a mechanical breakdown which caused your flight delay.
| | |
| --- | --- |
| Airline | Coverage |
| Singapore Airlines | S$5000 (travel within ASEAN and Asian countries) and S$10,000 (international travel) |
| Scoot | A maximum of S$600 for flight delays and up to the cost of the flight for a cancelled flight |
| AirAsia | Up to the original cost of the flight |
| Jetstar | Up to the original cost of the ticket |
| NTUC Income | S$15,000 |
| Aviva Travel Plus | S$5,000 |
Pre-existing medical conditions
While somemay be fortunate enough to bein the pink of health, some aren't so lucky and pre-existing conditions are a huge consideration when choosing travel insurance. The thing is, you'll be hard-pressed to find an airline travel insurance policy which covers them.
The convenience of airline travel insuranceis the fact that it's usually offered as an add-on when booking your flights. However, this also means there is no in-depth assessment of your health or pre-existing conditions when you purchase the policy.
This puts you at an additional risk of theairline refusing to reimburse you for any health issues because there may not bea way to prove you didn't have the illness or condition prior to flying.
Missed connection flights
Missing a connecting flight is an experience, to say the least. A missed transit flight could mean spending hours in the airport waiting on another flight. If you're really unfortunate and your insurer or airline doesn't reimburse you, it could mean forking up your own money for a replacement flight.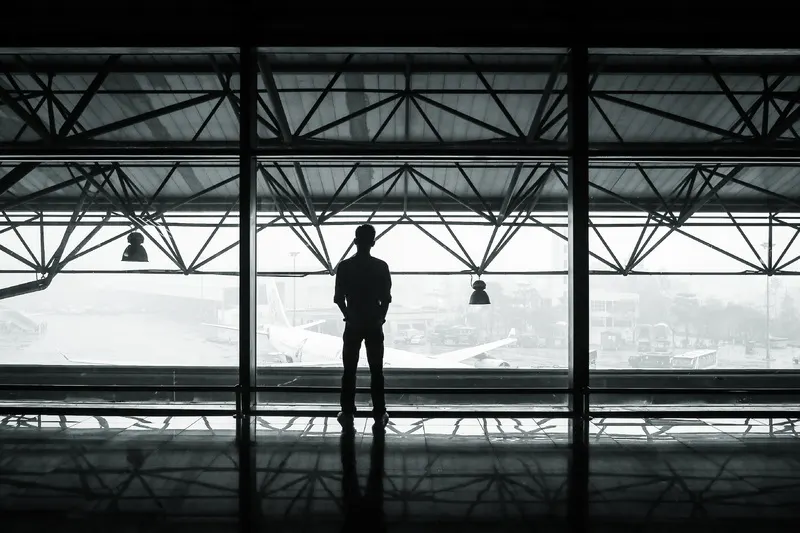 Airline travel insurancemay cover missed connections, but not without preconditions. For instance, Scoot Airlines only covers connection flights missed due to natural disasters or a mechanical breakdown of the airplane. If your flight is delayed due to unfavourable air traffic, bad weather or human error, you won't get reimbursed.
Hostage situations and kidnapping
Unfortunately, we live in unpredictable times and cases of hostage situations and kidnappings are becoming less and less far-fetched, and increasingly common.
Should you or your loved ones find yourself in thishorrifying experience, the last thing on your mind would probably be whether you're insured for hostage situations and kidnapping. That said, statistically most cases of kidnappings are conducted for a ransom, which can be in the thousands or even millions.
While no one wants to think about getting into situations like these to begin with, the reality is that they do happen to regular travellers all the time. If it does, you'll want to be insured so that a ransom does get covered by your insurer.
Some airlines do have coverage for hostage situations but with certain conditions attached. For instance, Jetstar only covers kidnappings and hostage situations for travellers only when they book round-trip flights. You'll also want to check if these the airline travel insurance covers your entire trip or only incidents that happen during flights or at the airport.
Theft and loss of items
When you're travelling, you'll want to stay protected against theft, particularly if you're travelling to a destination notorious for pickpocketing.
While someairline travel insurance policies doinsure you for theft of your personal belongings, many such as AirAsia's Tune Protect policy only coveryou for theft if it is caused by the airline. If you happen to have your wallet stolen by a pickpocket while you're sight seeing, airline travel insurance probably won't compensate you here.
| See also: What you need to know about credit card travel insurance |
3. Value for money
Is airline travel insurance really worth spending on?
The trouble with travel insurance policiesfrom airlines is that they typicallydon't leave a lot of room for customisation.
Unliketravel insurance provider policies, travellers' profiles and information aren't taken fully into consideration for airline travel insurancesuch as detailed medical histories of the policyholder. Instead, airline insuranceusually come pre-packaged in one-size-fits-all form.
This means you might not be getting your money's worth as your policy isn't really tailored to fit your particular risks for your trip.
On top of that, it's important to also be aware that even without purchasing airline travel insurance, your airline company is required to offer you compensation or reimbursements for certain situations, which can be found in their contract of carriage or condition carriage.
You'll want to find out what these requirements are before you purchase airline travel insuranceas theremay be overlaps between what's already offered in the conditions carriage and what's includedin your airlinetravel insurance coverage.
You might actuallycome to realise that there isn't much of a difference between what you're already entitled to fromthe airline in terms of reimbursements and what's offered in the airline travel insurance policy.
Remember, always read the fine print!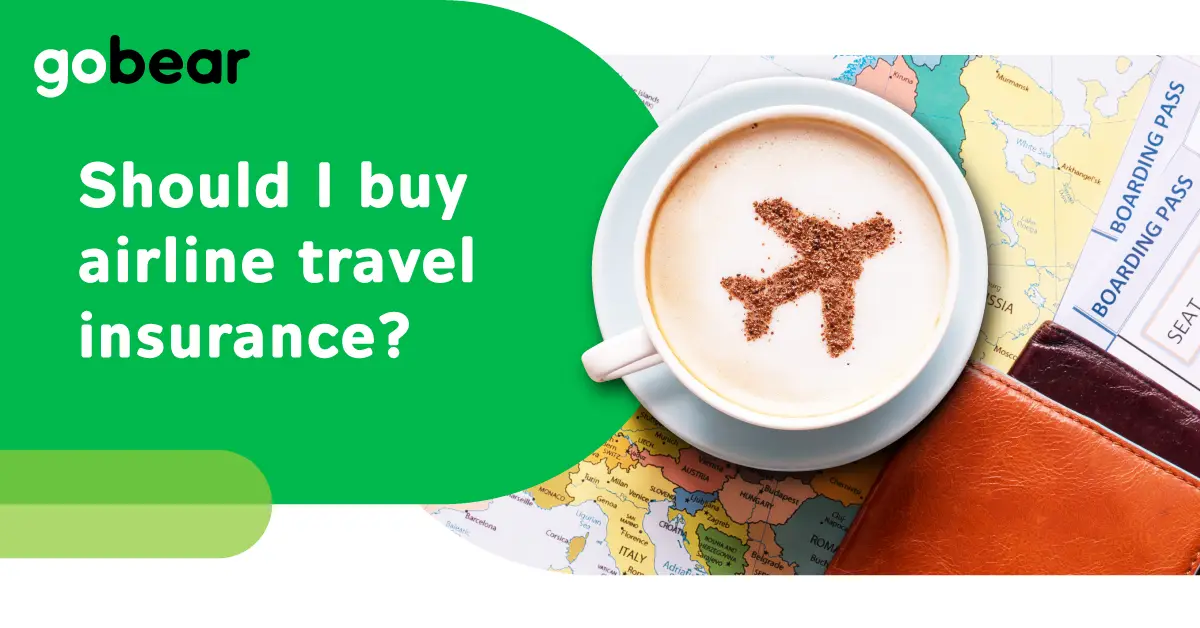 Conclusion
So what's the verdict on whetheryou should buy airline travel insurance?
The truth is, it all comes down to your own individual risk and situation. While the Bear always advises taking a good look at what your policy has to offer,you won't really know if you're getting the best deal unless you compare what's offered in the marketto find the best travel insurance to suit your own needs.
Start comparing today! You'll evenreceive 3 KrisFlyer miles per S$1 spent andstand to win 50,000 KrisFlyer Miles when you purchase travel insurance through GoBear.
What are you waiting for?