Finder is committed to editorial independence. While we receive compensation when you click links to partners, they do not influence our content.
The best 2020 long weekend trips from Singapore
Long weekends are a godsend –especially in Singapore, where employeesreportedly takethe fifth lowest number of paid leave days in a year, according to Kisi's 2019 work-life index.
Unsurprisingly, it follows that Singaporeans also happen to be the "sixth most vacation-deprived" folk in the world, according to a 2019 articleciting Expedia's vacation-deprivation study. In fact, nearly 80% of the workers polled would even take a paycut for more time off–yikes!
So what can a hard-working, vacation-loving Singaporean do? For starters, we can make the most of long weekends and go on shorter vacations. This way, we can squeezein more precious mini-holidays in the coming year!Sound good? Read on to find out how to do it and which travel destinations make for the best long weekend trips from Singapore!
How many long weekends are there in 2020?
With seven long and lovely weekends headed your way, things are already looking up for the new year!Here are suggestions for when to apply for leave, to turnyour three-day weekends into four or five-day weekends:
Chinese New Year (January 26)
This public holiday falls on a Sunday;making Monday, January 27th a public holiday as well. Take one day leave on Friday, January 24th or Tuesday, January 28thfor a four-day weekend, or both days for a five-day weekend.
Take one day leave on Thursday, April 9thor Monday, April 13thto make it a four-day weekend, or both days for a five-day weekend.
Since this public holiday falls on a Friday, take one day leave on Thursday, April 30thor Monday, May 4thfor a four-day weekend, or both days for a five-day weekend.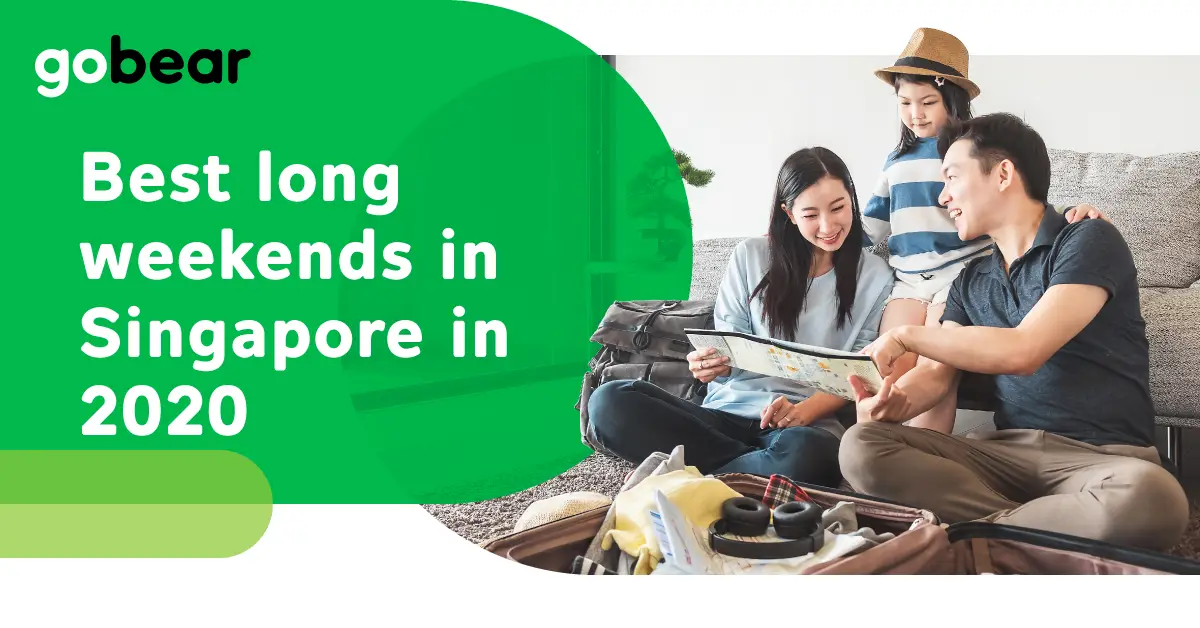 This public holiday falls on a Sunday;making Monday, May 25tha public holiday. Take one day leave on Friday, May 22ndor Tuesday, May 26thfor a four-day weekend, or both days for a five-day weekend.
Since this public holiday falls on a Friday, take one day leave on Thursday, July 30thor Monday, Aug 3rdfor a four-day weekend, or both days for a five-day weekend.
This public holiday falls on a Sunday;making Monday, August 10tha public holiday. Take one day leave on Friday, August 7thor Tuesday, August 11thfor a four-day weekend, or both days for a five-day weekend.
Christmas Day (December 25)
Since this public holiday falls on a Friday, take one day leave on Thursday, December 24thor Monday, December 28thfor a four-day weekend, or both days for a five-day weekend.
| See also:Start planning long weekend trips for 2020|
Ideal travel destinations for long weekends
Making short-and-sweet trips across the causeway into Malaysia,or further into the ASEAN region might be just the ticket for long weekend trips from Singapore. Check out these pocket-friendly, brisk getaway ideas:
Miri –Diving holiday and adventure trip
People flock from all over the world, sometimes travelling thousands of kilometres to immerse in the natural beauty that is Miri, Sarawak in East Malaysia. But fortunately, travellers from Singapore can conveniently make the trip in just two hours, via daily direct flights! Miri is home to some of the best beaches in South East Asia, a UNESCO World Heritage site (Gunung Mulu), and plenty of ecotourism spots.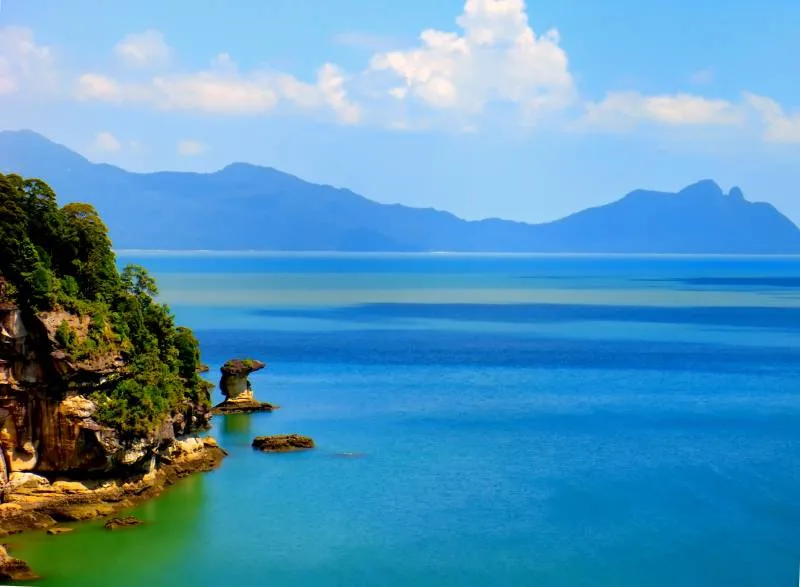 What to do in Miri
Hike in glorious Lambir Hills, get in a spot of leisure fishing inthe South China Sea, explore thecaves ofNiah National Park, or simply watch the sunrise over Miri in Canada Hill.But whatever you do, don't leave Miri withoutvisitingTusan Cliff Beach, just 30 minutes fromtown. This golden, sandy beach offers breathtaking views of pristine blue waters and is famed for its rare and visually-stunning 'blue tears' phenomenon. Alternatively, if you are a diving enthusiast, you might be interested to simply spend the bulk of your vacation on a diving trip; just make sure you have sufficient travel insurancecoverage. Whatever you choose to do, you'll barely scratch the surface of what Miri has to offer on a long weekend;repeat visits are highly recommended!
When to visit
The best time to visit Miri is from April to September, and note thatyou'll have plenty of long weekend options to choose from that fall within this period.
How much will it cost?
Do book early and get in on lower ratesfor travel and accommodation costs,to enjoy an affordable vacation under $400.
Desaru –Weekend escape for beach lovers
Head to Desaru if you are in the mood for a quick, white sandy beach getaway or if you happen to be a seafood lover. Desaru, the foodie and beach paradise is just two hours away from Singapore by car (or bus) and approximately 90 minutes by ferry, making it a fitting long weekend destination.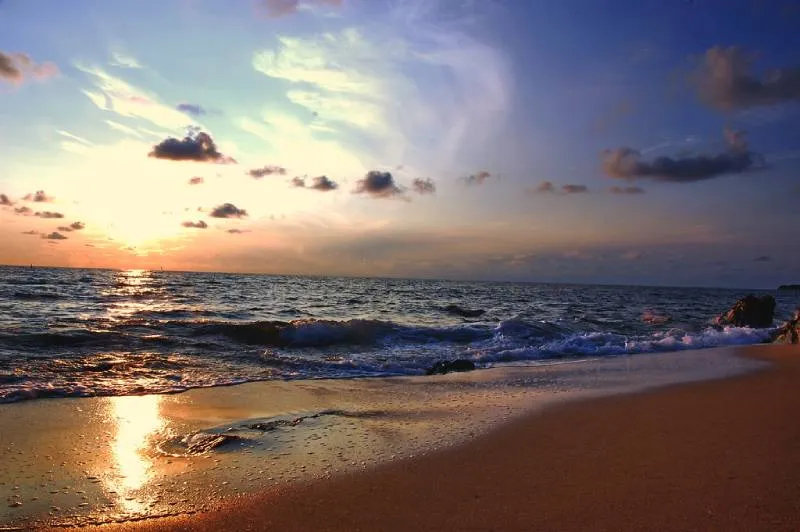 What to do in Desaru
Start your trip with a tour of the Desaru Fruit Farm, where you can feast on healthy farm-to-table fruit platters. With a satisfied tummy, move on to the Teluk Sengat Crocodile Farm and get up close (not personal) with living reptilian relics or head to the Desaru Ostrich Farm, if flightless birds are more your thing. Water sportsenthusiasts can choose froma wide array of activities e.g. snorkelling, surfing, parasailing, jet-skiing and more. Of course, if you wanted to simply rest and rejuvenate as you lay on soft white sands, taking in picturesque views of the South China Sea,and then gorging on sumptuous seafood –no one would judge you…
When to visit
The best times to visit Desaru is from April to October, with June to August beingpeak season.
How much will it cost?
Desaru vacations offer options for any budget. It's possible to keep average costs for a three-day, two-night vacation in Desaru under $450with early accommodation bookings.
Royal Belum State Park –Tour an ancientrainforest
Ever wanted to step into a time machine and travel back to the days of (very) old? Well, hanging out at this rainforest is as close to time travel as one could ever get! Yes, the Royal Belum State Park in Perak, Malaysia is estimated to be over 130 million years old. To put its age into perspective–it's even older than the Amazon rainforest! Getting theremight take a bit more time than the other destinations on this list (an estimated six hours), but it is totally worth it.
Protip: Save your Royal Belum State Park trip for longer weekends of four or five-day stretches.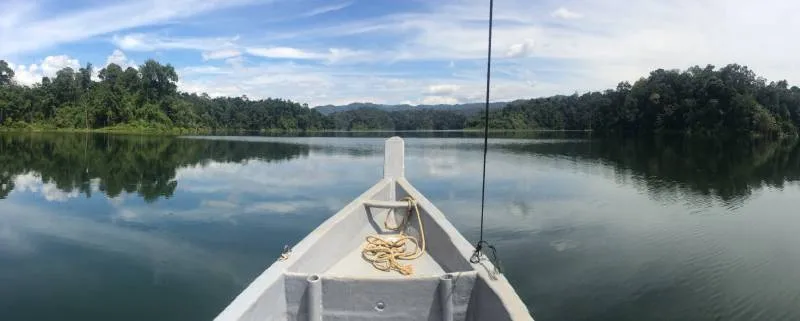 What to do in Royal Belum State Park
Go jungle trekking, swimming, bamboo rafting, and fishing; hunt for wild Rafflesia;take a rejuvenating dip in Telaga Tujuh waterfalls;or simply look out for exotic wildlife–the choice is yours! But here's a friendly reminder:buy travel insurance with extreme sports or adventure protection to stay covered even in the wild.
When to visit
The forest reserve is accessible all year round,but you might want to plan your trip around the occurrence of certain natural attractionsof interest. For instance, if you are into fishing; plan your visit between January and March, when lake levels are lower and conditions for snakehead fishing are just right. Or, if you love to hang around butterflies and experience a Malaysian "autumn"; visit in April when it's butterfly season, and the native perahtree and cinnamon leaves appear. Visit the Belum Temenggor site for more information.
* A permit is required to enter the park. Singaporeans and other non-Malaysians are advised to apply for entry permitsat least a week in advance.
How much will it cost?
Expect to shell out between $500 and $600 to cover travel, accommodation, transport, attractions, tours, and permit costs. As always, book early for more affordable rates.
Go farther into the ASEAN region
Wishing to venture an evengreater distance? We got you! Here are two more incredible destinations apt for long weekend trips from Singapore:
Krabi –Paradise retreat for nature lovers
Beautiful Krabi in Thailand, facing the Andaman sea, is a sight for sore eyes. It also happens to be the ideal destination to unwind for a long, lazy weekend. With daily direct flights from Singapore, you could be kicking back and gazing at incrediblelimestone cliffs and clearblue waters of Krabi in just two hours!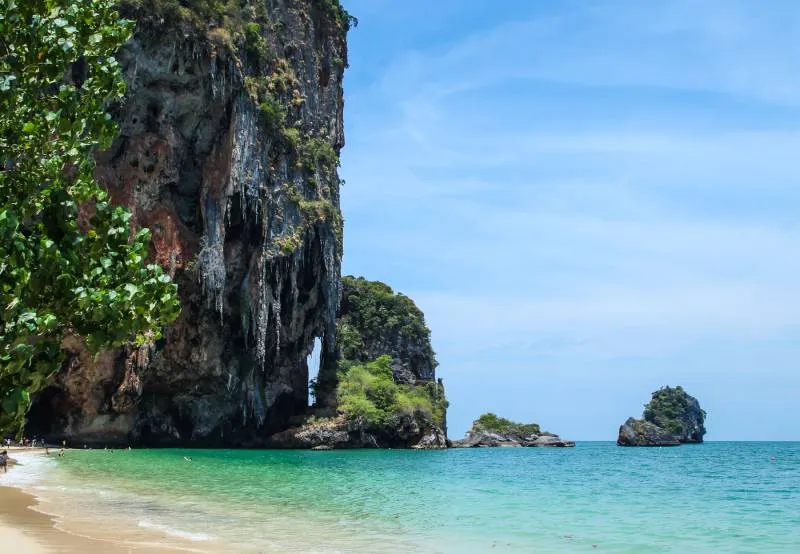 What to do in Krabi
Krabi is arguably the most restful, serene spot in all of Thailand. So naturally, the best thing to do here is to recharge; chill out and watch sunsets, sip Mai Tais, and daydream. But if you are an adventure seeker; there is a long list of activities to partake. Work in a bit of island hopping from Ao Nang, climb Railay's limestone mountains, go whitewater rafting at Songprak River, or hikeat Thung Teao Forest Natural Park. A word to the wise: buy travel insurance. You can enjoy the thrills of these exhilarating activities without the fear of paying for medical treatments out-of-pocket.
When to visit
The best time to visit is during November and March, but note this is also peak season. You canstill visit during the monsoon season, from June to October,and enjoy lower rates all around. However,you may need to adjust expectations when it comes to water activities.
How much will it cost?
Expect to spend an average of $600 to $700 on accommodation, travel, and attractions.
Yogyakarta –Explore Javanese art and culture
The city of Yogyakarta (aka Jogja) in Indonesia has garnered a reputation for being the soul of Java Island, and the epicentre of its artistic and cultural heritage. Visitors are often instantly captivated by its mere existence amidst ancient temples, volcanoes, rice fields, and the seemingly-endless scenic landscapes. Yogyakarta is an excellent long weekend destination,as travellers from Singapore can revel in its ancient wonders via direct flights in just under three hours!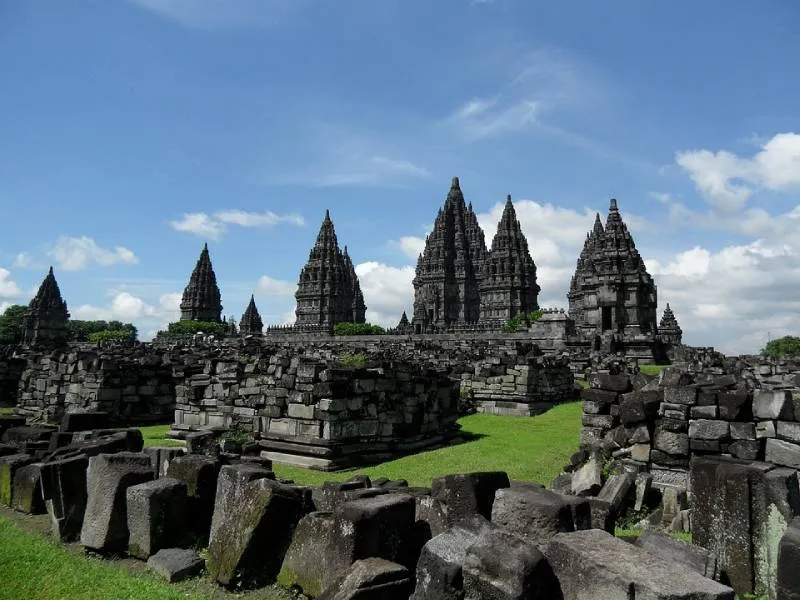 What to do in Yogyakarta
This destination is made for every type of traveller, and this will become increasingly evident as you sift through the sheer variety of activities on offer. Adventure junkies can surf sand dunes at Parangkusumo or go spelunking at Goa Jomblang, while beach lovers take mental pictures of the magnificent sea view of Indrayanti Beach or camp out on Pok Tunggal Beach. Foodies will delight in street fare at Malioboro, as art lovers relish the Ramayana Ballet and take in a shadow play (wayang kulit) at Sasono HinggilTheatre.
When to visit
The best time to visit Yogyakartais during the dry season,from April to October, which sees very little, if any, rainfall at all.
How much will it cost?
While accommodation in Yogyakarta is relatively affordable,flights arealittle more pricey(average one-way flight tickets cost $200 to $220). Thus, expect to spend an average of $800 to $900 for this trip.
Making the most of your long weekend getaway
Now that you know where to go, it's time to find outhow you can maximise the positive experiences of a mini-vacation on a long weekend:
Fly non-stop. Remember that time is of the essence, and ifdirect flights are the fastest way to and from your destination; go with it. Book early to save on flight tickets. If you need/want to drive, take the scenic route to make it part of the vacation #roadtripping
Don't check luggage. Unless it's absolutely necessary, opt to carry-on when flying. Who has the time to wait to collectluggageon a weekend vacation?Worse still, what if it gets delayed or lost? If you haveto check luggage, make sure that you have baggage coverage from your travel insurance plan.
Pace yourself.You might feel like you're on a clock,with the temptation to get in as much vacay as you can. Avoid doing that and savour the experienceinstead. It's completely all right to make your trip all about rejuvenation, and less about cramming in as many sight-seeing tripsas possible. Also, remember to unplug.
Opt out of long-queueactivities.Ifyou are going to have to endure long lines; consider skipping a particular attraction, unless you really want to see/experience it. Or think about purchasing skip-the-queue type passes, where available.
Sleep in.It may sound counter-intuitiveon a weekend trip, but do sleep as much as you need. Getting enough rest will put you in the best mental and physical state to thoroughly enjoy your mini-holiday.
Be prepared. While vacations are meant to be relaxing and exciting, it can also be incredibly stressful. Avoid the unnecessary worry; plan ahead and prepare for emergenciesby buying travel insurance. A good policy can cover you in the event of travel inconveniences like flight and baggage delays; medical emergencies and accidents; as well as loss of personal belongings, and much more. Let GoBear help you find the best travel insurance planfor your needs.
Conclusion
Use your long weekends to give yourself the break that you so sorely need! Going on life-changing, excitement-inducing vacations are completely possible on long weekends! So go ahead and squeeze in a holiday (or seven) in 2020!