Finder is committed to editorial independence. While we receive compensation when you click links to partners, they do not influence our content.
How was the Singaporean travel claims experience during COVID-19?
Conducted during July 2020, the GoBear 2020 Singapore Travel Claims Survey examined the experience of 1,000 insurance policyholders in Singapore who filed travel claims during the COVID-19 outbreak.
Background of the survey
The survey consisted of 25 questions and included a balanced sample size of 1,000 Singapore residents who held travel insurance policies from insurers across Singapore.
We conducted the survey to help customers and insurers better understand changes to travel insurance amid COVID-19. Along the way, we also uncovered a host of very interesting and surprising insights among our survey participants about their travel claims experience.
Ready? Let's dive in!
Are Singaporeans happy with the travel claims experience overall?
Firstly, we found that the travel insurance claims experience has broadly been positive for the travellers surveyed in spite of the spike in claims cases during the initial COVID-19 outbreak in December 2019 to February 2020.

81% of respondents were satisfied or very satisfied with their claims experience

Those who were married with children were the most satisfied with 82% responding satisfied or very satisfied

No segment had shown a more than 6% dissatisfied or very dissatisfied response
Who are the top insurers who lead the market in claims and positive experiences?
Singaporeans have been quick to arm themselves with a good travel insurance policy when venturing overseas. So which ones managed to set themselves apart in our survey?
AXA (15%), NTUC Income (14%), and Aviva (12%) were the most popular insurers among those married with children and youths between 18 and 25 years of age. For singles however, AXA (20%) and NTUC Income (15%) were the most popular.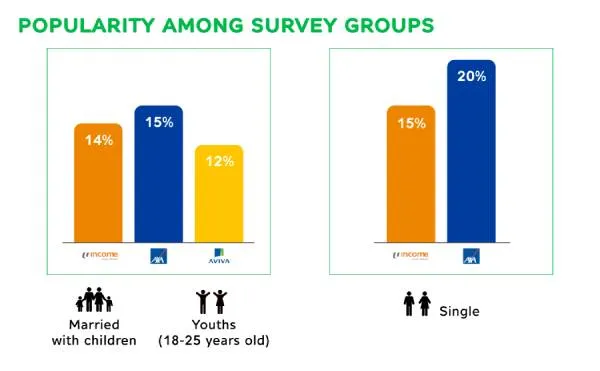 The number of respondents who were dissatisfied or very dissatisfied with their claims experience was less than 5% of all those surveyed.
What about the timing, reason, and amount for claims made?
COVID-19 played a significant role in driving travel insurance claims.
Between December 2019 and March 2020, as much as 83% of our survey participants made their claims – and by April this figure reached 93%. It is also worth noting that there was a clear spike in the month of February alone (24%).
When placed against the timeline of COVID-19's impact on travel awareness amongst Singaporeans, what we discovered would not be deemed unusual:
23 January: First local transmission case
7 February: DORSCON orange announced
7 April: Circuit breaker commences
Not too surprisingly, 'cancelled trip' (40%) and 'delayed trip' (26%) were the top two reasons for filing a claim.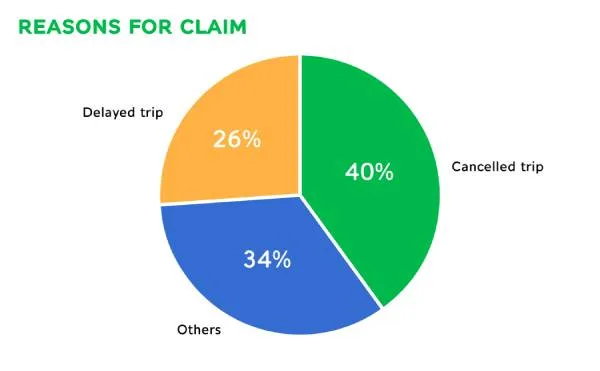 As for the claim sums, 61% of claims were for less than SGD1,000 to SGD3,000 per person. This trend is generally true across all segments, until monthly household income reaches SGD10,000 or more.
How did the claims process go?
In short, the travel claims survey participants found the process to be straightforward and efficient.
Email at 32% was the most common claims touchpoint whereas mobile app, phone call, and the website were also popular – with each averaging about 20%.
More than half (56%) were not required to submit additional documents. This was particularly true for youths aged between 18 and 25 with 62% of them not requiring additional documents.
More than half of claims (55%) was processed within seven days.
Our survey participants also cited the number of documents required (35%) and time to approval (28%) as their top two pain points when it comes to making a travel claim.
How does the claims experience impact future purchasing decisions?
Our findings show that on the whole, the claims experience drives loyalty within travel insurance.
81% agreed or strongly agreed that their claims process was clear and simple with 80% being satisfied or very satisfied with their experience
Given the impact of COVID-19, 88% of respondents felt that their claims experience was important or very important when purchasing travel insurance in the future
85% are likely or very likely to purchase from the same insurer based on their claims experience
What else did the GoBear 2020 Singapore Travel Claims Survey reveal?
Apart from the key findings mentioned above, we also discovered a number of very interesting highlights:
A higher claim amount did not mean a longer processing time. More than 75% of all claims were handled within two weeks.
A higher claim amount did not require more documents. In fact, we found that more than 52% of those who made claims for up to SGD3,000 were required to submit additional documents by their insurers.
"Even when faced with an uptick in claims activity brought about by COVID-19, Singapore's travel insurers have remained dedicated to customers. The results of this survey show that insurance service standards have remained resilient and this will ultimately, help to build industry trust in the long-term."
Get the lowdown on everything about travel insurance right here!