PayPal international money transfers
Did you know that you can use PayPal to transfer money overseas quickly and easily? We show you how.
PayPal is a well-known, digital payments company. Owned by eBay Inc., PayPal offers a fast and safe way to send money online.
Having been established in 1998, PayPal processes some 20 million payments every day, and it has more than 227 million active account holders worldwide. Trading in 100 currencies and across more than 200 markets, PayPal's international headquarters is also located in Singapore.
Using a money transfer can be cheaper than using Paypal
Disclaimer: Exchange rates change often. Confirm the total cost with the provider before transferring money.
Though perhaps best known for its ease of use when making purchases from online merchants, PayPal also makes it easy to send money overseas. PayPal's service is fast and secure, though the company's fee structure means this service is best used for transferring smaller amounts, usually up to a maximum of a few hundred dollars.
PayPal exchange rates
PayPal generally offers lower exchange rates than Singapore's prominent banks and specialist money transfer services. However, the convenience and speed Paypal offers may offset the meagre difference if you're only transferring a small sum of money. See the comparison table below to determine how PayPal's rates stack up against the competition.
$1 SGD in
PayPal
DBS
WorldRemit
USD

0.7139

0.

7243

0.72
GBP

0.5509

0.

5657

0.56
CAD
0.

9306

0.9501

0.94
JPY

79.138

79.929

–

EUR

0.6140

0.

6321

0.63
NZD

1.0558

1.0918

1.10
THB

23.692

23.895
23.86
* Rates accurate up to 10 August 2018
Whenever you wish to send money overseas with PayPal, you can see the conversion rate that applies when you lodge your transaction. PayPal adjusts its rates frequently to stay in line with market conditions.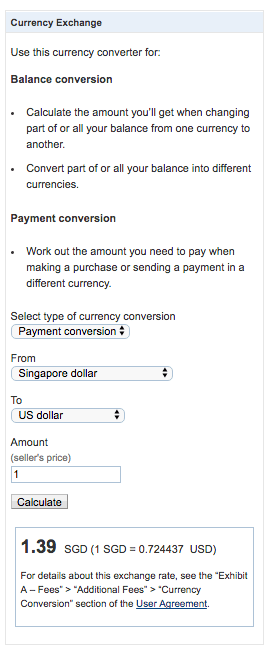 How much does it cost to transfer money with PayPal?
It's free to sign up for a PayPal account. For buyers, there are no fees when you make a purchase in Singapore. If you make a purchase from an overseas merchant, a small currency conversion fee may apply. For merchants, transaction fees are capped at 3.9% + $0.50 SGD per sale, or lower. You can also send or request payment from anyone with an email address or mobile number.
Available countries
PayPal is available across 100 currencies and in 202 countries, a list of which can be found on the company's website. While no such list exists of countries excluded from PayPal international money transfers, you won't be able to use PayPal to send money to places like Afghanistan, Burma, Cuba, Iran, Iraq, Syria or Sudan.
What types of transfers can you carry out with PayPal?
PayPal is designed to take care of one-off transfers when you need to send money to someone. While it is possible to set up regular scheduled transfers, this will incur a fee.
Other transfer options, such as forward contracts or limit orders, are not available. Your PayPal account is linked to your bank account, which is how you can access the funds you receive and withdraw them.
If you need customer support, PayPal has a well-organised Online Help Centre. However, you can also phone or email the company with any queries you may have.
How to transfer money from your bank account to PayPal
Log into your PayPal account
Click "Add money" to your PayPal balance
Select the bank account you want to transfer from, enter the amount to transfer and click "Add".
The expected clearing date is two to three business days, depending on your bank.
The registration and transfer process
Both you and your recipient will need a PayPal account, but these are quick, easy and free to sign up for. You'll need to provide:
Your email address
Name
Date of birth
Phone number
Address
Linked bank account or credit card details
Once you've signed up and logged in, click on the "Send Money" tab in your account overview. Enter the email address or phone number of the person you are sending money to, the amount you wish to send and the reason for the transaction. You'll then be shown the fees and exchange rate which will apply, before being given the opportunity to review your transaction and then click "Send Money".
The entire process is relatively straightforward and the money typically arrives within minutes.
What are the pros and cons of using PayPal?
Pros
Fast. Your money arrives within minutes.
Secure. PayPal transactions are protected by state-of-the-art security technology.
Great for small transactions. PayPal's fee structure is perfect for sending smaller amounts of money.
Cons
Large fees for large amounts. The fee you have to pay for international money transfers is based on the amount of money you send.
Uncompetitive exchange rates. PayPal's exchange rates are generally lower than those offered by banks and specialised providers.
What other products and services does PayPal offer?
PayPal offers a variety of products and services to customers, including:
Online shopping. You can use PayPal to checkout faster at tens of thousands of online and mobile stores.
Business solutions. PayPal allows business to accept payments from credit cards, debit cards, linked bank accounts and PayPal accounts online.
PayPal Here App and credit card reader. These services allow you to accept payments on the go.
FAQs
Is PayPal available for non-residents?
What's their refund/ dispute handling process?
PayPal has a detailed dispute resolution process in place to ensure that you can send money successfully.
Is PayPal suitable for small businesses?
Yes, it's simple to open up a business account with PayPal.
Is there an app available to conduct transfers?
Yes, you can download the Paypal app on both iOS and Android devices so you can pay on the go.
How can I check my balance?
This can be easily done by logging into your account online or through the smartphone app.
If you're looking to transfer no more than a few hundred dollars overseas, PayPal could be the best money transfer option for you. However, compare PayPal's fees and exchange rates with those of banks and money transfer companies to ensure you end up with a great deal.